Are you considering buying Shell Rotella T6 for your diesel truck? Allow this article to help you make sense of it all.
Shell Rotella has enjoyed a good reputation for a long time, but it's not exactly a top-shelf motor oil either. In this Shell Rotella T6 review, we'll look at its features, benefits, and disadvantages, for that matter. We'll also discuss a couple of alternatives should you decide to go in a different direction.
Make sure to stick through the end!

Overview of Features

We're reviewing Shell Rotella T6 SAW 5W-40 Diesel Engine Oil. It's heavy-duty motor oil, designed specifically for hard-working diesel engines in trucks, vans, tractors, etc.
This is a full synthetic, extreme temperature oil that can withstand very high operating and ambient temperatures. Aside from higher heat resistance, it also helps keep the engine clean. As a synthetic oil, it has the right components to provide prevention against engine wear.
Since emissions are a big concern for diesel car owners, this product has the potential to reduce emissions. That's because of its low-ash formulation, which prevents the poisoning of exhaust. It also provides protection against soot and other contaminants.
While there are viscosities that are even more heat-resistant, this one (5W-40) has comparable heat resistance. Even at very high temperatures, the oil doesn't break down.
Furthermore, this diesel oil from Shell Rotella can also enhance fuel economy. As this test from Shell itself shows, the oil can increase fuel efficiency by 1.5 percent. In the same test, the oil showed stronger oxidation resistance in the Volvo T-13 test.
As compared with 15W-40 viscosity oils, the Shell Rotella T6 5W-40 offers better fuel economy. That said, you can also get Shell Rotella T6 15W-40 in a synthetic formula. In fact, there's 10W-30 viscosity as well, so it pretty much just comes down to your vehicle's exact viscosity needs (check user manual).
The Triple Protection Plus technology of this oil also protects from turbo charge deposits. In other words, it's also suitable for turbocharged engines.
It should ideally maintain its viscosity until its interval's end and help maintain the pressure in the engine.
This comes in single-quart, one gallon, 2.5 gallon, and 5-gallon volumes.
BEST DEAL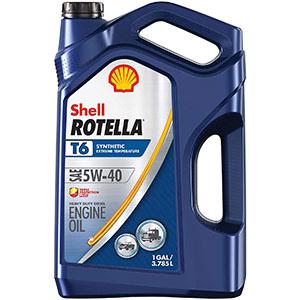 Specifications and Approvals

Here are all the high-level specifications and major approvals for this Shell Rotella T6 diesel oil:
SAE Grade: 5W-40
Type: Synthetic
Part Number: 550045347
API: CK-4, CJ-4, CI-4, CH-4
Cummins CES 20086
Volvo VDS 4.5
Caterpillar ECF-2 and ECF-3
Allison TES 439
Detroit Fluid Specification DDC 93K222
Ford WSS-M2C171-F1
MB Approval 228.31
MAN M3575
Jaso DH-2, Jaso MA/M2
Spec Sheet
You can find the Shell Rotella T6 5W-40 specs sheet here.
Pros
Keeps engine clean from deposits and sludge
Helps control emissions
Noticeable fuel economy improvement
Full synthetic formula with quality additives
High temperature resistant
Good value for money
Meets many industry standards
Cons
Not available in every market
Not all components are US-made
Purchase link: Buy Shell Rotella T6 5W-40 at Amazon
What Customers Say?

Obviously, it helps to know what others are saying about the motor oil you're considering. Generally, the T6 diesel oil enjoys quite some fanfare, as the reviews online are generally favorable.
It's clear that customers do like the many benefits this product has to offer. Also, as this video shows, it's a considerable improvement over the T4 and T5 versions of Shell Rotella oils, which were conventional and synthetic blends, respectively.
Interestingly, the Shell Rotella T6 is also popular with motorcycle owners.
Purchase link: Read Verified Customer Reviews
Should I Switch to Shell Rotella T6?

With so many approvals and specifications satisfaction, the Shell Rotella T6 has very high compatibility. So the question is if it's worth shifting to this oil if you've been using something else.
For starters, this is the best diesel oil in this viscosity you can get in this price range. There are comparable and perhaps even better oils present in the market. However, you will have to spend more money every year.
Moreover, as synthetic oil, it has the potential to protect your engine and even improve fuel economy. That's important for hardworking cars that do a lot of driving and need even that one or two-mile extra fuel efficiency to make big savings.
Good For
The Shell Rotella T6 diesel oil is good for all the diesel engines that require 5W-40 viscosity oil. It's also good for Cummins and Duramax engines. You can also use it in tractors and construction vehicles.
People are also adding it to their motorcycles because it's simply that good.
Is Shell Rotella T6 dexos approved? No, it doesn't, so you may want to find one that does meet that specification if you have a GM vehicle.
How to Use
There aren't any restrictions on using Shell Rotella T6 with any specific engines. However, it's upon you to ensure that the oil is compatible. So you should first check whether it's the right viscosity.
For most diesel engines, 5W-40 is perfect, as it can withstand low temperatures, while also supporting high heat production when the engine runs.
How Many Miles is Good for Shell Rotella T6?
Shell Rotella T6 is a synthetic diesel oil that can work with both low and high-mileage vehicles. Unless your vehicle specifically requires a high-mileage formula, you can use this product regardless of the number on the odometer.
Change Interval/Usage Frequency
For the change interval, it's best to consult your vehicle's manual. However, Shell Rotella T6 change interval ranges between 5000 and 10,000 miles.
Alternative

While Shell Rotella T6 is a good option, perhaps it's not for you. You can consider these alternatives:
Valvoline Premium Blue Extreme Heavy-Duty 5W-40 Motor Oil
The Valvoline Premium Blue lineup hardly needs an introduction. However, this particular formula has been engineered to work in both diesel and gasoline engines. It offers a great cold start and heat resistance at the same time.
Valvoline oils are typically expensive, but this one is comparable with T6 in terms of price. That's not the only thing comparable, as its engine protection and improvement in fuel economy are also pretty competitive. Plus, this product is made in the US.
This one can help extend the life of your vehicle by sealing the engine and preventing deposits. It's endorsed and recommended by Cummins Inc., which makes it ideal for Cummins engines like in RAM 2500.
Delo 400 XSP 5W-40 Synthetic Motor Oil
This Delo motor oil for diesel vehicles is much more affordable. Plus, it's fully compatible with Chevrolet and other GM brands.
If you live in very cold climates, this Delvo oil is a good choice as it offers smooth cold starts even in sub-zero temperatures. This one also meets many of the same approvals and requirements as the Shell T6.
FAQ
Who Makes Shell Rotella T6?
Shell Rotella T6 is made by Shell Lubricants, which is a group of companies spread throughout the world and associated with the petroleum giant, the Royal Dutch Shell company.
What are the Benefits of Shell Rotella T6?
Shell Rotella T6 offers the following advantages:
Protects engine
Helps control emissions
Improves fuel economy
Cleans engine
High temperature resistant
Is Shell Rotella T6 Good for High Mileage?
Yes, Shell Rotella T6 is appropriate for high mileage vehicles as well. It can reduce wear and provide further protection. However, if the vehicle is showing typical aging engine problems, you should consult with an expert and choose something designed specifically for such problems.
Is Shell Rotella T6 Good Motor Oil?
Shell Rotella T6 is a full synthetic motor oil for diesel engines that meets or exceeds many standards. It has powerful additives that keep the engine running cleanly. Furthermore, it can also help save fuel costs in the long term. So it's safe to say that Shell Rotella T6 is good oil.
Is the Price of This Synthetic Oil Worth it?
Shell Rotella T6 is not too expensive but not cheap either. It's comparable with higher-end oil brands. However, the many benefits it offers and high compatibility makes the price worth it.