Are you looking for the best motor oil for your diesel engine? The Valvoline Premium Blue 15W-40 could be a very viable option.
In this post, we'll look at this product in detail, listing its features and benefits. We'll also evaluate how it fares with customers and whether it's worth your while to switch to this Valvoline oil. If it's not for you, we'll also suggest alternatives.
Read the article through to make the right decision.

Overview of Features

The Valvoline Premium Blue 15W-40 Heavy-Duty Engine Oil uses the One Solution Technology, which makes it ideal for diesel, gasoline, and natural gas engines. That diversifies its applications for a wide range of cars, not just the diesel ones. However, it remains popular with diesel owners.
This oil has SAE 15W-40 viscosity, which by definition offers very high-temperature resistance. For hardworking engines or turbocharged engines, this oil has the heat resistance to withstand very high operating temperatures. It won't break down or reduce pressure in the engine because of the heat production.
Its oil bases help clean the engine. The additives the company has added specifically offer soot control. In addition, it provides superior oxidation resistance and wear protection for the engine.
The formula is also designed to provide performance improvement by helping the engine run at its best. This is a modern formula compatible with most modern diesel engines with emission control features such as EGR, DEF, and DPF. Therefore, it can help keep the emissions at a level that is safe and approved by the authorities.
As is the case with most Valvoline products, this Premium Blue oil is also formulated and produced in the US. So it's easily compatible with American-made diesel and gasoline engines of high-performing, hard-working trucks, vans, and equipment.
This is not Valvoline Premium Blue 15W-40 synthetic blend or full synthetic formula rather a conventional oil. While there are synthetic blend options out there, this is still a conventional oil. However, the formula is enhanced with additives to provide protection comparable with its synthetic counterparts to some extent.
It's the 'Only One' that is approved and recommended by Cummins Inc.
This comes in a one-gallon jug and a five-gallon pail.
BEST DEAL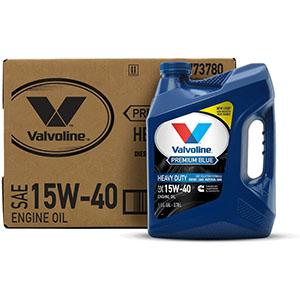 Specifications and Approvals

Here are all the Valvoline Premium Blue 15W-40 specifications and approvals:
SAE Grade: 15W-40
Type: Conventional
Part Number: 778780
API: CK-4, CJ-4, CI-4, CI-4 Plus, CH-4, SP, SN
Cummins CES 20086 and CES 20092
Volvo VDS 4.5
Caterpillar ECF-3
ACEA E9 and ACEA E7
Detroit Fluid Specification DDC 93K222
Mack EOS-4.5
MB Approval 228.31
MAN M3575
Jaso DH-2, Jaso MA/M2
Renault VI RLD-3
Pros
Excellent wear protection
Very high heat resistance
High oxidation resistance
Maintains viscosity
Stays clean longer
Complies with many industry standards
Compatible with gasoline and natural gas engines as well
Cons
Slightly pricey
Not synthetic
Not ideal for cold climates
Purchase link: Buy Valvoline Premium Blue at Amazon
What Customers Say

Valvoline enjoys a good reputation at home and abroad. Its products are considered premium quality, which is why many car owners prefer Valvoline over other brands. Although Valvoline isn't that popular when it comes to motor oils for diesel engines, this particular product has mostly favorable reviews.
In some at-home tests, like the cold flow test, it doesn't really do so well. But that's understandable given the viscosity grade of this Premium Blue variant.
Overall, the ratings and reviews are positive for this Valvoline 15W-40 oil. Even though it's designed for both gasoline and diesel engines, it's clear that most customers use it in diesel cars only.
Purchase link: Read Verified Customer Reviews
Should I Switch to Valvoline Premium Blue 15W-40?
If you've been using another brand in your diesel or gasoline vehicle and thinking about switching to this Valvoline Premium Blue 15W-40, you should take into account what oil you have been using, what you need out of the oil, and whether that's in your budget.
Even though Valvoline products are typically more expensive than some of the other brands, this one is not really that expensive. So you're good on the cost per gallon front.
It's not synthetic, so if you've been using synthetic oil, it would be best to stick to that and avoid this.
However, if you have been using a similar conventional oil and looking for improvement in performance, you can switch to this particular engine oil.
Good For
The Valvoline Premium Blue 15W-40 engine oil is good for heavy-duty diesel, gasoline, and natural gas engines. This means it can suit a variety of vehicles, including cars, trucks, vans, tractors, and heavy machinery. You can also use it in heavy-duty generators, as some users suggest they found it feasible for that purpose.
Since this is approved and recommended by Cummins, you can use it in any Cummins engine that requires this particular oil viscosity grade. If it requires a different one, you can go for that in the same Premium Blue line.
How to Use

Using Valvoline Premium Blue is very easy, as it has a nicely designed bottle that pours out the oil pretty conveniently. There aren't any instructions specific to which vehicles you cannot use it for, but generally speaking, consult your vehicle's manual.
How Many Miles is Good for Valvoline Premium Blue 15W-40?
In terms of miles, you can use Valvoline Premium Blue 15W-40 regardless of the mileage on your vehicle. Also, you can switch to this oil at any mileage, provided it's compatible with the engine.
Change Interval/Usage Frequency
The oil change interval really depends on your specific vehicle. There's no specific usage frequency recommendation from the company. Since conventional oils are not as long-lasting as full synthetic, it makes sense to keep change intervals under 5000 miles.
Alternatives

Here are two alternatives to consider:
Shell Rotella T5 15W-40 Synthetic Blend Motor Oil
If you want a synthetic blend, then Shell Rotella T5 is a great choice. This oil with Triple Protection Plus offers extended oil drains, so you can save money by elongating your change intervals. More importantly, it helps improve fuel economy.
Since it has synthetic bases, it's likely better at cold start, even at 15W. Like Valvoline, Shell Rotella T5 also meets an extensive range of specifications of US vehicles. It's also a bit more cost-effective in comparison with Premium Blue.
Shell Rotella T6 15W-40 Full Synthetic Motor Oil
Those looking for the absolute best should go for the T6 full synthetic formula. It's designed to extend the life of the engine and offer unparalleled protection. This oil can help increase fuel economy by 1.5 percent, which isn't that high but still good.
The Shell Rotella T6 is perfect for heavy-duty diesel vehicles that do a lot of hauling or towing. It's engineered to maintain its viscosity at very high temperatures as well.