Are you looking for the best oil for the 5.4 Triton engine of your truck? Then you've come to the right place as this post will cover everything you need to know before an oil change.
The 5.4 Triton is specified to use a Full synthetic oil SAE 5W-20 for all weather temperatures. The engine has multiple options so make sure You find which one works best with Your truck. For example, for Ford F150 2010 Ford recommends using SAE 5W-20 and 5.4 Triton engine takes 7.0 quarts of engine oil.
You'll learn which oil viscosity is best and recommended by the manufacturers and what many users have been using all these years. There's also information about how to change the oil yourself.
Each section has something important, so make sure to read the post through.
Click here to skip to our recommended pick!

Our Overall #1 Rated Pick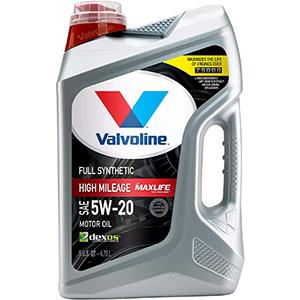 Valvoline Full Synthetic High Mileage 5W-20 Motor Oil
The overall number one pick for the 5.4 Triton engine by Ford is Valvoline Full Synthetic High Mileage 5W-20 Motor Oil. Here's why:
Seals engine completely
Fights deposits and sludges
Made in the US
The 5.4 Triton V8 engine takes 5W-20 viscosity, which is ideal for cold starting. Since the 5.4 Triton engine is present mostly in older models, you'll need high-mileage motor oil.
This Valvoline Full Synthetic oil is high-quality and does exactly what it's supposed to do. It will prevent any engine breakdown and secure the seals throughout the engine.
As a synthetic oil, it can also significantly improve fuel economy, so you end up saving money on gas. You can also do all the heavy lifting with your truck or car, as this oil will improve engine performance.
Valvoline is a trusted brand name in the US and around the world, so you can trust their formula. It has extra detergents that are common in high-mileage oils that thoroughly clean out deposits.
The ergonomic bottle design ensures the oil pours out seamlessly, and nothing goes waste. You can easily do an oil change by yourself.
Model Overview

The 5.4L Triton engine is one of the best Ford Modular engines that has been around since the 90s. When it was first released, it was a SOHC 2-valve engine, until it was upgraded to 3-valve, and then ultimately, 4-valve for better fuel economy and engine performance.
This modular engine powers many iconic cars, including Ford E-Series, Ford Expedition, Ford F-150, Ford GT, Mustang, some Lincoln models, and Ford Falcon line in Australia. It's a V-configuration 8-cylinder engine.
The 5.4 Triton oil type hasn't changed over time, even with the upgrades to the valves. These modifications to the engine weren't that significant to call it a complete overhaul. So the engine oil viscosities have been the same for virtually all models that used it, i.e., SAE 5W-20 and SAE 5W-30.
As for the type of oil, this engine can take any type. However, given that synthetic oils are becoming almost a standard nowadays, it makes sense to use a synthetic blend or full synthetic.
Oil for 5.4 Triton Recommended by Manufacturer

Since the 5.4 Triton engine is used in many different models, it's best to find out what the car's owner's manual has as an official recommendation. You'll find all the information you need regarding oil viscosity, certifications, and capacity.
Here's what the owner's manual of Ford F150 2010 recommends:
Viscosity
Ford recommends using SAE 5W-20 viscosity, which is very thin and ideal for both cold and hot conditions. However, the manual doesn't specify any viscosities for specific conditions, so it's safe to assume you're supposed to use 5W-20 throughout the year.
Capacity
According to the manual, the 5.4 Triton engine takes 7.0 quarts or 6.6 liters of engine oil.
Specification of Oil
The manual does recommend a brand and type of oil. It recommends Motorcraft Premium Synthetic Blend 5W-20 motor oil and Motorcraft Full Synthetic 5W-20 motor oil or equivalent.
The oil you choose should meet the Ford specification WSS-M2C153-H. It should also be the American Petroleum Institute (API) certified.
Ford Approved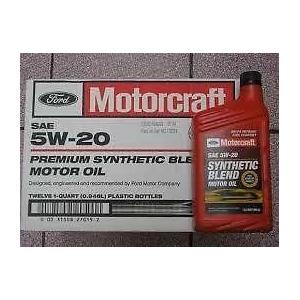 Oil for 5.4 Triton by Mileage

The 5.4 Triton engine has been around since 1997, so if you have an older car model with this engine, you should also take into account the mileage.
For low-mileage cars, you should stick to the recommended viscosity of the engine oil (5W-20), as many users recommend this. Most owners use a synthetic blend or full synthetic oil for their 5.4 Triton engine.
Interestingly, a few users have also reported using 5W-30 and 10W-30 viscosities for both low-mileage and high-mileage trucks. Although, they also recommend sticking with these viscosities if you do make the switch.
For high-mileage cars that have over 75,000 miles on them, the users have different opinions. However, it seems like the high-mileage version of 5W-20 is the most common choice for trucks with over 100k miles. Other heavier viscosities like 5W-30 and 10W-30, even 10W-40, have been mentioned.
The best oil for high mileage 5.4 Triton is 5W-20 high-mileage version.
Best Oil for 5.4 Triton
The top best product [hide]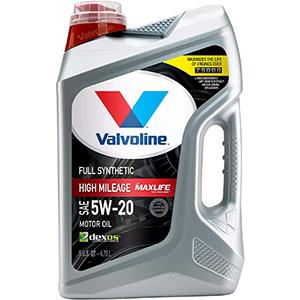 The Valvoline High Mileage Max Life Full Synthetic 5W-20 motor oil is the best overall for 5.4 Triton engine trucks and cars. All the models that have likely over 100k miles on them can use this full synthetic oil to last longer.
It has added detergents that clean out the engine nicely and prevent any leakages. The anti-wear additives leave an anti-wear film, which protects the engine. The premium seal conditioners in the Max Life formula will completely seal the engine. With this, your car can easily go over 200k miles.
Pros
Cleans thoroughly

Anti-leak properties

Anti-wear additives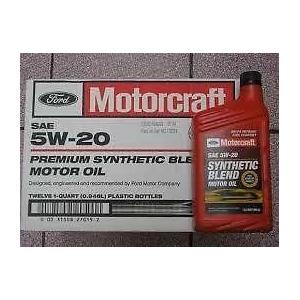 The Motorcraft Synthetic Blend 5W-20 motor oil is the manufacturer's recommendation, so the best oil for 5.4 Triton. It's fully compatible with all the right specifications, so you have nothing to worry about. This is not a fully synthetic oil, but still a lot better than conventional oil. It will prevent wearing in the engine and, most importantly, improve fuel economy. The 12-quart case is very convenient as you can refill the 5.7liter engine, and fill it up whenever the need be. It's economical that way, as you don't have to buy multiple single-quart bottles.
Specifications:
API:
SN/Resource Conserving/SN PLUS
Pros
Premium quality blend

Fully compatible

Improves fuel economy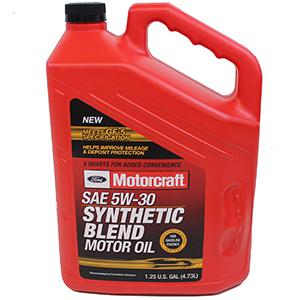 The Motorcraft Synthetic Blend 5W-30 motor oil can be used with 5.7 Triton vehicles, where the official recommendation is 5W-30, and even 5W-20. It's thicker than 5W-20, so it will be perfectly fine in hot conditions.
The oil is recommended by the manufacturer and comes from it, so it's reliable. You'll see a marked shift in fuel economy and engine performance. The synthetic blend is much better than conventional oil. As a result, it will not burn or leak and give you slightly longer intervals. It also meets the GF-5 specification.
Specifications:
API:
SN/Resource Conserving and SN PLUS
Pros
Thicker than Motorcraft 5W-20

Good for hot climates

Improves fuel economy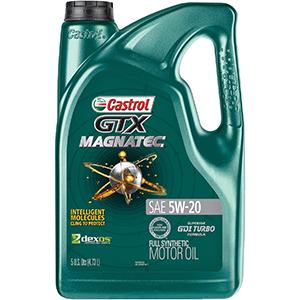 The Castrol Magnatec GTX Full Synthetic 5W-20 motor oil is the best budget option for For Triton 5.7 engine vehicles. It meets all the specifications and certification requirements and has a high-quality formula. The GDI Turbo Formula improves performance by reducing friction. It also prevents sludge and deposits, keeping the engine pristine throughout the interval.
It can make the vital engine parts four times smoother than low-quality oils. This GM dexos1 certified. It's designed to improve performance, so you can even use it with high-mileage cars that aren't showing any signs of leakage or wear.
Pros
GDI Turbo Formula

Smoother performance

Meets Ford WSS-M2C153-H Specification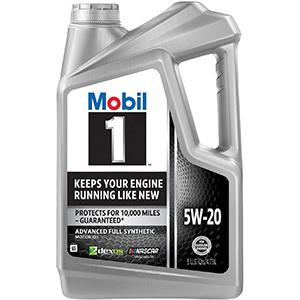 The Mobil 1 Advanced Full Synthetic 5W-20 engine oil is the best oil for F140 5.4liter. It meets the compatibility requirements and is from a preferred brand. The synthetic formula prevents deposit build-ups and keeps the engine running smoothly. It can work with both low-mileage and high-mileage models. It's particularly great for improving fuel economy, in case your truck is burning a lot of gas. You'll see considerable improvement.
Pros
Fuel efficiency

Deposits cleaning

User favorite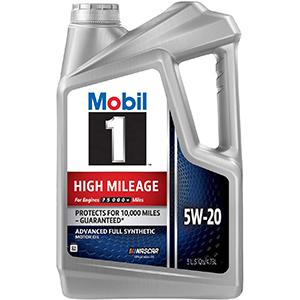 The Mobil 1 High Mileage Advanced Full Synthetic is a great option for high-mileage 5.4 Triton vehicles that have crossed 100k miles. Its formula is bolstered with special detergents that clean out the engine really well.
It will lubricate all the critical parts to ensure the engine runs smoothly even at higher mileage and sound just how it would at low mileage. This is the most popular brand for Ford trucks, in case you want to try something other than Ford's own Motorcraft. This oil is a significant improvement over Mobil 1's conventional oils. This is a little pricier than other options here, but still a great product.
Pros
Lubricates engine

Improves performance

More efficient than synthetic blends

5.4 Triton Oil Type By Year

1997 Ford Expedition Oil Type
The 1997 Ford Expedition, which was one of the first cars to have a 5.7 Triton engine, takes 5W-20 viscosity. Since it's an old model, a high-mileage synthetic blend oil would be the best choice for it.
2001 F150 5.4 Oil Type
The 2001 F150, which is part of the tenth generation F-Series trucks by Ford, takes 5W-20 viscosity oil.
2005 F150 5.4 Oil Type
The 2005 F150, like most of the eleventh generation F150 trucks, take the 5W-20 viscosity oil. It may also work with the 5W-30 oil, provided it's compatible.
2010 F150 5.4 Oil Type
The recommended oil for Ford F150 V8 Triton is 5W-20, and the brand is Motorcraft or any other equivalent to it.
Oil for 5.4 Triton – Buyer's Guide

Now that the oil viscosity options, mileage factor, and the best products are clear to you, here's some more information to help you.
How Much Oil Does a 5.4 Triton Take?
The 5.4 triton oil capacity is 7 quarts (6.6 liters). You can purchase seven bottles of a single quart or buy two 5-quart bottles to meet the capacity.
Service Intervals
The service intervals may vary by your specific model, but generally, 5.4 Triton requires an oil change every 3000 to 5000 miles.
It depends on you, how you drive, and what oil you end up using. But the interval shouldn't exceed 5000 miles.
How to Change Oil 5.4 Triton
Changing the oil in most vehicles is easy. Since 5.4 Triton is used in many Ford vehicles, you may want to look for instructions specific to your model.
The best place to look for these instructions is your owner's manual. If you don't have one or don't find the instructions helpful, you can look it up online.
If you happen to have a Ford F150 from 2004 to 2008, here's a great tutorial for you.
The good thing about F150 and other such trucks is that they have high ground clearance, so you don't really need to lift them to work under them.
You'll need a 16 mm bolt to open the drain bolt and collect the oil. Make sure to watch the video for all the little things like cleaning the drain bolt and inspecting it.
Tips
It's best to stick with the manufacturer's recommendation, especially for new cars
If your car is old, consult with an expert as to which oil is best for your particular car
Don't exceed the intervals even if the oil guarantees bigger intervals
Don't waste any excess oil, as you can always use it to top it if it's less than minimum