If you're looking for the best oil for 7.3 Powerstroke, this guide will help you find the right product. This powerful diesel engine can last for hundreds of thousands of miles if properly maintained.
The Ford with 7.3 Powerstroke Diesel uses SAE 15W-40 full synthetic oil and has a capacity of 15 quarts. Which will keep Your engine running smoothly with less dirt buildup as well as other impurities that can lead to badging performance issues such poor fuel economy when driving for long periods. You should get an Oil Change every 5k miles so it's best not to ignore these warning signs.
In this buyer's guide, you'll find information on the engine and the different car models that had it. Also, you'll learn what viscosities are suitable and how much oil you'll need for a refill.
Each section is of value, so make sure to read it all.
Click here to skip to our recommended pick!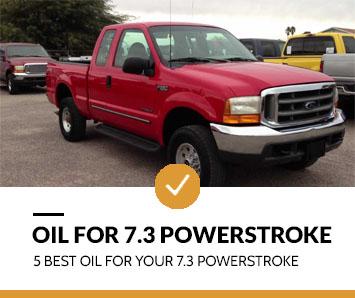 Our Overall #1 Rated Pick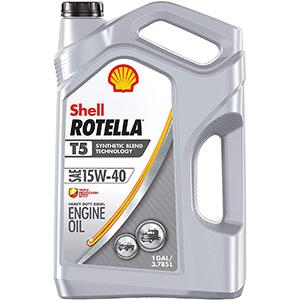 Shell Rotella T5 Synthetic Blend 15W-40 Diesel oil
The best engine oil for 7.3 Powerstroke is the Shell Rotella T5 Synthetic Blend 15W-40 Diesel oil. Here's why it's the best:
Reliable engine cleaning
Low-ash formula
Good value for money
The 7.3 Powerstroke engine Ford trucks prefer the 15W-40 viscosity. It meets the requirements of the engine and works in all climate conditions.
Shell Rotella is a popular choice for truck owners, so this T5 Synthetic Blend diesel oil is also a popular choice for 7.3 Powerstroke engines. This is heavy-duty oil that thoroughly cleans the engine's pistons.
It also meets the low emission requirements for almost all US manufacturers. This basically means it will help lower the carbon footprint of your vehicle.
This oil is ideal for smooth cold starting, so it will work fine in sub-zero temperatures. Whether you use the truck normally or do a lot of heavy lifting, this will work great either way.
It can withstand high heat and stress, which makes it ideal for pickup trucks used commercially. Also, it provides much better wear protection than conventional oils because of the synthetic base.
Model Overview

The Powerstroke 7.3 is hailed as one of the most reliable diesel engines Ford has ever produced. Started in 1997 to replace the 7.3 IDI engine, it was a complete overhaul in terms of design and performance.
It's a turbocharged, direct-injection V8 diesel engine that was based on the T444E engine. The Powerstroke engines in the F-Series Ford trucks made them the best selling diesel trucks of their time.
The engine lasted until 2004 when it was ultimately taken over by the Powerstroke 6.0 because of a growing demand for fewer emissions and more fuel economy. Nevertheless, it's one of the best diesel engines in pickup trucks and you can still see it after so many years.
The 7.3 Powerstroke oil type is 15W-40, which has remained the same during all of its production years and is by the book. However, other viscosities are compatible with it and used by many owners.
The diesel engine didn't see any significant changes over the years that would require a different weight of oil. So maintenance product specifications pretty much remained the same for all the models that used it.
Oil for 7.3 Powerstroke Recommended by Manufacturer

The easiest way to find the best oil for your car is to check it's owner's manual. In the case of trucks with the 7.3 Powerstroke engine, the recommendation may vary, so check your specific truck's model's manual.
The recommendations are the same for the same generation models. Here's what Ford recommends in the 2010 owner's manual:
Viscosity Grade
Ford recommends SAE 15W-40 and SAE 10W-30 viscosities for the 7.3 Powerstroke engine. However, it also features a chart about viscosities and temperature conditions.
While 15W-40 and 10W-30 diesel engine oils are preferred, the thinner 5W-30 and 0W-30 are acceptable for subzero temperatures.
Capacity
The 7.3 Powerstroke engine requires 15 quarts or 14.2 liters. You can refill the whole engine with three 5-quart bottles.
Specification of Oil
Since it's a Ford engine meant for Ford applications, the recommended engine oil for 7.3 Powerstroke is Motorcraft 15W-40 Super Duty or Motorcraft 10W-30 Super Duty. The Ford engine oil specification number is WSS-M2C171-C, CH-4/SJ/SH.
You can use oil from another brand that meets this Ford specification. It also specifies avoiding category designations: SG, SH, CE, CF-4, or CG-4.
Oil for 7.3 Powerstroke by Mileage

Let's also take into consideration the mileage on the odometer since this engine is present in trucks older than a decade and a half. If your engine is showing signs of wear, you may want to get something extra strong at cleaning deposits and sealing the engine.
Regardless of the mileage, Shell Rotella seems to be a popular choice among owners of Ford trucks. That said, owners are also using other brands like Mobile and Royal Purple, so it seems Ford's proprietary Motorcraft isn't that popular.
For high-mileage trucks, users recommend using a synthetic or synthetic blend in any compatible brand, but they don't really specify any viscosity specifically for high-mileage trucks.
Ford trucks with 7.3 Powerstroke can easily give you over 300k miles, so the high-mileage benchmark for these trucks is higher than the standard 75k.
Users also recommend changing engine oil and filter every 5000 miles for high-mileage trucks to keep them running great.
| | | | |
| --- | --- | --- | --- |
| Low Mileage | Below 100,000 miles | 15W-40, 10W-30, 5W-30 | Shell Rotella, Mobil 1, Motorcraft |
| High Mileage | 100,000 miles or above | 15W-40, 10W-30, 5W-30 | Shell Rotella, Mobil 1, Motorcraft, Royal Purple |
Best Oil for 7.3 Powerstroke
The top best product [hide]
Shell Rotella T5 Synthetic Blend 15W-40 Diesel Motor Oil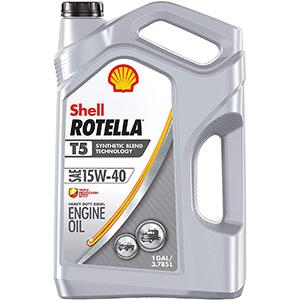 The Shell Rotella T5 Synthetic Blend 15W-40 diesel motor is the best overall for all Ford trucks with the 7.3 Powerstroke engine. It can keep the crucial parts of the engine clean to have it working efficiently.
The formula is specifically designed to keep the diesel engine cleaner. Since it's the recommended viscosity, you can use it with very high-mileage trucks as well. It's not a fully synthetic oil but is still better than conventional oils. This is ideal for heavy-duty diesel engines like the 7.3 Powerstroke.
It meets the low emissions requirements, so you may be able to use it in states with strict emission laws. With a cleaner engine, the engine might burn less fuel as well.
The Good And The Bad
Fully compatible with specifications

Works in low temperatures

Deep engine cleaning and sealing

Delo 400 SDE SAE 15W-40 Motor Oil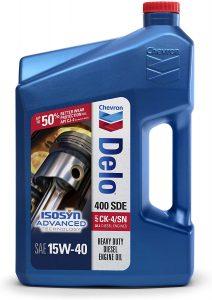 The Chevron's Delo 400 SDE 15W-40 diesel motor oil meets the API CK-4/SN specifications. It's the best oil for 7.3 Powerstroke if you want to reduce emissions.
The premium quality synthetic blend formula is ideal for trucks that don't do a lot of stop and go and most drive on highways. The IsoSyn Advanced Technology of this diesel oil ensures longer life and prevents breakdown.
This is ideal for turbocharged diesel engines as it cleans the pistols efficiently, improving engine performance. It also meets the cleanliness requirements as it's Isoclinal certified.
This 7.3 Powerstroke synthetic oil is also preemptive in terms of protection. It will keep all the critical components of the engine functioning just how they are supposed to.
The Good And The Bad
Protects engine

Great for highways

Reduces emissions

Shell Rotella T5 Synthetic Blend 10W-30 Diesel Engine Oil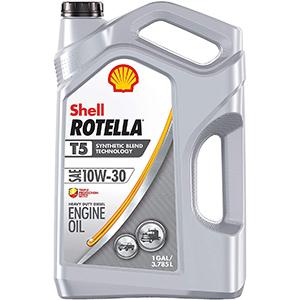 If you're going with the 10W-30 viscosity of the oil, the Shell Rotella T5 Synthetic Blend diesel engine oil is a great choice. It's also the best budget option for 7.3 Powerstroke engines.
This oil is more superior to conventional diesel oils, and as a result, it improves engine performance. It will help keep the pistons clean and ensure minimal maintenance, provided you change the oil regularly.
You can use it for low-mileage and high-mileage Ford trucks alike. It meets the US and European diesel engine requirements. It's great for cold starting in temperatures below 10 degrees. If you're looking to improve the fuel economy, this has the potential to improve it by reducing friction.
Specifications:
Fuel Economy Capability:
1.6%
The Good And The Bad
Through engine cleaning

T5 Advanced Formula

Fully compatible

Genuine Ford Motorcraft 15W-40 Super Duty Diesel Oil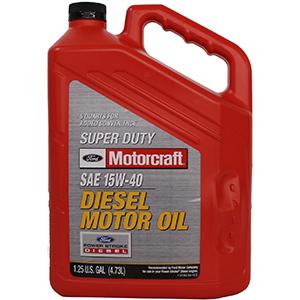 The Genuine Ford Motorcraft 15W-40 Super Duty Diesel Oil is the manufacturer's recommendation, so the safest option of all. It meets all the requirements set by the manufacturer.
It's specially designed for Powerstroke diesel engines, so it's the best oil for 7.3 Powerstroke diesel engine trucks. Also, this is ideal for warm climates, so if you're in the South or Southwest, this is a perfect choice.
This will also work for trucks with over 200,000 miles, as Ford recommends this particular oil for the lifetime of the engine. It will help clear out any deposits and sludges, keeping the engine pristine. The oil doesn't breakdown and lasts for the complete interval specified by the manufacturer.
Specifications:
Vehicle Service Type:
Truck
The Good And The Bad
Recommended by Ford

Increases engine life

Cleans deposits

Valvoline Premium Blue 15W-40 Diesel Motor Oil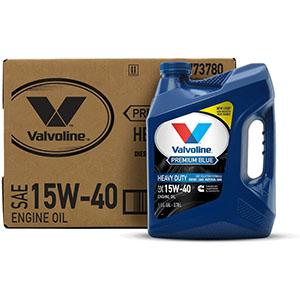 The Valvoline Premium Blue 15W-40 diesel motor oil meets the 7.3 Powerstroke requirements. It's also ideal for high-mileage trucks, given that Valvoline is one of the best brands for engine oils in the market.
This is a one-solution formula that works for both diesel and gasoline engines. It's conventional oil, so ideal for old trucks that perhaps have been running on conventional oils only throughout their lifetime. If you want to stick with conventional oil, go with this.
It provides reliable oxidation resistance and keeps the engine running smoothly. It's especially great for American diesel engines.
Specifications:
Average Fuel Economy:
7.0 mpg or higher
The Good And The Bad
Made in the US

High-quality conventional oil

High compatibility

7.3 PowerStroke Oil Type By Year

Here are some specific oil recommendations by year and model:
1996 Ford F350 7.3 diesel Oil Type
The 1996 Ford F350 7.3 Powerstroke, which was one of the earlier models with this engine, takes the 15W-40 oil. In colder climates, 10W-30 is a better option.
2001 Ford F350 Oil Type
For the 2001 model of Ford F350, the oil recommendations remained the same. So you should opt for either 15W-40 or 10W-30 as per the conditions where you live or even personal preference.
Ford E-450 Oil Type (1994 to 2003)
The iconic Ford E-450 truck used the 7.3 Powerstroke diesel engine for its fourth-generation model variants, from 1994 to 2003, when the engine was replaced the following year. These truck models take the recommended 15W-40 diesel oil.
Oil for 7.3 Powerstroke – Buyer's Guide

Here's everything you need to know before buying the engine oil for your diesel truck:
How Much Oil Does 7.3 Powerstroke Take?
The 7.3 Powerstroke oil capacity is 15 quarts. The capacity is the same regardless of the model and year of the truck with this engine.
Service Intervals
Ford recommends changing oil every 200 engine hours. But since it's difficult to measure engine hours, in mileage, the intervals are 5000 miles.
Some people change the engine oil as soon as 3000 miles are up on the odometer. But that also depends on your use. Generally speaking, you should change the engine oil every 5000 miles, not more than that.
How to Change Oil 7.3 Powerstroke?
The 7.3 Powerstroke oil change doesn't require a lot of tools or time. You can find the instructions in your owner's manual, but for even detailed instructions, go with a tutorial.
Here's a great video that gives in-depth instructions along with information about oil, which we have already discussed at length in this post.
Tips
Keep in mind the temperature conditions when choosing the 7.3 Powerstroke oil type.
Lighter weight oil is better for subzero temperatures, so perhaps switch to that before winters.
For trucks with over 300k miles and giving engine troubles, consult with a professional as to which oil is best to deal with your specific engine's problems.
Look for bulk deals online as with a 15-quart oil capacity, the oil change in this engine can be expensive.