Does your car's engine require an SAE 0W-20 grade engine oil? You'll learn everything you need to know to get the best 0W-20 synthetic oil.
In this article, we'll cover not only the best products on the market but also a comprehensive buying guide that will answer your questions.
So make sure to read it through to make the best choice for your vehicle.
Click here to skip to our recommended pick!

Overall #1 Rated Pick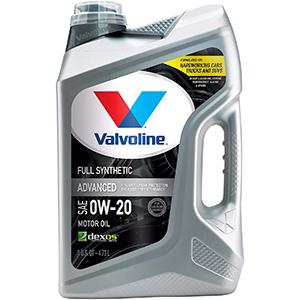 Valvoline Advanced Full Synthetic 0W-20 motor oil
Our top pick for 0W-20 synthetic oil is the Valvoline Advanced Full Synthetic 0W-20 motor oil.
Here's why:
50% more cleaning power
Good performance in extreme cold
Extra detergents for extra protection
Valvoline is one of the most popular lubricant brands in the US. More importantly, their products are manufactured in the US, following strict quality checks.
Therefore, this premium-quality synthetic oil meets or exceeds most industry standards. Its performance is boosted by extra detergents that help keep the engine clean and sludge-free.
This is an API-certified and dexos approved motor oil, compatible with a wide range of vehicles. As a 0W-20 viscosity oil, it's a great option for a sub-zero climate.
That's not all; this Valvoline synthetic oil is also ideal for hard-working cars and trucks that haul and tow. The superior antioxidants ensure the oil doesn't break down even in extreme conditions.
In terms of price, it offers good value for money. So, even if you change oil sooner than the intervals on the manual, you'll get your money's worth.
0W-20 – Buyer's Guide

Most car owners rely on the instructions on their car's owner's manual to decide which viscosity or oil weight to go with. If your car requires 0W-20 oil, you can easily find synthetic API-certified engine oil in the capacity.
However, there are many brands that offer this viscosity, so it might get confusing at times.
What Does 0W-20 Oil Mean?
0W-20 is an SAE dual viscosity grade. Back in the day, motor oils used to have single viscosity, but today, they have dual. This helps make them functional in both extremes (winter and summer).
The viscosity before the letter W represents the weight for winters. Typically, the lower the number, the better the oil is for extreme cold. As zero is the lowest possible grade, 0W-20 is a great pick for extreme cold weather.
The weight after the W represents the viscosity at hot temperatures. Typically, the higher the viscosity, the more viscous the oil remains at high temperatures. While 20 is not very high, it's decent enough to work in summers when temperatures go over 80 degrees.
Is 0W-20 Always Synthetic?

Yes, 0W-20 is typically either fully synthetic or, at the very least, a synthetic blend.
SAE 0W-20 grade oil is designed for low-temperature conditions. For the oil to run smoothly at sub-zero temperatures, it needs a lot of synthetic oil as a base. That's why you won't find any conventional oil for this particular oil grade/viscosity.
Not just the synthetic base, but even the additives must be easy to flow at very low temperatures. They should be thin enough at temperatures below zero to not affect the flow or viscosity of the synthetic base oils.
As a result, most 0W-20 grade oils are fully synthetic. However, there are levels even for full synthetic oils as some are labeled as Advanced or Premium. That has nothing to do with oil grade but more with the brand and oil quality.
Did you know that synthetic oil is basically mineral oil that has been broken down and built again with restructured molecules to provide better protection? Well, now you do!
0W-20 Temperature Range

While the exact temperature range may vary for each specific formula, the 0W-20 grade oil temperature range is pretty expansive.
Its operating temperature range is between -47 degrees Celcius (-52.6 F) and 205 degrees Celcius (400 F). Therefore, it's good for both extreme ends of the weather.
0W-20 is typically more popular in countries in the northern hemisphere, where temperatures are low most of the year.
Did you know that there are regions where you may have to use different engine oil for winter and different oil for summer? Siberia is one such region where the winters are extremely cold, and you have to switch to 0W oil.
How Long Does 0W-20 Synthetic Oil Last?

The oil change interval varies by the make of the engine and even the car model. Back in the day, people use to change the oil every 3000 miles. However, with more efficient engines and synthetic oils, the intervals have increased.
A full synthetic 0W-20 oil can easily last from 5000 to 7500 miles. Some premium-quality oils can even go up to 10,000 miles, increasing the interval recommended by the manufacturer.
However, the best practice is to stick with the oil change interval recommended by the manufacturer of the vehicle. Some other factors may also impact the change interval, such as the type of driving or the mileage on the odometer.
What is 0W-20 Oil Used For?

The 0W-20 oil is recommended for a wide range of vehicles. Many modern vehicles, both low-cost and high-end, use 0W-20 grade oil to ensure smooth performance by the engine in the extreme of conditions.
0W-20 Synthetic Oil for Honda: Many Honda engines use 0W-20. For instance, the Civic hybrid engine prefers 0W-20 synthetic oil. The owner's manual of Honda Accord also recommends synthetic 0W-20 grade oil.
0W-20 Synthetic Oil for Subaru: Subaru Legacy and Outback 6, as well as Legacy and Outback XT, prefer 0W-20 synthetic oil.
0W-20 Synthetic Oil for Chevy Silverado: The 5.2L and 6.2L engines of Chevy Silverado use 0W-20 synthetic oil, whereas 2.7L and 4.3L use 5W-30 oil viscosity.
0W-20 Synthetic Oil for Tacoma: All engine types of Toyota Tacoma use 0W-20 oil type.
0W-20 Synthetic Oil for Toyota Tundra: For the latest models of Tundra, Toyota recommends using synthetic 0W-20. If that's not available, 5W-30 may be used.
0W-20 Synthetic Oil for Toyota Corolla: Starting from 2010, Toyota switched its recommendation for Toyota Corolla oil type to 0W-20 from 5W-30.
0W-20 Synthetic Oil for BMW: The oil type for BMW varies by model, but 0W-20 and 0W-30 are the most common oil types recommended by the German carmaker.
Benefits of Using 0W-20 Oil

There are many benefits to using synthetic 0W-20 oil in your engine:
High Compatibility:It's compatible with a wide range of vehicles, especially modern cars.
Great for Extreme Winters: It has a good flow at temperatures below zero degrees, which makes it ideal for places with very extreme winters.
Long-lasting: As a synthetic oil, 0W-20 grade oil can even outlast the interval given in the manual.
Protects Engine: Synthetic oils are great at preventing sludge and deposits and overall protecting the engine, even those that do a lot of hardworking.
Best 0W-20 Synthetic Oil
The top best product [hide]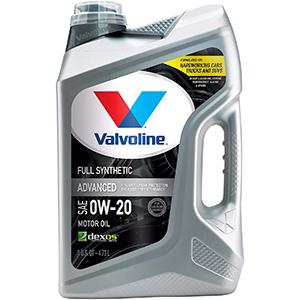 The Valvoline Advanced Full Synthetic 0W-20 motor oil is the best overall, and that's why our top pick as well. Made in the US, Valvoline uses premium-quality synthetic bases and compatible additives that help ensure the engine stays clean.
It offers 40% more wear protection than most average synthetic oils meeting the set industry standards. Therefore, it goes beyond just keeping the engine clean. It also has the potential to improve performance, especially for cars that do a lot of stop and go driving.
The jug has an easy-pour mouth and handle that make it easy to add the oil into the engine without making any spills.
It's also very good value for money, and if changed regularly on time, it can help reduce maintenance costs in the long run.
Specifications:
Great engine performance
Exceeds industry standards
API-certified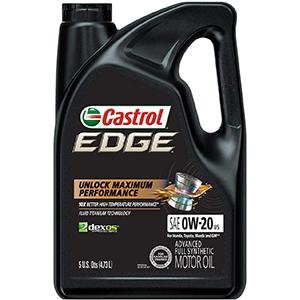 The Castrol Edge Advanced Full Synthetic 0W-20 motor oil combines performance and fuel economy, making it the perfect option for city drivers. If you do a lot of highway driving as well as stop and go on city roads, this oil is a good option to maintain the engine well.
Its Fluid Titanium technology reduces friction in the engine and allows the engine to perform its best even under pressure. The rating for fighting deposits is 42 times better than the industry average.
Moreover, Castrol is compatible with a range of cars, including Honda, Toyota, Lexus, and Acura. It's designed to efficiently handle the high pressure that is common in modern engines.
Specifications:
10 times better high-temperature performance
Premium formula with fluid Titanium technology
Exceeds standards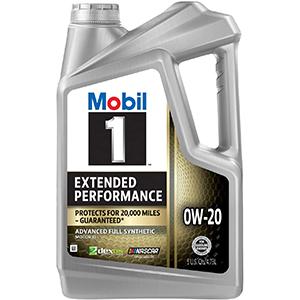 The Mobil 1 Extended Performance Full Synthetic Motor Oil in 0W-20 grade helps improve engine performance. More importantly, it helps maintain fuel efficiency, thereby, allowing you to save on fuel costs in the long run.
Mobil 1 claims this oil can last up to 20,000 miles each interval, which is quite a lot. So it's safe to assume, you can at least extend the interval by 1000 miles and save maintenance costs every year. This is dexos-approved and the official Nascar oil, which means it's good for racing cars as well. It meets the ILSAC GF-6 standard. With oxidative agents, it doesn't break down in both low and high temperatures.
Specifications:
Extended interval
Increase in horsepower and fuel economy
The official choice of Nascar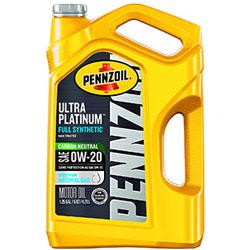 The Pennzoil Platinum Full Synthetic 0W-20 motor oil is a premium-quality engine oil at a very reasonable price. Pennzoil synthetic oils are made from natural gas, unlike most other oils, which are made from crude oil. This gives it very high levels of purity.
The gas is converted to liquid using cutting-edge PurePlus technology. This helps keep the engines cleaner than average oils by as much as 45%.
While its performance is great at low temperatures, you can expect the same level even at very high temperatures. So it's good for use all year long. It has an ergonomic bottle that's very easy to handle and pour the oil into the engine, so even a newbie can do the oil change using this.
Specifications:
Made from natural gas
Increases mileage
Best budget option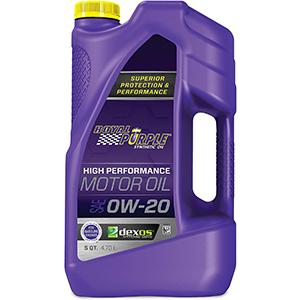 Royal Purple enjoys a good reputation in the lubricant world but counts as a high-end brand. Their oils are typically expensive but deliver quality. This High-Performance motor oil in 0W-20 weight is no different.
This synthetic oil provides corrosion protection and prevents deposits and sludges. The engine stays pristine clean even in rough conditions. It can easily work with fuels containing ethanol. In terms of fuel efficiency, its performance is comparable with 5W-30 and 5W-20 oils. This is thanks in part to the low coefficient of friction of this oil. If you don't have any budget constraints, Royal Purple is a reliable brand to consider.
Specifications:
Premium quality oil
Better fuel economy
Corrosion protection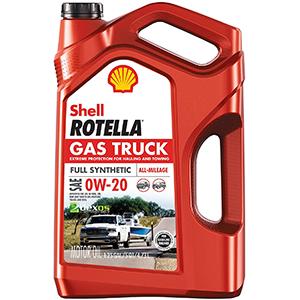 For trucks, the Shell Rotella Gas Truck Synthetic 0W-20 formula is a great choice. It's specifically designed for hardworking trucks, vans, and SUVs with gasoline engines. Also, it's good for high mileage vehicles that need extra detergents for better engine sealing.
This is good for both hauling/towing trucks as well as those that drive on inner-city roads with lots of stops. As a 0W-20 synthetic oil, it will easily outperform conventional oil.
This will help protect your engine from deposits and sludge, keeping it running just like new even if it has crossed the 100k miles mark. It meets Ford, Chrysler, as well as dexos (GM) requirements.
The bottle is easy to pour with handles on both the top and side. The change interval depends on your vehicle as Shell Rotella doesn't really recommend any oil change interval.
Specifications:
Great for trucks
High-mileage oil
Prevents engine damage
Conclusion
Valvoline is the best 0W-20 synthetic oil by all accounts, but you can pick any of the above that meets your requirements. Make sure to check if 0W-20 is compatible with your vehicle and how much oil capacity the engine has.
Most of these oils come in single and five-quart bottles.