You're probably driving a Toyota because you enjoy the way it handles. It feels fantastic, performs exactly as advertised, and helps you keep safe. These well-known cars wouldn't function in the same manner without regular power steering fluid fills, which are an important component of any functioning automobile that is frequently overlooked.
There are several high-quality power steering fluids on the market today. You may, of course, go with an OEM alternative and get power steering fluids from a car manufacturer. This is especially crucial for certain makes and models, particularly those from Toyota, Honda, and Acura. If you own a Toyota vehicle, be sure that the power steering fluid you're buying is compatible with it.
Most of the aftermarket brands we'll discuss in this post make power steering fluids that are compatible with a range of cars as a universal solution. However, as previously stated, double-check that a specific product is appropriate for your car before making a purchase.

What is Power Steering Fluid


It's important to have the correct type and quantity of power steering fluid on hand, as well as a vehicle-specific solution. Power steering fluid is used to clean, lubricate, and condition the power steering system seals. They also transmit the required amount of hydraulic force while guiding.
With so many characteristics, it's no surprise that there are a variety of types of steering fluids available. However, aside from your manufacturer's suggestions, there is no way to determine the ideal fluids for your car.
You should also know which PS fluid is appropriate for your automobile so that you can replace it if there is a problem. With time, leaks occur in the power steering system and cause seals to harden and debris to wear away the seal surfaces.
Power steering fluids that are not properly treated only make things worse. The simplest method to avoid this drawn-out problem is to check and replace the proper PS fluid on a regular basis.
Toyota Power Steering Fluid Type


The type of power steering fluid that should be used in the Toyota is DEXRON II or IIi Automatic transmission fluid. You inspect the reservoir for fluid and fill it to the highest line, as you would with any quantity. Leaving it beneath or above the MINIMum or maximum line can lead to vehicle problems. The hydraulic fluid that powers the power steering is a type of hydraulic fluid that transmits the power in the steering system to make turning the wheels more comfortable. To prevent dirt or other items from getting into the reservoir, clean off the cap when checking or adding fluid. The cost of Toyota power steering fluid ranges from $7 to $12 depending on where you buy it.
If you're looking for the right power steering fluid for your Toyota and don't know where to start, you've come to the right place. Because one of the few producers who is not overly concerned with the fluid you use, your vehicle will most likely have a range of alternatives rather than just one or two; however, owners of most other makes won't. There are still some that are superior to others, but you have a lot of options.Here are the Toyota power steering fluids we recommend:
Dexron II or Dexron III Automatic Transmission Fluid
This is Toyota's standard power steering fluid, which we recommend for your car. It's been verified by the manufacturer and is the fluid that's best suited for Toyotas. The Dexron ATF offers a long-lasting extension to your steering system as well as protection from deterioration caused by age and use.
Idemitsu PSF Universal Power Steering Fluid.
TThe Universal PSF from Idemitsu is a jack-of-all-trades in the power steering fluid world. This fluid isn't designed to work particularly well with one type of car, but it performs admirably in many. Toyota isn't the only automobile that benefits from this fluid's compatibility with most of their OEM power steering units; it works even better with Toyota than most cars because to its compatibility with almost all of them. This is excellent at keeping noise in the steering system and lubricating the unit in both hot and cold temperatures no matter what you have.
Royal Purple Max EZ Power Steering Fluid.
For an aftermarket power steering fluid, the Royal Purple is hard to beat. This multipurpose solution can be added to other fluids in the power steering reservoir or used entirely on its own. The costlier Royal Purple fluid, which may be mixed with other fluids and used to top off the reservoir, but it's well worth it if you're willing to spend a little extra money. You'll get excellent protection from the elements as well as a long life for your steering system unit when you use this stuff.
Prestone Power Steering Fluid with Stop Leak.
Another brand that works well with Toyota is Prestone. This isn't necessarily the best option for Toyota power steering fluid, but it's a good one to have in your arsenal. The stop leak additive in this fluid serves as a great filler for any voids in your unit's structure caused by wear and tear, ensuring that it continues to function properly. Prestone has a compatibility chart revealing which fluids are compatible with each other.
Peak – Original Equipment Technology Full Synthetic Asian Power Steering Fluid.
This fluid is made to work with Asian automobiles, including Toyota's. While it isn't the most resilient fluid out there, it will keep your vehicle straight under all sorts of circumstances. This isn't one of our top picks for Toyotas, but if you can't get one of the above four alternatives, go with this one.
Toyota vehicles are not particular about the type of power steering fluid they require. This is generally true across models; check your owner's handbook just in case the manufacturer specifies something different for your particular vehicle.
Best Power Steering Fluid for Toyota
Overall #1 Pick for Toyota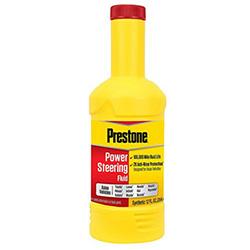 Prestone AS269 Power Steering Fluid
Prestone is another good choice for Toyota power steering fluid. This may not be your first pick for Toyota power steering fluid, but it's still a fantastic option. The primary appeal of this fluid is its stop leak additive, which is designed to fill in any holes in the structure of your equipment from wear and tear and keep it operating properly.
Prestone Power Steering Fluid is a premium oil with additives that rejuvenate dried, shrunken, and hardened seals. The fluid aids the power steering system in functioning properly and prevents leaking seals. Corrosion inhibitors are also included in the fluid to safeguard metal elements, as well as anti-wear chemicals that protect pump components.
Prestone's power steering fluid contains antioxidants to prevent sludge formation. Anti-foam chemicals assist with preventing pump cavitation and steering loss, while corrosion inhibitors preserve metal components and pour point depressants ensure good steering even in low temperatures. To avoid sludge, Prestone's power steering fluid also incorporates anti-oxidants.
Read more form prestone power steering fluid compatibility chart.
Idemitsu Universal Power Steering Fluid for Asian Vehicles - 2007 Toyota Sienna Power Steering Fluid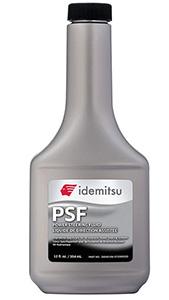 If you own an Asian imported automobile, you should think about using Idemitsu Universal Power Steering Fluid for Asian Vehicles. It's made from top-notch base oils and includes some of the newest additive additives. This is a very cost-effective solution, as one bottle will typically last a long time. The power steering system on this vehicle is made in Asia and includes several special features that safeguard and enhance the power steering system. This high-quality OE power steering fluid is designed particularly for Honda, Acura, Hyundai, Isuzu, Infiniti, Lexus, Mazda, Mitsubishi, Nissan (sales and otherwise), Scion (US vehicles only), Subaru (previously known as Fuji Heavy Industries), Suzuki (suitable for vehicles with manual transmissions but also fitted with CVT gearboxes), and Toyota automobiles. It can also be used in other Asian manufactured cars that do not employ electronic power steering systems. The advanced technology used in this power steering fluid protects the entire power steering system and improves its performance and reliability under severe usage conditions. It has friction technology that lubricates the system and ensures a noiseless operation while also increasing fluid durability and life. This power steering fluid is produced from high-quality base oils with the most up-to-date additives that are safe for seals, gaskets, and other internal components. This fluid can minimize the chance of leaks while also improving steering feel. The fluid can be operated at temperatures as low as -60 degrees Fahrenheit, and it does not require any additives or chemicals. It has excellent low-temperature capabilities and may prevent pump cavitation.
Specifications:
Good for most OEM Toyota power steering units
use Asian Vehicles
Low noise operation even when cold
Royal Purple Max ATF - 2005-2007 Toyota Highlander Power Steering Fluid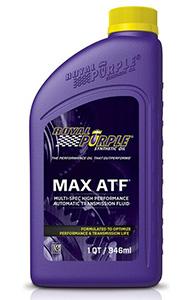 Replacing a semi-synthetic factory-fill ATF with a fully synthetic replacement can result in significant improvements. Royal Purple says that its ATF lowers operating temperatures by as much as 20 degrees Fahrenheit, allowing for longer component life. Royal Purple Max ATF is a synthetic, multi-purpose antifreeze that has excellent shear stability and low friction at higher temperatures. It's suitable for most modern cars' transmissions. The Royal Purple Power Steering Additive improves the efficiency of your power steering system by lubricating, protecting, and sealing critical components inside. It also contains synerlec additive technology that aims to keep the inner workings of your vehicle's power steering system intact. According to Royal Purple, Synerlec is proven to extend the life of your car's power steering system. Recommended for Vehicles that Require: Allison C-4, TES-295; Audi G-052-162, G-052-990, G-055-025; BMW 7045E, LA2634, LT71141; Chrysler ATF+, ATF+2, ATF+3, ATF+4; GM DEXRON, DEXRON II, DEXRON IID, DEXRON IIE, DEXRON-IIIF, DEXRON IIIG, DEXRON-IIIH; Esso LT 71141; Honda ATF-Z1 (except in CVT's); Hyundai SP-II, SP-III; JWS 3309, JWS 3314, JWS 3317; Kia Red-1, SP-II, SP-III; Idemitsu K17; JASO 1-A; MAN 339F, 339 V1,339 V2, 339 Z1, 33; Mazda ATF-M III, ATF-MV; Mercedes Benz 236.1, 236.2, 236.3, 236.5, 236.6, 236.7, 236.9, 236.10, 236.11; Mitsubishi SP-II, SP-III; Nissan 402, Matic-D, Matic-J, Matic-K; Shell 3403, LA2634; Subaru ATF, ATF-HP; Suzuki 3314, 3317; Texaco ETL-7045E, ETL-8072B, N402; Toyota T-III, T-IV; Voith 55.6335.XX (G607); Volvo Pass Car (4-6 Speed AT), 97340 (Construction Equipment), 97341; VW G-052-162, G-052-990, G-055-025; ZF TE-ML, 03D, 04D, 05L, 09, 11B, 14A, 16L, 17C, TE-ML 14B
Specifications:
Works in most ZF transmissions
Meets Dexron III, Mercon V, ATF+4, Allison C-4, Honda ATF-Z1, Mazda ATF-MZ and M III, Toyota T-III and T-IV, and many other manufacturers' specs
Maintains viscosity up to the upper extremes of transmission temperatures
RAVENOL Power Steering Fluid - 2nd Gen Tacoma Power Steering Fluid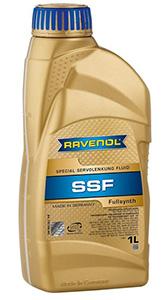 Germany-based RAVENOL provides a high-quality power steering fluid that works with a range of vehicles from prestigious automakers such as Audi, Volkswagen, BMW, Mercedes-Benz, Volvo, GM, Ford, Porsche, Land Rover, Toyota, Hyundai, and Kia. RAVENOL's power steering fluid offers superb anti-foaming properties with a low pour point and excellent corrosion protection and thermal stability. Corrosive attack is excluded, and the seal materials are neither harmed nor changed in character. It's a high-performance synthetic mineral-based hydraulic fluid that offers excellent wear resistance and corrosion protection. Its great shear stability is a key component in ensuring uniform viscosity under extreme operating conditions (-40°C to over 130°C). This option is intended for high tolerance hydraulic systems and may also be used on hydro-pneumatic suspension systems.
Specifications:
Anti-foaming characteristics
Extremely low pour point
Designed specifically for high tolerance hydraulic systems
Valvoline Multi-Vehicle Full Synthetic Automatic Transmission Fluid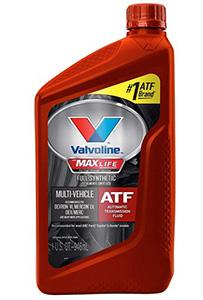 Another excellent product from Valvoline is MaxLife, which is based on group III paraffinic oil. It's suitable for most GM, Toyota, Honda, and Ford models as well as vehicles with Dexron VI, Mercon V, or Mercon LV fluid requirements. However, don't put it in your car if it requires ATF+4 or has a CVT gearbox. MaxLife is a synthetic fluid that doesn't need to be replaced as frequently as other fluids. It's also quite steady and retains its liquidity even in high temperatures. You won't have to worry about transmission failure with this fluid — your gearbox will stay cool enough while driving in any weather. MaxLife, from Valvoline, is a popular choice among drivers because it contains additives that prevent leaks. It also has chemicals to clean debris caused by excessive friction. This fluid reduces shudder to an absolute minimum as a result of these additives. This ATF is probably one of the most cost-effective on this list. You will be able to save a lot of money because of its long life. If your automobile meets its requirements, you should definitely give it a go. Recommended for use in the following applications: GM DEXRON-II, DEXRON-IIIm DEXRON-VI, Ford MERCON LV, Toyota/Lexus Type T, T-II, T-IV, WS, Honda/Acura, ATF-Z1, Nissan/Infiniti Matic-D, Matic-J, Matric-K, Matic-S, Hyundai/Kia SP-II, SP-III, SP-IV, SPH-IV, BMW 7045E, ETL 8072B, LA2634, LT71141, Allison C-4, Mercedes Benz NAG-1, Volvo 1161521, 1161540, 97340, 1273.41, and VW/Audi G-052-025-A2, G-052-162-A1. For CVT applications Valvoline recommends Valvoline Full Synthetic CVT Fluid.
Specifications:
Suitable for use in Ford, GM, Toyota & Honda models as well as Dex/Merc, Mercon LV
High-performance seal conditioners maintain
With anti-wear technology to help improve transmission durability
Mobil 1 112980 Synthetic Automatic Transmission Fluid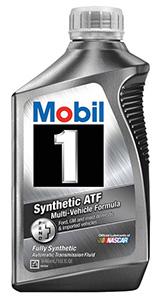 Mobil 1 Synthetic ATF is a multi-vehicle, fully synthetic automatic transmission fluid that outperforms conventional automatic transmission fluids in terms of thermal stability and offers exceptional thermal stability. Mobil 1 Synthetic ATF is a high-performance synthetic gearbox fluid that outperforms regular automatic transmission fluids. The stability and high viscosity index of Mobil 1 Synthetic ATF help to protect against heat breakdown at high temperatures while still delivering good performance at ambient temperatures as low as -54°C. It also aids in the improvement of overall transmission durability and cleanliness. This coolant additive was designed to improve and enhance transmission performance, efficiency, and fuel consumption. It helps to deliver instant and dependable lubrication in temperatures down to -54 degrees Celsius. Transmissions are kept clean for better performance even under demanding driving circumstances.
Specifications:
Meets many different manufacturers' specs, including Dexron III, Mercon V, Allison C-4, Volvo 97340 and 97341 and MAN 339 V1
Enhanced, long-term frictional properties
Outstanding film-strength and anti-wear properties
Triax Powerfluid 450 Full Synthetic Power Steering Fluid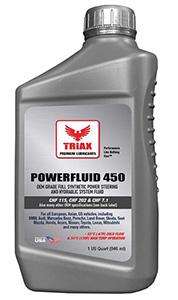 Arctic grade -76 F pour point; extreme high heat operational temp 266 F; zero shearing. Superior performance to OEM fluids. Will preserve steering and hydraulic system efficiency in extremely cold climates. The TRIAX POWERFLUID 450 is a top-tier full synthetic ester blended fluid for modern car power steering fluids, hydraulic suspensions, self-leveling suspensions, and other applications in modern vehicle hydraulic systems. This product is made with the most up-to-date base oils and additive chemistry to deliver exceptional hydraulic response, excellent low-temperature performance, wide seal protection, and lifetime fill oxidation stability. The TRIACAX POWERFLOW 450 is designed to work with virtually all vehicle models on the market today. It includes corrosion preventers, de-foamers, sophisticated detergent and viscosity stability boosters to meet or exceed OEM requirements while still outperforming fluids in nearly every respect. This solution is ideal for harsh use in temperatures ranging from -50 degrees Celsius to over 130 degrees Fahrenheit, providing full performance. All modern automobiles are equipped with a Power Steering Pump. This module is compatible with all European, Asian, and US automobile power steering systems; self-leveling suspensions; tractor control systems; shock absorbers; hydro-pneumatic suspensions; central locking systems; convertible tops hydraulic systems. Compatible with / replacement for: Pentosin CHF 11S CHF 202 & CHF 7.1, Audi / VW G002000 & G002012, G 002 000 A2, TL 52 146.00, Bentley RH 5000, BMW / Mini 82 11 1 468 041 / 82 11 0 148 132 / 83 29 0 429 576, Chrysler MS-10838, 05142893AA, MS-1872, MS-5931, 04883077, MS-9602, ATF+4, MS-11655, Ford M2C195-A & M2C204-A, GM 9985010, 1052884, 9985835, 12345866, GM 89021184, Hyundai / Kia PSF-3 & PSF-4, Mercedes Benz 236.3, 0009898803, 345.0, 0019892403, Toyota PSF Type EH, 008886-01, Volvo 1161529
Specifications:
Toyota PSF Type EH, P/N 008886-01
Pentosin CF 11s, CHF 202, CHF 7.1
Excellent hydraulic response
What happens if you use the wrong power steering fluid?
Power steering fluid is an essential element of any decent steering system, and it must not be overlooked. Your car's power steering fluid should be up to date, since it allows you to drive safely and steer correctly. This fluid keeps the connection between your steering wheel inputs and the vehicle's tires operating as it should, allowing you to control the wheels so that they go where you want them.
However, there is a huge difference between all of these power steering fluids. Each fluid will have a distinct chemical composition depending on the sort of car it's designed for, so you'll need to be picky about the type of fluid you use in your vehicle.
It's critical that you use one provided by your manufacturer or one that clearly specifies its compatibility with your car's make. Using the incorrect power steering fluid might result in significant damage to your nice automobile, such as locking up the steering system and corroding your vehicle's seals, resulting in loud grinding noises and destroying the pump.
This simply implies that you need to get the correct fluid. Toyota, on the other hand, is a pretty forgiving manufacturer when it comes to finding a suitable power steering fluid; therefore, the search shouldn't be too difficult!
Can I mix ATF and power steering fluid?


Because power steering and automatic transmission fluids are both hydraulic fluids, combining them is not supposed to be a problem. Swapping the wrong fluids in certain vehicle models can cause the gears to not function. Avoid combining power steering fluid with transmission fluid unless it is done on purpose.
When the power steering pump is replaced, it might be helpful to add a little of the new fluid into the existing system. For example, if you replace your engine's gearbox and want to avoid having to refill all of your automatic transmissions at once, why not mix some of the old fluid with some new? It will make for a very unusual steering response because they are two distinct viscosities that are immiscible.
What if you put power steering fluid in your gearbox? It will work the hydraulics, but it won't have the friction properties required for automatic transmissions' clutch packs. A hydraulic oil is used in both power steering and an automatic transmission, but they may not be compatible.
The Differences Between Power Steering FlUID and Automatic Transmission FlUID. The most significant distinction between the two is that ATF includes friction modifiers and cleaners. It's the detergents in the ATF that keep all of the pollutants at bay.
Differences between Power Steering Fluid and Automatic Transmission Fluid
The most significant distinction between the two is that ATF contains friction modifiers and detergents. It's the detergents in the ATF that keep all of the junk out of the transmission. This is critical since it helps to avoid any damage to the hydraulic valves, which are an essential component of the tranny.
The friction modifiers in the automatic gearbox assist to keep the heat down as the valves and pump in hydraulic systems operate. Both, however, include the same seal substances that resist hydraulic fluid degeneration.
The heat of the automatic transmission fluid, combined with its additives, can build up in high-temperature regions. It's due to their additions, which may obstruct the power steering actuator and a fluid pump.
Can you use Transmission Fluid in a Power Steering Pump?
The majority of the automobile producers utilize specialized PS fluids to get optimum results from their steering systems. Some power steering systems also make use of automatic transmission fluids to provide power assistance.
Fill caps are typically inscribed with the words "Use automatic transmission fluid," "Use Dexron," or "Use Mercon." ATFs' chemicals assist to keep your system clean. When used on systems that are designed to run with it, automatic transmission fluid is fine and safe. It should not, however, be used on systems that need power steering fluid rather than automated transmission fluid.
Another disadvantage is that the recommended power steering fluids are not particularly pricey, and they're just as accessible as tranny fluid. So using an ATF in your power steering system will not save you money. It's only acceptable to use transmission fluid in the steering pump as a last resort. And, if it's done, the steering pump can only operate for a brief amount of time. It will almost certainly cause problems with the steering components. Chrysler, Ford, and GM vehicles are the only ones that allow you to use transmission fluids in the steering pump.
Is Dexron III the same as power steering fluid?
Yes, you can. When your power steering pump runs out of fluid, you may use ATF or automatic transmission fluid in its place. Your power steering system is made up of a number of hoses, valves, pumps, and gears that work together to turn the wheels. It's a hydraulic system.
It's ideal for use in any power steering system where DEXRON® or MERCON® is recommended. As a result, most automobiles come with DEXRON VI or DEXRON III built in. The mixing of the preparations is what to be wary of. PS fluid is typically less durable than ATF, although they appear to function effectively on either; they don't require a lot of additives in the system.
The red-colored automatic transmission fluid (AF) has a distinct sweet scent, while the power steering (PS) fluid is clear, amber, or pinkish and has a marshmallow-like odor. Both of them are hydraulic fluids.
How to check power steering fluid
The three things you should check on a regular basis with regard to your power steering fluid are the level of the fluid in the reservoir, its clarity or color, and then, importantly, whether there are any leaks from this area.
The fluid may leak from the reservoir if it is not properly filled. Many reservoirs for this liquid will include either level-indicating markings on the side where you can see how full the reservoir is or a dipstick beneath the cap of the reservoir to check how full it is. It's straightforward to use a dipstick, just like with oil:
Remove the dipstick from the container.
Using a stiff-bristled brush, clean the dipstick. Check out where the max and minimum level indications are.
Replace the dipstick with a new one, then remove it to see where the fluid goes.
If the fluid level is below or close to the minimum, replenish it to its highest possible level.
If the fluid is already at an acceptable level, simply replace the cap and carry on as normal.
As with any vital fluid in your car, you need to keep it clean. Contamination will result in reduced performance and the power steering may not function at all. Oxidation of the fluid is a typical occurrence, which can cause it to darken and lose its efficacy. Regardless of the source of the contamination, be prepared to replace the fluid once you detect it.
What is the typical color of power steering fluid? This is determined on your car's recommended steering fluid, although power steering fluid is generally a crimson hue.
Checking for power steering fluid leaks
The last thing you want is to waste your power steering fluid while parked or on the road, allowing it to seep away. You'll typically notice fluid stains where you've parked your automobile after you've moved it if this occurs. If the leaked fluid is crimson, that implies your power steering has failed and you should immediately contact a professional.
Conclusion
Always verify your vehicle's recommended power steering fluid before making a purchase. The majority of fluids in this category are capable of operating the power steering system. Some cars, on the other hand, need specialist fluids to operate their power steering systems.
If you're in a pinch, use the manufacturer's recommended product. You may be held liable for any damage to your vehicle if you don't follow this advice.
Within those parameters, the finest power steering fluid will not be the least expensive. It's also not always the most costly. The best power steering fluid for you is the one that works with your car and your weather conditions, keeping you safe on the road.