Is it better to go for original equipment or substitute parts? This is a common concern among automobile owners when it comes to vehicle maintenance. Trans fluid replacement is one of them.
The odd is that your Honda automobile requires automatic transmission fluid Honda ATF DW1. Many people, on the other hand, still search for similar alternatives to this OEM solution. What happens if you don't use Honda's ATF DW1 in your Honda?
We'll go through the reasons why they need alternatives, as well as analyses to see whether these alternatives are suitable for your Honda.

Honda ATF Z1 vs DW1: Clear interpretation


Many people are perplexed by Honda ATF Z1 and DW-1. They're the same thing, as far as I'm concerned. Honda's alternative to their Z1 product is the ATF DW-1.
The most popular transmission fluid from the mid-nineties was ATF Z1. It had good characteristics, but because it exposed consumers to carcinogens and reproductive toxicants, it was discontinued. It is based on the Dexron II and has been used in Hondas manufactured before 2011.
After that, Honda produced another ATF oil, the ATF DW-1, to replace the Z1. This new fluid was free of the harmful chemicals found in previous fluids, and it greatly improved low-temperature performance. In 2011 models, including all models that followed, you shouldn't use any other fluid.
Let's look at the Honda ATF DW-1, as well as why it is so costly.
Overall #1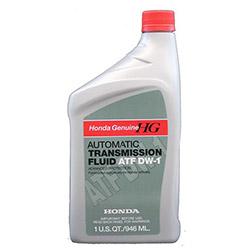 Honda ATF DW1
his fluid was designed to replace the previous ATF Z1, which has now been discontinued. It's intended to be a better version of the old ATF Z1, and it's produced in different canisters for Japan, America, and Europe. Honda Ultra ATF DW-1 is another name for it.
In terms of composition, the major difference between this lubricant and its predecessors Honda ATF Z1 is a better one. As a result, the product's excellent low and high temperature characteristics are obtained.
The product has a high viscosity and excellent fluidity at low temperatures. It is stably and securely lubricated, resulting in significant friction reduction. It allows for improved fuel efficiency by lowering frictional losses.
The high viscosity oil is also heat resistant. It maintains consistent viscosity over time. A thick oil film is formed on the surface of transmission components, providing excellent friction and wear resistance. The High film strength technology contributes to the tear resistance of the film.
A smart choice for people who use their vehicles all day long, which is why it's a good idea to get one that has superior high and low temperature retention capabilities. This ensures longer transmission life, greater performance and durability. As a result, it becomes possible to save money on car repairs and maintenance.
Honda ATF DW-1 fluid has the following advantages:
        reduced viscosity at low temperatures;
        excellent lubricating properties and significant reduction in friction;
        the ability to provide fuel efficiency;
        viscosity stability even at high temperatures;
        strong oil film, resistant to tearing.
The major disadvantage of this atf dw1 is its price, which is rather expensive. And using it frequently and in large quantities may be difficult, especially if you don't have much experience with it.
Look for alternatives if you want to stick with the original Honda DW-1. If you want to stay with the original Honda DW-1, you may do your own maintenance and search for a bargain. However, if you don't wish to use Honda's product, there are alternative choices available.
Honda ATF DW-1 equivalent
Please keep in mind that if your Honda is still covered by warranty, you should only use OEM fluid. Otherwise, the dealership may invalidate the guarantee.
The following are some transmission fluids that provide very close results to Honda's DW-1 if you want to compare them with one another.
ATF-DW1 is also compatible with all other known Honda synthetic oil types, including: CBD and ATX. The most significant difference between the two is that ATF-DW1 has a lower viscosity (thinner), resulting in better gas mileage.
This fluid, which is virtually identical to the Honda ATF Z-1, has taken its place.
The speciality of Thetford is that it can handle a wide range of temperatures, while still maintaining good changeability. At higher or lesser temperature extremes, the difference in stability is significant. The aforementioned fluids also have similar characteristics. The United ATF MV-66, Aisin ATF AFW +, and Amsoil Signature Series Fuel-Efficient Synthetic Automatic Transmission Fluid are just a few examples.
All of the oils have been sold under different brand names as genuine oils for various automobile manufacturers.
Overall #2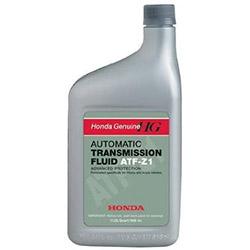 Honda ATF Z1
The Honda ATF Z1 gearbox oil is designed to work with all automatic Honda cars built between 2009 and 2011. A new standard was established and implemented for Honda vehicles in 2011: the ATF DW-1. Starting in 2012, all automatic transmissions from this manufacturer utilize ATF DW-1 as part of regular maintenance. The transmission fluid used in 2012 differed from the previous version of the Honda ATF Z1 in several ways:
The more perfect sort of base, which has greater stability and durability, is chosen as a foundation;
Increased sealing effectiveness, longer gear durability, and improved low- and high-temperature performance all contribute to increased drivability.
Due to new components, antioxidant activities are enhanced.
This is accomplished by applying a thicker film as the screen protector cracks because of frequent use.
It is allowed to fill in the Z1's DW-1 automatic transmission with oil. Reverse replacement is not suggested.
The Honda ATF Z1 transmission oil is designed specifically for Hondas. Some other Asian auto manufacturers have used the ATF Z-1 in their automatic transmissions before.
However, because the information was inconsistent and disorganized, it's impossible to determine if such a decision was justified with any degree of accuracy.
In general, if we look at the performance qualities, this ATF fluid is comparable to the Dexron III family of oils. However, to claim that the Z-1 will function in other automatic transmissions designed for the Dexron standard is insufficient.
Small variations in chemicals might be deadly, since any breakdowns in the box's control and executive hydraulics will result in significant flaws in its overall operation.
Only the genuine version is recommended by the manufacturer to maintain your automatic transmission working properly. Furthermore, ATP is compatible with any vehicle brand "Honda" produced before 2011.
The manufacturer previously mentioned Dexron II before commissioning various sorts of automatic transmissions with a tiptronic. This labeling drew motorists' attention. In reality, the transmission system in any vehicle will be unaffected if the first ATP C1 upgrade is installed on Z1. After all, Z1 is based on DEXRON II.
Another feature is the presence of a significant number of peculiarities, including an unusual oxidation rate in the active part of the transmission. A mild change in speeds on overly optimistic and low-temperature indicators has been observed.
Specific components have been added in individual development since the engineers developed all-season, universal liquid for hydromechanics. It turns out that the precise proportions of additives are a closely guarded secret.
Honda ATF Z1 Compatibility
Our writers are working on a number of books with names like "The Art of the Obscure" and "Avemari". The pressure is really high. I'm not sure that you can actually be a ghoul in society today, but this book isn't going to tell you everything about life after death.
Is it permissible to combine "synthetics" and "mineralka"? It's not all about the labor; it's the labeling. -1 is an American analogue for the same Honda, with a comparable value.
The primary distinction between the American and Japanese analogues is that the latter are more stable in their behavior on crucial temperature indicators. The transmission nodes of automatic transmissions get longer service lives as a result.
Z1 and DW-1 fluids are interchangeable with any Japanese automobile boxes manufactured until 2011, and they're compatible with all current automobiles. When oils are changed without the need for special flushing, they may "become pals."
The manufacturer advises that the name Z1 be replaced on W1 since no rinsing is required. However, the reverse replacement isn't advised. Intervals between additional changes are kept (every 30-35 thousand).
Replacement is a more popular choice in case of non-functionality. Services are talking about complete compatibility, which encourages a replacement replacement approach.
Honda ATF Z1 Specifications
The majority of transmission fluids used in Japanese and other Asian automobiles were originally designed to meet standards.
The GM Standard was the first to define this grade. It became the standard for transmission oils worldwide. Z-1, most current ATF fluids, and other modern alternatives were subsequently derived from it on its foundation.
The foundation
Mineral oil is a high-purity liquid that serves as the basic liquid for the liquid under consideration. Mineral oil is a highly pure substance. The starting material for ATF Z1, according to some sources, is semi-synthetic or even synthetic hydrocracking distillation.
However, in the United States, basic oil obtained by this process is considered a mineral. This is evidenced by the fact that there are no markings on the canister indicating that it is intended for use in the American market, and because it contains no liquid for sale in America.
If the material were synthetic or semi-synthetic, the container would bear a label identifying it as such (Synthetic or Semi-Synthetic).
Viscosity
In the same manner that motor oils are classified, the viscosity of this kind of gearbox fluid is divided into two categories: light and heavy. The manufacturer provides two viscosity measures. The viscosity is 39.49 CST at 40 ° C, and 7.64 CST at 100 ° C (standard for dexroniii-like lubricants). Honda vehicles are hot cars because they operate in extreme conditions. It reaches a temperature of 100 degrees inside them.
The viscosity index is a measure of how thick an oil is. Transmission oils, in particular, have a high Viscosity Index. Z-1 Honda ATF – 215.5 units viscosity indexViscosity index. For transmission oils, this indicator is usually high.
That is, when the working temperature varies, the viscositive properties of the fluid are significantly affected. And this is one of the most essential aspects. Work Hydraulic Automatic Transmission Honda Cars Oil Temperature fluctuations transmission The oil was great in winter.
Working temperature
The fluidity loss temperature is -50 degrees Celsius. When the liquid reaches a freezing point of -50 degrees Celsius, it freezes and no longer moves. It's important not to confuse the fluidity loss temperature with the automatic transmission's minimal operating threshold.
The flash temperature of the ATF Z-1 oil is 187°C. The ignition threshold for all transmission lubricants, including automatic gearboxes, is low, as opposed to internal combustion engines where high heat resistance is not required. To the disadvantage of this parameter, other characteristics are enhanced, which are more essential for the operation of the automatic transmission.
Valvoline Maxlife Multi-vehicle ATF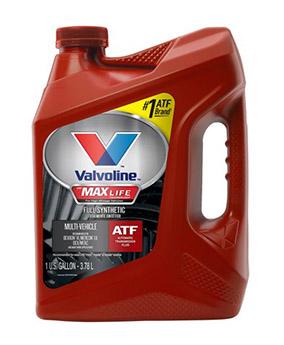 This is a synthetic transmission fluid that has been thoroughly examined to ensure it works with a wide range of vehicles. This lubricant is indicated to be compatible with Honda's DW1 on Valvoline's product information sheet. We are comparing these with the benefits of Honda's and Idemitsu's products to see if there's a link between them. We see a resemblance in terms of enhanced smooth-shifting, excellent flow when the temperature drops, and protection from wear and tear. So, should you dash out and pick up a bottle of Valvoline MaxLife right away? Here's something to think about when using it as a Honda DW-1 replacement. Most multi-vehicle ATFs are unable to fulfill certain OEM standards because they are designed to work on a variety of vehicles with different OEM demands. There have been a few laboratories that compared the products, and one of them discovered that MaxLife lacked some critical components that were included in DW-1. This implies several risks, including warranty cancellation and compatibility doubt, which you must decide whether or not they are worth taking into account.
Specifications:
Much cheaper than Honda OEM
Contains cleaning additives
Prevent leaks in transmission seals
Idemitsu ATF Type-H Plus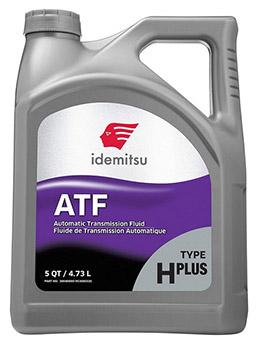 Honda's OEM partner is Idemitsu. This company claims to provide a Honda DW-1 product in a different bottle and with a distinct label than the original. Because Idemitsu makes Honda's "real Mccoy" stuff, you can't go wrong with buying a bottle of Idemitsu ATF Type-H Plus. The benefits of Honda's ATF DW1 compared to the above-mentioned pluses are that both lower your gasoline consumption, protect the fluid from oxidation, and extend the life of your components. What are the drawbacks of using Idemitsu's Type-H Plus ATF? The lifespan of the Idemitsu ATF is shorter than that of the ATDW-1, and the cost difference it creates may not make up for it in most situations. There is a debate over whether the quality is comparable to that of Honda's OEM. Some individuals claim that Honda's DW-1 contains chemicals that can't be readily duplicated by other brands (it's similar to the secret recipe at KFC). We don't believe this poses a significant issue. While the price is considerably lower, Idemitsu cannot produce this product exactly like Honda.
Specifications:
Good for fuel economy
Long interval between changes
Keeps transmissions clean
Mobil 1 112980 Synthetic Automatic Transmission Fluid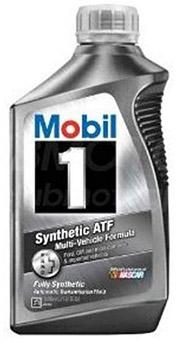 When it comes to synthetic ATF, this is one of the finest alternatives available, particularly for the Honda CRV. This option is meant to offer simple and smooth flow as well as overall high performance in even the coldest of weather, down to -54 degrees Celsius, which is simply incredible. The fluid in your Toyota Tundra's automatic transmission is Mobil 1 112980 Synthetic Automatic Transmission Fluid, which shields the gearbox from friction and wear during extended periods of operation.This particular transmission fluid is also designed to provide maximum lubrication for prompt and smooth shifting. In addition, this is another element that aids in the great deal of improvement in overall fuel efficiency. Another thing about Mobil 1 112980 Synthetic Automatic Transmission Fluid that shines is that it keeps transmissions clean and free of sludge.
Specifications:
Allows for very smooth shifting
Good cold weather performance
Enhanced fuel economy
Can you mix Honda ATF-DW1 and Z1 ?
The Honda bulletin also states that the two fluids are fully compatible with each other, and if you don't like the somewhat different shifting after using Z1 in a vehicle originally equipped with Z1, you can add some of Z1.
How Often to Change Transmission Fluid in Hondas?
In general, most Honda vehicles, whether the CRV, Fit, or Civic, need their transmission fluid changed every 100,000 miles. This is the top end of the spectrum.

If you want optimal performance, you should change the transmission fluid every 50,000 to 60,000 miles. This is all dependent on your car's type of transmission and the specific sort and brand of transmission fluid you're using.
Final verdict
The three distinct types of specialized equipment are entirely identical and can be utilized in the same machine. Furthermore, because all vehicles up to 2011 are supposed to be maintained with Honda ATF DW-1 fluid, it is suggested as a replacement for ATF Z1 transmission fluid for all three types of special gear. When the Honda ATF goes on sale, you should change to a new type of specialty fluid. When switching from one type of fluid to another, no additional flushing is required with the "friendly" Honda ATF DW-1. The substitution interval remains at three thousand miles (4860 km).
Make sure you replace the Z1 fluid with ATF DW1 in a timely manner if you want to use it in your ATV. The fact that you make a complete replacement or simply combine them will not matter.However, regardless of whether you choose a standard or automatic gearbox, it will operate without interruption as long as you change the fuel filters and oil on time. All efforts are concentrated on extending the life of the car's automated gearbox. As a result of immediate removal of the source causes,
However, each component has advantages and disadvantages, and you must be cautious in selecting what is ideal for your vehicle. However, keep in mind that you should never mix different ATF fluids. Flush your transmission if necessary. You may need to flush your gearbox in certain situations.