If you're looking to buy the best high mileage oil for your vehicle, here's the ultimate buyer's guide to help you make the right decision.
It matters a lot which engine oil you add to your vehicle, which is why this article will answer all your questions. We'll discuss how to pick the right product and review some of the best products out there.
So stick till the end and read every section carefully.
Click here to skip to our recommended pick!

Overall #1 Rated Pick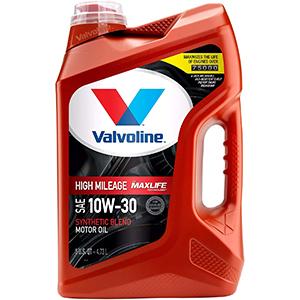 Valvoline High Mileage Synthetic Blend 10W-30 motor oil
Our number one pick for high mileage oil is the Valvoline High Mileage Synthetic Blend 10W-30 motor oil.
Here's why:
Seal conditioner detergents
Great for extreme conditions
Compatible with both cars and trucks
The Valvoline High-Mileage 10W-30 is compatible with gasoline engines. It also comes in other viscosities, including the ubiquitous 5W-30.
As an engine oil for older engines, it packs extra-strong detergents to keep the engine clean. With more oxidative power and a high-temperature viscosity, it can resist breakdown at very high temperatures.
Not only can it protect your engine from deposits and sludge, but it can also improve engine seal. If your high-mileage engine is showing signs of leakage, this oil can help prevent it from getting worse.
Its highlight is the MaxLife Technology, which basically helps extend the life of the engine. Engines typically start showing problems after 100k miles, but this can help avoid those common problems.
As a synthetic blend, it's superior to conventional oil. As a result, you can expect it to, at the very least, last for the recommended oil change interval for your specific vehicle.
High Mileage Oil – Buyer's Guide
You have to be even more careful and take precautions once your car has driven a certain number of miles. Just like humans, engines and your overall vehicle can also develop problems with time.
So here's everything you need to know to do what's best for your vehicle.
When to Use High Mileage Oil?

This is one of the most common questions: what is considered high mileage for oil change? Technically, 75,000 miles or more is considered high mileage. Once your car's odometer reaches the 75l mark, it's officially a high mileage engine.
Did you know that many people consider 100k or more as high mileage? This is because modern engines have gotten significantly better, and that's why they don't deteriorate as quickly as older engines.
Nevertheless, for the purpose of oil change and for the sake of keeping your car conditions optimal, it's best to accept 75k miles as high mileage.
High Mileage Oil Change Interval

Are you short on time or just want a quick answer?
Check out our list below for a summary of our results.
Another thing to consider when you have a high mileage vehicle is the oil change interval. As such, you should stick to what the owner's manual recommends.
Typically, high mileage doesn't really affect the oil change interval. If your vehicle requires an oil change every 5000 miles or six months, you should stick to those conditions. However, anyone who has been driving for some time knows there can be exceptions.
Normally, most gasoline cars require an oil change every 3000 to 5000 miles. However, if you've driven a lot of miles in a single week or even month, you may require an oil change earlier, according to a Universal Technical Institute blog.
Similarly, for those high mileage cars that burn oil quickly or have had leakage issues in the past, changing oil a bit earlier than usual may be better as a precaution.
With all that said, some newer synthetic oils are challenging the set change intervals by guaranteeing longer drain intervals. However, with a high mileage car, it's best to stick with the schedule of oil change as per the manual.
High Mileage Oil vs Regular Oil

The difference between high mileage oil and regular oil is that the former contains additives that help seal the engine. These additives work because they swell the gasket, o-rings, and other seals to prevent any leakage. Older engines are more prone to leakages, which is why these additives become necessary, and they may not be present in regular oils, both conventional and synthetic.
Some high mileage oils also contain extra strong detergents to keep the engine clean and deposit or sludge-free. While synthetic oils have been improving significantly over the years, high mileage oils still have an edge and maybe a viable option for old engines with problems.
High Mileage Oil vs Synthetic Oil

These days many synthetic oil brands and producers are touting their products as good for all mileage. In other words, full synthetic oil may be used for both low and high mileage vehicles.
Full synthetic oils are definitively much better than conventional and semi-synthetic oils, so they can be used with older engines with 75k or more on the odometer. However, for engines with leakage or oil burn issues, the high mileage option is the best.
Besides, there are full synthetic and synthetic blend options in high mileage oils as well. So you can still use synthetic oil instead of conventional. However, many people believe conventional oils run better in older vehicles, which is why you'll find much variety of high mileage conventional oils.
Should High Mileage Oil Be Used in New Vehicles?

If high mileage oil is so good at preventing engine problems, you must be wondering can we use it in a new car? Well, you can use it per se, but it wouldn't be recommended. High mileage in new car would be unnecessary, as your engine is in its prime.
Adding high mileage oil to prevent issues in the new car would be equivalent to taking a cold medication when you're absolutely fine. There's a reason why these are called high mileage, and, therefore, it should be used when your car reaches at least 75k miles on the odometer.
For any new vehicle, stick to the oil schedule, type, and brand suggested in the owner's manual.
What Oil Grade to Use with High Mileage?

In most cases, the oil grade doesn't change with the mileage. If you've been adding a certain multi-grade oil before the 75k mark, it's best to stick with it. However, in some instances, it may make sense to switch the grade or viscosity.
For instance, if you move to a colder place, you may want to switch to 0W or 5W grades, as these will work efficiently in very cold temperatures. Similarly, if your car starts showing heating problems or oil gets too hot, switching to 30 or 40 grade may make sense.
Fun Fact: 5W-30 has been the most common SAE grade oil for the last two decades, with many manufacturers recommending this, especially for gasoline engines.
Best High Mileage Oil
The top best product [hide]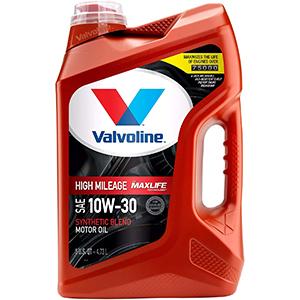 This Valvoline High-Mileage oil is designed for aging engines that need something extra to prevent issues like sludge and leakages. It can fully seal the engine and deliver a performance boost.
Made with a synthetic blend, the oil has a long-lasting performance. It may even exceed the change interval. With added detergents, it helps keep the engine clean from deposits and sludges.
Valvoline products are made in the US and rigorously tested. This makes sure that each jug or bottle contains quality oil. That's why it's the best overall.
Specifications:
Synthetic blend
High-temperature resistance
API-certified and exceeds many industry standards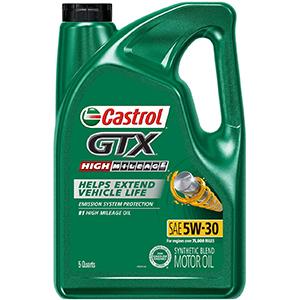 The Castrol GTX High Mileage 5W-30 oil is a synthetic blend created with strong additives that go the extra mile in protecting high mileage engines. It can be used with cars with over 75k on the odometer.
A tried and tested product, it meets or exceeds many common industry standards, including ILSAC GF-5. It's also one of the most affordable options on the list, so you'll get great value as well.
Since it's a synthetic blend, it doesn't burn out so quickly as cheap conventional oils. As a result, it can help reach or even exceed the set oil change interval. More importantly, this 5W-30 is good for all conditions, whether you're in sub-zero temperatures or above 90 degrees in the summers.
Specifications:
High compatibility with many car makes
Best budget option
Advanced additives for extra protection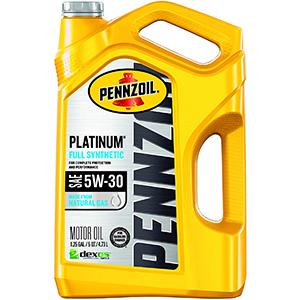 Pennzoil has produced the best high mileage oil 5W-30 in the form of this full synthetic Platinum product. As you know, Pennzoil oil is made from natural gas and not crude oil, which gives it an edge over most synthetic oils produced from crude oil.
This is specially made for cars with over 75,000 miles and can help clean the pistols 45 percent better. It deals with friction very well, which, in turn, also helps improve fuel economy. As it delivers less oil burn, it's also the best oil for high mileage cars that burn oil.
With all these qualities, you'd expect it to be super expensive, but it's pretty reasonably priced. Moreover, the bottle has an ergonomic design, which makes pouring it into the engine a breeze even for a rookie.
Specifications:
Made from natural gas
Less oil burn
Improvement in horsepower and fuel economy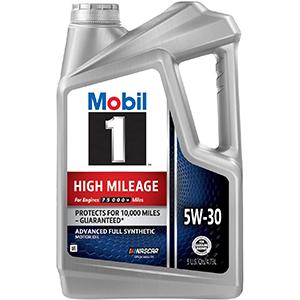 Mobil 1 Advanced Full Synthetic 5W-30 engine oil is the best motor oil for high mileage engine from all accounts. First, it's a fully synthetic formula, which is, by its very nature, better than conventional and even synthetic blends.
The company claims that it can last for up to 10,000 miles, which means it has long-lasting performance and very low consumption. If you're looking to extend oil change intervals, this could be a viable option that saves you money in the long run. It checks all the boxes of what makes a quality engine oil, from preventing deposits and sludge to sealing the engine.
This one also has a high-temperature range, as is common with 5W-30. In extreme winters, it can offer a smooth cold start for your car or truck.
Specifications:
Advanced synthetic formula
Long oil change intervals
Exceeds industry standards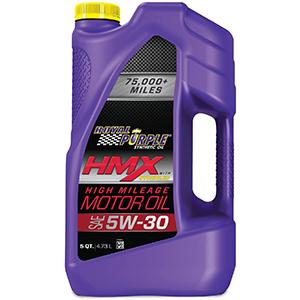 The Royal Purple HMX High Mileage 5W-30 engine oil is the best aftermarket oil that comes from a premium-quality brand. Royal Purple oil is generally regarded as a high-end oil as it's pricey and made with quality materials.
This HMX oil with Synerlec technology is a full synthetic product with the potential to improve the performance of your old engine. You can switch to this oil as soon as your car hits the 75k miles mark.
This one features phosphorous and zinc additives, which help keep the engine clean. As a result, it also provides protection from corrosion and deposits. If you've been using cheap gas for your car and fear that it may have impacted your engine, this oil may help prevent further damage or even reverse it.
Specifications:
High-quality engine oil
Extended drain intervals
Reliable protection for the aging engine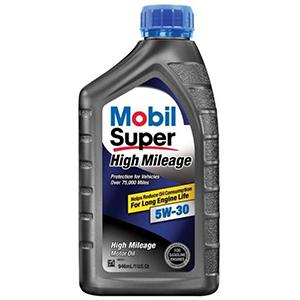 The Mobile Super High Mileage 5W-30 engine oil has been one of the most popular conventional oils. With its 5W-30 viscosity, it's easily compatible with a wide range of vehicles, including trucks.
If you prefer conventional oil, Mobil Super is a reliable product. It can help extend the life of an older engine, which is why it's also the best oil for cars with over 200,000 miles that have been using conventional oil throughout their lifetime.
Even though it's conventional oil, its consumption is not high, which makes it stand out. You can expect to stick to the car's oil change schedule. However, for better performance, it may make sense to change even earlier.
Specifications:
Best oil for trucks high mileage
Wide temperature range
Made in the US
Verdict
The Valvoline High Mileage Oil 10W-30 is by far the best high-mileage oil you can find on the market. You can also get it in 5W-30 grade if you live in a cold climate. Any option in this article is good.
For very old cars, you may want to stick with conventional oil, in which case, Mobil is a great choice. However, most experts agree that you can switch to synthetic at any time, regardless of the mileage of the car.