Are you looking for the best 5W-30 oil? Here's the ultimate guide that will answer all the questions you might have.
5W-30 is one of the most frequently recommended SAE multi-grade oil types, as it's good for both hot and cold climates.
In this article, you'll find which 5W-30 engine oils are best on the market, as well as what this viscosity means, its temperature range, and the cars that require it.
Make sure to stick through the end to learn valuable info.
Click here to skip to our recommended pick!

Overall #1 Rated Pick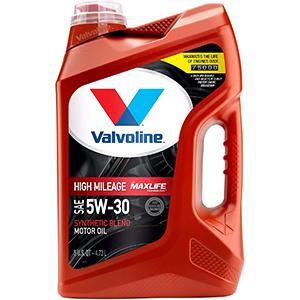 Valvoline High Mileage Synthetic Blend 5W-30 motor oil
Let's answer the question you're most curious about first. Our top pick for 5W-30 oil has to be Valvoline High Mileage Synthetic Blend 5W-30 motor oil.
Here's why:
Good for both low and high mileage cars
Compatible with a wide range of models, including old ones
Max Life technology for long-lasting performance
This 5W-30 oil by Valvoline is suitable for a wide range of vehicles, including Toyota Corolla, Nissan Titan, Ford F-150, and Hyundai Sonata. This one is for gasoline engines only, but you can find 5W-30 for diesel engines as well.
This Valvoline oil is essentially designed for high-mileage vehicles that may suffer from typical aging engine issues. With powerful detergents and additives, it can help seal the engine.
The highlight is the Max Life technology that potentially increases the life of your car or truck with a gas engine. Therefore, it's ideal for cars with 100k miles on the odometer.
That said, you can use it with low mileage cars as well, as a precautionary measure. This is not a full synthetic oil but a synthetic blend.
Since it comes from Valvoline, even the synthetic blend is of great quality. It can also be used in cars that have been using conventional oil.
5W-30 Oil – Buyer's Guide

With so many brands, three oil types, and countless standards, finding the right oil is not as easy as it used to be. Here's information that will help educate yourself and make the process easier:
What Does 5W-30 Oil Mean?
The 5W-30 indicates the oil grade or weight (viscosity). Nowadays, almost all lubricants for engines have multiple viscosities represented as 'nW-n' where n is a numeric number in multiples of five.
The number before W represents the viscosity at low temperatures. The lower this number is, the more fluid the oil is at low temperatures.
On the other hand, the number after the hyphen or W is the viscosity at high temperatures. So the higher the number, the less viscous the oil is at high temperatures, as you don't want the oil to be too thin when heated.
5W-30 is an all-temperature oil with a wide temperature range. In simpler words, it's good for winters as well as summers, offering adequate fluidity at both ends of the spectrum.
Did you know that aside from the SAE grade for viscosity, there are many other standards and certifications for engine oils? American Petroleum Institute or API certification is common for engine oils used in the US.
Other standards used around the world include ILSAC, ACEA (Europe), and JASO (Japan).
5W-30 Temperature Range

The ambient temperature range of most 5W-30 oils is from -30 degrees Celcius (-22 F) to 40 degrees Celcius (104 F).
Is 5W-30 Good for High Mileage?
Oil viscosity or grade doesn't have much to do with the mileage of the car. It has more to do with the compatibility or the climate where the car is being driven. Nevertheless, 5W-30 grade oil is perfectly good for a high mileage engine.
There are special high-mileage engine oils available in 5W-30 grade for use in cars with mileage over 75k, and that requires this specific oil grade. If your car manufacturer recommends 5W-30, that means it recommends it for the entire life of the car, not just for when it has low mileage.
Here's a fun fact for you car enthusiasts: most people think high-mileage cars are those with 100k miles or more on them. However, any vehicle that hits 75k miles on the odometer qualifies as a high-mileage vehicle.
5W-30 Conventional vs 5W-30 Full Synthetic Oil Comparison

One of the most common debates when it comes to engine oils is conventional vs synthetic oil. If your wondering which 5W-30 oil is best for your engine, the answer is full synthetic. Full synthetic oils are markedly more viscous and offer better temperature resistance than conventional oils.
Your vehicle will not have any issues using conventional oil if the manufacturer hasn't officially recommended or mandated synthetic oils. However, using synthetic oils can help improve engine performance and fuel economy.
Many manufacturers have fully embraced synthetic oils. According to Consumer Reports, half the car owners surveyed by National Oil and Lube News in 2018 used synthetic or synthetic blends for engine oil.
Conventional oil does offer the price advantage as it's typically way cheaper than synthetic oil. You can expect to get 5-quarts in under 20 bucks, whereas synthetic oils can go up to 40 bucks. This is because synthetic oils use advanced technology and are more difficult to produce than conventional oils.
What is 5W-30 Oil Used For?

The SAE grade 5W-30 oil, including conventional, semi-synthetic, and full synthetic, is not just used in gasoline car engines. Diesel engines also sometimes use 5W-30 grade, especially in colder climates.
Moreover, 5W-30 oil is also common for high-mileage vehicles.
Its use also extends to motorbikes and smaller engines, such as those in generators, lawnmowers, power washers, and snow blowers. However, you should still ensure compatibility as there are different types, standards, and uses, which means not every 5W-30 oil may be used across all possible applications.
Best 5W-30 Oil
The top best product [hide]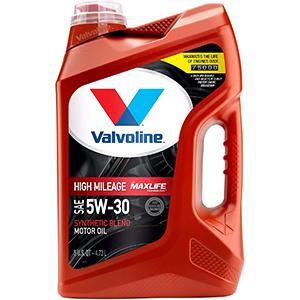 The Valvoline High-Mileage Synthetic Blend is the best 5W-30 oil for high-mileage gasoline vehicles. The brand is known for its high-quality engine oils, as they are produced locally in the US.
This one has a special formula that ensures engine protection from deposits and sludge, which older engines are more susceptible to. With extra detergents, it helps keep the engine clean.
It can also come in handy with vehicles having engine issues, especially leakage problems, as it seals the engine. With quality antioxidants, it can avoid breakdown even in extreme conditions. Plus, it's very good value for money when you compare it with other Valvoline products.
Specifications:
Great for high-mileage vehicles
Increases the life of the engine
API-certified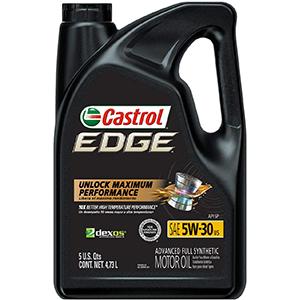 The Castrol Edge 5W-30 fully synthetic engine oil meets or exceeds most industry standards with its advanced formulation. It's the best overall as it's full synthetic oil that's 10 times better at high temperature than other average synthetic formulae.
With a low coefficient of friction, it offers great flow at both low and high temperatures. As a result, it's suitable for different climates, and you don't have to switch when winter or summer hits.
This Castrol syntec 5W-30 oil has the potential to improve engine performance as well as positively impact fuel economy. Not just that, you may even be able to extend the oil change interval a little bit, as this is a long-lasting oil.
Specifications:
Performance improvement
Meets many engine requirements (Ford, GM, Chrysler)
Good for extreme conditions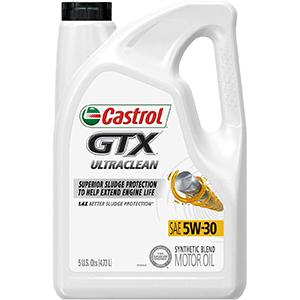 The Castrol GTX Ultraclean is the best 5W-30 conventional oil that uses unique Trishield technology. It also offers low friction to help increase fuel economy.
It exceeds ILSAC GF-5 GF-5 requirements, as well as meets Ford, GM, and Chrysler engine compatibilities. In addition to that, this oil also has relatively higher thermal resistance as compared with cheap engine oil 5W-30.
While most new cars typically use synthetic oil as manufacturers by and large recommend synthetic oils, you can use this conventional oil without worries, especially if you want to continue using it.
Specifications:
Best conventional oil
Advanced formulation for better performance
Great value for money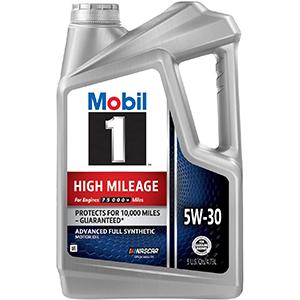 If you're looking for full synthetic motor oil for a high mileage car, Mobil 1 is a great choice. As one of America's favorite brands, it offers quality lubricants at reasonable pricing.
This is a budget option for cars and trucks with gasoline engines and over 75k mileage on the odometer. Made with quality synthetic bases, the oil protects the most vital components of the engine by lubricating them adequately.
As a 5W-30 engine oil, it can withstand both extreme winter and summer temperatures. It can also prevent oil leaks as your engine ages and crosses that 100k mile milestone.
Specifications:
Budget-friendly oil
Great for old cars and trucks
Official NASCAR oil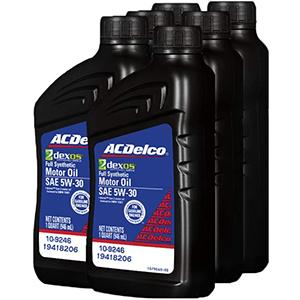 The ACDelco 5W-30 synthetic oil is the best dexos oil as it's compatible with GM engines. It also meets or exceeds many other industry requirements aside from the GM dexos.
It can help protect the engine from deposits or sludge, especially at very high temperatures. On the other hand, it also provides a smooth start at sub-zero temperatures, so it's good for either end of the temperature spectrum.
Specifications:
Dexos approved motor oil
High-temperature resistance
Noticeable improvement in performance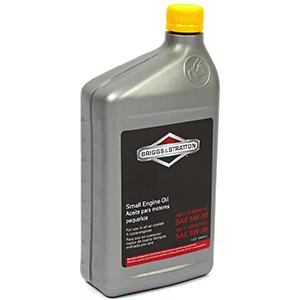 The Briggs and Stratton synthetic oil is the best 5W-30 oil for petrol engine in appliances like lawnmowers or snow blowers. This oil is only for use in small 4-cycle engines that are common in motored appliances.
It can protect the engine and prevent breakdown at very high temperatures. So you can use your lawnmower or any appliance with a small engine without worrying about overheating the engine.
The oil formula is fully synthetic, which makes it better in quality and performance than conventional oils. Since it has high fluidity at low temperatures, it's also good for places with very harsh winters like the Midwest and Canada.
Specifications:
100 percent synthetic oil
Good for air-cooled 4-cycle engines
High-temperature resistance
Conclusion
Our guide provides recommendations for all types of 5W-30 oil, from conventional to high-mileage to small engines. Make sure to check and confirm compatibility, as there is more to engine oils than viscosity grades.
Also, the oil capacity varies by the engine, so make sure to use the right amount of oil.