Are you considering adding or replacing the oil cooler for your 6.0 Powerstroke engine? Well, here you'll find the best 6.0 Powerstroke oil cooler.
Not only will we discuss some of the best products, but also help you explain what an oil cooler does and how it may help you. You'll also learn how to choose the right product.
Don't skim through and read all sections for important information!
Click here to skip to our recommended pick!

Overall #1 Rated Pick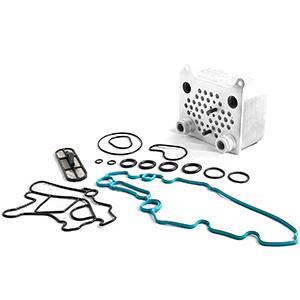 Rudy's Diesel Heavy Duty Oil Cooler Replacement Kit
For the 6.0 Powerstroke oil cooler, our top-rated pick is Rudy's Diesel Heavy Duty Oil Cooler Replacement Kit. Here's why:
Heavy-duty construction
Full compatibility with 6.0 Powerstroke
Easy replacement
Rudy's oil cooler is compatible with Ford F250, F350, and F450 from 2003 to 2007 when these trucks came with 6.0 Powerstroke. It's a direct replacement with not many tools needed for installation.
It's a complete kit that contains everything, including the gaskets. So it's a one-stop solution when replacing your oil cooler, and you don't have to buy different parts separately.
It's a heavy-duty diesel truck oil cooler designed for trucks that do a lot of hardwork like hauling or towing and may see the engine producing a lot of heat. This looks pretty much the same as the OEM part and costs less than half the price of that.
You may see a noticeable difference in oil temperature after installing this, especially if you've been having oil temperature issues due to overheating. As a result, it can help prevent oil breakdown or engine damage.
The best part is that it comes with a one-year warranty, which should be ample time to test it and see if it's up to mark. If it's not, you can claim a warranty.
Oil Cooler for 6.0 Powerstroke – Buyer's Guide
You have to know when it's time for 6.0 Powerstroke oil cooler upgrade to avoid any potential damage to the engine. Here's everything you should know:
What is an Oil Cooler?

Oil coolers are a kind of radiator whose job is to cool down the engine oil. These are typically located in the front or near the engine's cooling system. This is different from the radiator in your vehicle that's filled with a coolant.
The purpose of the cooler is to reduce the engine heat. When the oil flows inside the engine, it absorbs the heat and the oil cooler, in turn, absorbs that heat to cool it down.
The ideal temperature range of engine oil is 180 to 220 degrees. If it's below or above this range, it may not perform efficiently and may even get consumed faster.
Oil coolers help increase the life of both the engine and the oil itself. The only drawback is that you may have to add more oil in the vehicle as some of it will fill the oil cooler as well, in addition to the engine.
Fun Fact about Oil Coolers: Not all vehicles have oil coolers, but these are pretty common in diesel cars or trucks, especially those that are used for towing.
How Do I Know If My 6.0 Cooler is Bad?

Are you short on time or just want a quick answer?
Check out our list below for a summary of our results.
It's not so easy to know if your oil cooler has gone bad, as there aren't that many apparent signs until it gets really bad (completely clogged). But as a rule of thumb, it might make sense to regularly check the oil cooler for a high mileage car. Over the years, it can get clogged, allowing very little coolant in and effectively impacting the performance of the oil cooler.
The best way to tell if your external oil cooler needs to be replaced is to measure the oil and coolant temperature at cruising speeds (40 to 60 mph). For the 6.0 Powerstroke, Ford suggests that a variation of 25 degrees or more between engine oil temp (EOT) and engine coolant temp (ECT) indicates that the oil cooler has gone bad.
On the other hand, some experts say that the variation should be 14 degrees or less. Remember, you can't measure the temperatures when parked or idling as the engine wouldn't be heated up as it would on the road.
You can measure the EOT and ECT through an OBDII scanner. The oil temperature runs higher than that of coolant but shouldn't exceed by more than 25 degrees tops.
Ford hasn't provided a temperature gauge for engine oil temp, so you will have to use a scanner. It's generally a good idea to have an OBD scanner as it can help you diagnose many issues, not just measure oil and coolant temperatures.
6.0 Powerstroke Oil Cooler Location

Did you know that contrary to common perception, modern diesel engines don't necessarily have the air cooler in the front of the engine?
To replace or upgrade your oil cooler in 6.0 Powerstroke, you should know where exactly to find it in the hood. Now, most people think it's located in front of the engine, as was the case for most older trucks.
On the 6.0 Powerstroke, the diesel engine oil cooler is located directly below the engine oil filter, which itself is on the top of the engine.
Do I Need a Genuine Oil Cooler?

As is the case with many parts in a vehicle, you don't necessarily need the OEM part when replacing or upgrading. There are many aftermarket parts that are just as good and don't cost nearly as much as the genuine part.
In the context of oil cooler, it really just comes down to your budget. Going with the genuine OEM part by Ford for the 6.0 Powerstroke would be a good move. There's no guesswork as far compatibility is concerned, and you know that it's quality.
That said, don't kick yourself if you don't have the budget for it or want something more affordable regardless of your budget. There are several high-quality aftermarket oil coolers from other companies.
If you're concerned about their performance, it's best to go with the one that has some kind of warranty. That should at least get you a refund if the oil cooler turns out bad. However, in all likelihood, that's rarely going to be the case if you choose from a trustable brand.
6.0 Powerstroke Oil Cooler Replacement

Unfortunately, replacing an oil cooler isn't as easy as replacing engine oil and filter. Nevertheless, you can do it in your garage with some basic tools. It's just time-consuming, so you'll need to set aside a day to do this task at home.
First, you'll need to remove the intake, shroud, and disconnect the battery in order to get to the oil cooler. You'll also need to remove some of the hoses carefully. As you get to the oil cooler and remove its housing, some oil may leak out, so keep some rugs and buckets handy.
Here's a detailed video of the 6.0 Powerstroke oil cooler replacement process with step-by-step instructions, as well as the names of tools you'll need each step of the way.
Best 6.0 Powerstroke Oil Cooler
Let's review the best aftermarket oil cooler for 6.0 Powerstroke engine:
The top best product [hide]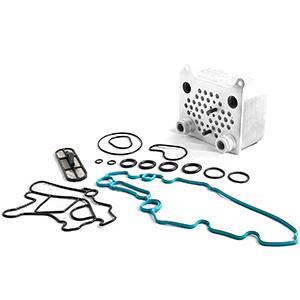 Rudy's oil cooler is by far the best performing, with raving reviews from users. It's built tough enough to cool down very hot oil and keep performing at its best, making it ideal for tow trucks and even normal trucks in blazing hot summers.
It's compatible with all Ford trucks with a 6.0 Powerstroke engine, so if your factory-installed air cooler has given up, you can replace it with this without worrying about complications. As a direct replacement, you may be able to install it yourself.
This is the best overall in terms of performance, compatibility, and price.
Specifications:
Great for heavy-duty car
A good bargain compared with OEM
One-year warranty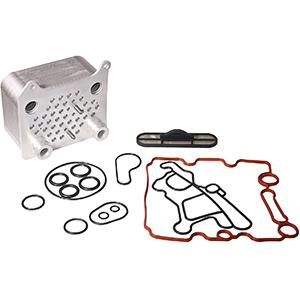 This engine oil cooler kit from AA Ignition is an affordable replacement kit, complete with all the gaskets and o-rings. It's compatible with Ford F250, F350, F450, as well as E350 and E450. This is a direct replacement for the OEM oil cooler. With its low price and high compatibility, this can be a reasonable solution for when you're oil cooler is leaking or not working properly.
Even though it's a somewhat generic oil cooler kit, what makes it an even safer purchase is its lifetime warranty. That's something not even Ford offers with the OEM part.
Specifications:
Compatible with a wide range of Ford trucks
Includes gasket seals
Best budget option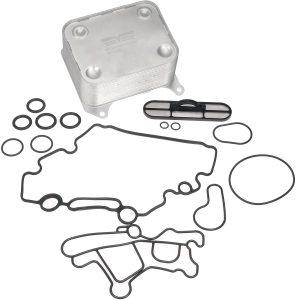 The Dorman 904-228 engine oil cooler is fully compatible with 6.0 Powerstroke. This is also one of the more affordable options as opposed to the original Ford OEM replacement.
To ensure quality, the company claims to test each product. The main oil cooler body is made of corrosion-resistant aluminum. This is made in China, much like any other aftermarket 6.0 Powerstroke oil cooler upgrade. However, it comes from Dorman, which is a California-based company, making auto parts for over a century.
It's the most viable and best aftermarket solution that doesn't cost a lot and effortlessly fits the engine in question.
Specifications:
Tough construction
Direct replacement
Quality tested for compatibility and efficiency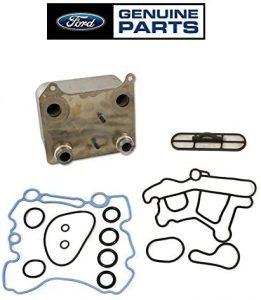 This is the genuine OEM engine oil cooler for 6.0 Powerstroke from Ford itself. More importantly, this is the most updated version, which is great. This means that it has the potential to perform even better than the factory-installed one.
The part number for this Ford/Motorcraft oil cooler kit is 3C3Z-6A642-CA. To further make sure, you can check your truck's owner's manual.
It's compatible with Ford Trucks from 2003 to 2007 with a 6.0 Powerstroke diesel engine, which would be the F250, F350, and F450. So if you need a 2004 6.0 Powerstroke oil cooler, this should fit in perfectly.
Although pricey, it comes with a two-year unlimited mileage warranty. It doesn't matter how much you've driven the car after replacement. This makes it a little more trustable and reliable in the long run.
Specifications:
Genuine OEM part
Upgraded version
Two-year warranty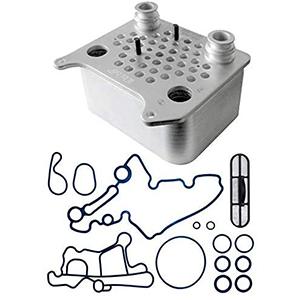 The PPE 6.0 Powerstroke oil cooler relocation kit is a reliable product with favorable reviews from users. It comes with Viton gaskets and o-rings, so basically everything you need to make the replacement.
This one features bigger internal passageways for the oil as compared with a factory-installed cooler. As a result, it cools down the oil faster and prevents any clogs in the passageways. There are potentially no fluid transfers (mixing of coolant and oil) or leaks, which obviously can wreak havoc on the engine.
Compatible with Ford 2003 to 2007 6.0 Powerstroke engines, it's slightly more affordable than the OEM part by Ford. Again, this is designed for heavy-duty trucks, so it can be a good choice if you do a lot of towing or hauling.
Conclusion
We've rounded up the best oil coolers for 6.0 Powerstroke engines. This also includes the genuine part from Ford. Whichever one you end up choosing, you can be sure about compatibility, as these are designed for trucks with a 6.0 Powerstroke diesel engine.
Make sure to keep checking your engine oil temperature and coolant temperature from time to time to ensure that the oil cooler is running as it should. If it shows signs of clogging, it's best to just upgrade.