Diesel technology and the engines themselves have witnessed a substantial rise in clean operations within the last several years. Numerous industries across the globe have benefited from improved diesel designs and cleaner operations.
The vehicle must also have a more powerful diesel engine with better technology, including improvements in emissions control systems and exhaust fluid. DEF is a fluid that may be injected into the exhaust system to reduce pollutants.
It transforms the noxious nitrous oxide into ammonia and carbon dioxide, two benign gases that are less harmful than nitrogen. In this article, we are going to break down the Bluedef Platinum and  Regular Bluedef for diesel engines. Let's get started!

Overall #1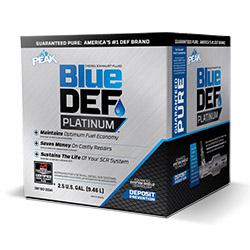 AD Blue Diesel Emissions Fluid
BlueDEF diesel exhaust fluid's manufacturer, Old World Industries, LLC, announced the release of a new DEF formulation intended to reduce deposits that can build up in selective catalytic reduction system (SCR) components.
The Platinum version of EBD's BlueDEF is a combination of high-purity synthetic urea, deionized water, and a special additive blend that includes the company's new Advanced System Shield technology, which the Old World claims minimizes hazardous deposits that often accumulate in SCR exhaust systems. Deposits are reduced significantly with regular use, according to the manufacturer. This helps boost fuel efficiency, lower maintenance costs, and extend the life of the system.
2.5 gal. bottles, 55 gal. drums, and 330 gal. totes are all available for Platinum BlueDEF from Old World Diesel Extender Products (OWDEP). It is made under ISO 22241 standards to assure the highest product quality and is API-certified, matching or exceeding OEM requirements for diesel exhaust fluid, according to Old World.
BlueDEF PLATINUM is a combination of high-purity synthetic urea, deionized water, and our unique additive package developed to ISO 22241 standards to assure product quality. BlueDEF PLATINUM with advanced SYSTEM SHIELD technology inhibits the formation of deposits in your diesel exhaust system after continued usage. API-registered and meets or exceeds OEM requirements
Features
Uses Advanced SYSTEM SHIELD™ Technology to reduce future deposits
Maintains optimum fuel economy
Saves money on costly repairs
Sustains the life of your SCR system
Compatible with all diesel SCR systems
Tested to meet or exceed the strictest OEM standards
Conforms to the ISO-22241-1 specification for DEF, and is an American Petroleum Institute (API) certified diesel exhaust fluid
America's #1 brand of Diesel Exhaust Fluid
Benefits of Using Diesel Exhaust Fluid (DEF)
Many people will try to persuade you that DEF fluid is hazardous to your automobile, but the reality is that using it helps reduce pollution in our environment. Let's take a look at some of the advantages of using DEF:
It is non-toxic. When compared to other car fluids such as diesel fuel or brake oil, DEF fluid is far less dangerous. In fact, many DEF fuel brands include naturally occurring compounds that are biodegradable.
It won't freeze and our friends in Canada don't have to be concerned.
It won't evaporate readily.
Increased power and decreased fuel consumption will result from a rebuild.
Optimization and improvement of the DPF allows you to use it more effectively and, as a result, extend its life.
Compliance to strict rules – EPA, ISO & API certified.
The oil change interval will be twice as long (at least every 350 miles). This will allow the engine to run more smoothly and prevent wear and tear on it.
This liquid is essential in reducing emissions due to the fact that these dangerous pollutants (NOx, for example) are one of the primary causes of acid rain and climate change.
Overall #2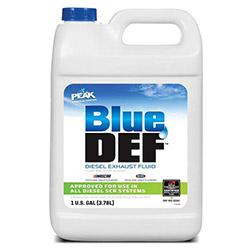 PEAK BlueDEF Diesel Exhaust Fluid
The firm has also developed a "dual-use" product called Blue DEF, which is marketed as an AdBlue additive. Peak Commercial and Industrial Products owns the copyright on Blue DEF and distributes it solely.
The special diesel exhaust fluid is made to assist contemporary medium and heavy-duty engine constructors meet the EPA's 2010 emissions standards. Diesel exhaust fluid is an important component of the Selective Catalytic Reduction technology employed by these engine makers.
It's made from pure water, which means it's entirely safe for children and pets. Blue Def is also a non-toxic solution that is mostly composed of purified water. Purified water accounts for 67 1/2 percent of the solution, while very pure automotive grade urea makes up the remaining 32 1/2 percent.
Blue Def accomplishes this by converting NOx to nitrogen and water vapor. These components are a normal part of the air we breathe and are basically non-toxic to the body. Blue Def's composition is unchangeable, colorless, and odorless. Because of these elements, Blue Def is a very safe option for diesel engines to consume.
There are several excellent answers to this conundrum. One is that Blue Def is environmentally beneficial. It helps prevent environmental pollution by preventing harmful exhaust emissions from polluting the environment.
The second reason is that Blue Def is a completely safe product. It's a stable solution with no hazardous qualities that would explode or do any other harmful thing. Then there's the fact that Blue Def aids diesel engines in working more efficiently and getting better fuel mileage, as well as increased power.
The answer to this question is that Blue Def aids in the removal of DPF from the truck's system, resulting in lower fuel usage. An honorable mention is that Blue Def assists vehicles comply with EPA rules without major difficulty.
It appears to be the solution to diesel emissions concerns. Although DEF is not a flawless product, its advantages appear to outweigh its disadvantages.
Bluedef Diesel Exhaust Fluid Shelf Life
Because various ambient temperatures have an impact on shelf life and expiration dates, you'll need to know the storage temperature in order to estimate how much longer the Blue Def can be used. The shelf life chart – this will give you an idea of how long the Blue Def will last once it's been manufactured:
1. At 50 degrees F =/- gives you 36 months
2. At 77 degrees F. +/- gives you 18 months
3. At 88 degrees F gives you +/- 12 months
4. At 95 degrees F +/- gives you 6 months
5. At 104 degrees F +/- gives you 2 months
To determine how long you have left to use the DEF solution, check the expiration codes and consult the calendar. If the treatment has been kept at high temperatures, you'll need to utilize the Blue Def as soon as possible to get all of its advantages.
Who needs DEF and why


Medium- and heavy-duty diesel vehicles with engines built after 2010 must satisfy the Euro 6d/6e exhaust emission regulations. The vehicle is designed to inject the DEF into the exhaust as needed to meet emissions standards. If the car's reserve of DEF runs out, performance of the engine will be reduced, and higher speeds will be required.
What are the different delivery modes of DEF?
The most common ways to purchase DEF are as follows: nThere are a variety of sizes of jugs/containers available to truck drivers. This necessitates the driver to manually transfer the DEF into the vehicle. When equipped, a fueling dispenser may be used to dispense DEF into the car.
Which retailers should offer DEF and what indicators can they use to decide?
Because there are so many cars on the road, INDEF is an excellent offering for any c-store to have. The amount sold can be used as a measure of diesel purchases by merchants selling diesel at their filling stations. DEF is required by the majority of heavy-duty vehicles on the road today. Offering Diesel Exhaust Fluid out of dispensers in areas with a separate large truck filling station may be beneficial. Because they are frequently buying diesel in bulk to store in their tanks, this provides superior margins. Additionally, some places that offer a lot of diesel on their forecourt might profit from having a dispenser solution.
Bluedef Buying Guide


Do you want to know where to locate diesel additives, motor oils, or trailer coupler components but don't know where to look? BlueDEF's buying guide can help you evaluate the quality and effectiveness of automotive goods.
When purchasing a product, the primary concern for customers is the price. Bluedef currently has 14 items for sale. Bluedef's products range in price from $19.4 to $329, and the average price of all of them is about $101.33.
Blue Def is the most common manufacturer. Bluedef products are primarily made by Blue Def. The producer offers Bluedef with a steady stream of goods, which they have a good working relationship with. Bluedef goods may be purchased on Amazon from Spreetail, who has gotten 65223 positive remarks in the last year and an average rating of 4.71 over that time. The store is well-known, so you can shop with confidence.
How To Use DEF


Diesel Exhaust Fluid is a non-toxic, non-corrosive liquid that poses no health risk. DEF is the least dangerous of all the fluids required in a diesel vehicle.However, because it is corrosive to some metals such as aluminum, copper, and zinc, ISO 22241 offers a list of suggested storage containers.
A spout container picks up DEF from among the buckets and delivers it into a tanker on the truck. DEF may be purchased in amounts ranging from 1 gallon to hundreds of gallons in bulk.
Smaller amounts of diesel will soon be discharged into a larger capacity transfer tank by seasoned operators rather than transporting numerous smaller quantities. Any spills should be wiped away immediately using a towel. If the DEF hardens, it can turn to crystals and still be cleaned off. The fluid is sprayed into the exhaust by a metering system from a dedicated diesel exhaust fluid tank on the vehicle.
Diesel injection pressure ranges from 2% to 6% of diesel usage. The meter allows for longer refill durations.
Operators in chilly climates face additional challenges. The Selective Catalytic Reduction (SCR ) system in DEF has a freezing point of 12°F, which necessitates the thawing of a portion of the DEF before an operation can take place.
70 minutes after engine start-up is required by the EPA for full DEF flow. Operators will use specialized tank heaters to help control the DEF temperature in order to comply with regulations.
Final Word
Selecting the best DEF fluid for your diesel engine is critical. Make sure you get the correct stuff when shopping for a DEF fluid. Not selecting the appropriate fluid can lead to engine damage, which may be costly in the long run.