The two chemicals are also known by the same brand names as AdBlue and Blue DEF, although they are different types of diesel exhaust fluid. The trademarks AdBlue and Blue DEF are used by two distinct firms to promote diesel exhaust fluid or DEF, which makes them quite comparable with minor variances. Diesel exhaust fluid (DEF) is a chemical that you add into a container labeled tank and then inject into the engine's exhaust pipe to reduce air pollution generated by the diesel engine. It is an aqueous urea solution that reduces nitros oxides in diesel emissions.

What to Choose: AdBlue vs Blue DEF?
This is a side-by-side comparison of AdBlue vs BlueDEF and we can tell you now that both are excellent choices because they bear the ISO 22241 stamp, which serves as proof of their compliance with international standards.
To put it another way, you may use any DPF that meets the ISO 22241 standard, regardless of what it's called.
The ISO 22241 standard is what you should search for on the label to see whether the DEF you select is a high-quality product.
There are also short-term contracts in place between manufacturers that ensure their markets stay full of high-quality DEF. In the end, it doesn't matter which brand you pick because they all have long-term deals for supply and distribution. As long as you buy high-quality ISO certified DEF in a sealed container, you should be fine regardless of brand.
So we already know that DEF is a fluid that improves engine performance by reducing NOx emissions. Do you want to learn more about AdBlue vs Blue DEF? Let's conduct a detailed comparison of AdBlue vs Blue DEF.
AdBlue vs BlueDEF Chemical Composition
Water and urea are the key ingredients in both AdBlue and Blue DEF. The mixture is 67.5 percent pure water and 32.5 percent ultra-pure automobile grade urea. The purity and composition of DEF is defined by ISO 22241 standard, which is regulated by the government.
Both AdBlue and BlueDEF, in other words, include high-grade automotive urea combined with pure deionized water.
Overall #1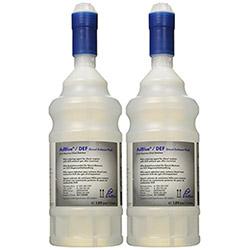 AD Blue Diesel Emissions Fluid
In Europe, Germany and surrounding countries, AdBlue is the most common term associated with diesel exhaust fluid. In 2005, the German Association of the Automotive Industry registered the name AdBlue. Both AdBlue and DEF are acceptable names for this liquid. DEF has become known as AdBlue in Europe and surrounding areas.
DEF is now produced in the Czech Republic as a result of Yara's acquisition of DEF Qubec, which has been producing and distributing AdBlue for years. The firm gives complete supply chain capability for AdBlue in Europe, including the United Kingdom, Europe, and Germany.
With the recent passage of Europe's EURO IV, V, and VI, every nation has responded to concerns about diesel exhaust fumes. Every commercial vehicle on the highway throughout Europe is influenced by these levels.
The Euro VI standard requires a 67% reduction in NOx emissions. Europe is using two technologies to reduce emissions. The primary technology is SCR/DEF, which has already been implemented by several manufacturers.
The aqueous urea is converted to ammonia and carbon dioxide by the exhaust system of a vehicle. This ammonia (NH3) transforms NOx molecules into harmless water (H20) and nitrogen (N2), which are then released through the exhaust system.
A recirculation system is used in the second method to reroute exhaust gases back into the intake. Recirculation does not need AdBlue (DEF).
AdBlue is used by the following companies as an OEM component.
Audi
BMW
Citroen
Jaguar
Land Rover
Mercedes-Benz
Peugeot
AdBlue is a recommended OEM replacement for fields including farming and industry.
Recommended AdBlue
The first point to consider is that ADBLUE is a registered trademark for DEF in Europe. This type of Blue-Tec engine was started after 2010.
The BlueTec engine series, developed by Daimler and Mercedes-Benz, is a marketing name for engines with advanced NOx controls. Ward's list of finest engines includes BlueTec engines.
Overall #2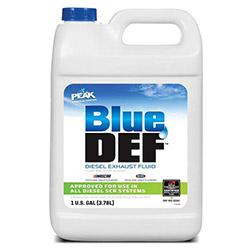 PEAK BlueDEF Diesel Exhaust Fluid
Peak BlueDEF is one of the many well-known high-quality brands! This firm specializes in producing high-quality diesel exhaust fluids and has been doing it for a long time. Peak blueDEF fluid is one of the most effective DEF on the market right now.
This is not something we've announced; this is what real users have had to say about it. Because BlueDEF has always produced fluids in line with EPA regulations, their fluids easily outperform all rivals. One of the most significant aspects of this fluid is that it is compatible with all SCR systems, which has helped to increase its appeal.
The 665 is a one-stop shop for all of your car maintenance needs. It's a single-portion, eight-piece kit. You may pick any one of the two choices. The 8-piece kit, on the other hand, is ideal if you want to use the same brand DEF on your vehicle for an extended period of time. Because they can be kept in any location in your garage, storage shouldn't be a problem.
Another advantage is that, regardless of the temperature outside, this liquid maintains its form. Furthermore, if you buy an 8-pack box, you may save money. The manufacturer has kept the price low so it should be affordable to everyone. Finally, there are certain liquids on the market that have a powerful odor and are unpleasant to use. However, this PEAK DEF 002 is scentless and colorless. It's also extremely safe to consume because you don't need to worry about any liquid coming into contact with your skin.
With one gallon of this solution, you can travel roughly 300 miles. With 2.5 gallons of the PEAK DEF002, you can go over 750 kilometers. It is also ISO 22241 certified, as we previously said. It meets the ISO 22241 standard, which is quite reliable. If you want to save money on vehicle maintenance expenses by combining water and urea in a DEF, it's worth considering. The BlueDEF logo is ISO 22241-compliant and may be API certified, while the use of artificial urea with even the tiniest traces of impurities in deionized water meets the ISO 22241 standard.
Recommended Blue DEF
BlueDEF DEF003 Diesel Exhaust Fluid Blue is a registered trademark sold and distributed by PEAK. All diesel engines with a SCR system can utilize DEF003.
Blue DEF is compatible with all OEM AdBlue solutions, and it can be used instead of any existing DEF products. Blue DEF has the same purity and composition standards as AdBlue.
The product is ISO 22241 and American Petroleum Institute certified.
Is ISO 22241 Important
According to a DEF Market Dynamics Report, demand for DEF will reach one billion gallons by 2019.
Over the last decade, several businesses have distinguished out as leaders in terms of quality, dependability, and support. In the early 2000s, major auto brands rapidly entered the DEF market, and their "quick to market" strategy paid off handsomely.
Today, virtually every diesel engine on the market employs some form of SCR/DEF technology. The definition of DEF specifies that it must contain 32.5 percent urea and 67.5 percent water. ISO 22241 is a worldwide standard for purity and composition in DEF.
The chemical is manufactured at a fertilizer plant and then transported to the farm for application. The commodity is then sent by truck or rail to a distribution center, where it enters the commercial market. Additionally, the product must be pharmaceutical grade and not agricultural in nature. Some suppliers go through additional quality checks throughout the supply chain.
The greatest concern with DEF is contamination, which is why the ISO 22241 has a maximum amount of calcium and other metals like iron, copper, zinc, and aluminum that a DPF solution can legally contain. To meet ISO requirements, DEF must be distilled or deionized water. In other words, the ISO 22241 standard is a quality stamp.
Consumers must be able to differentiate between various phrases and types of DEF. The names AdBlue and Blue DEF are two of the most frequent ones.
Diesel exhaust fluid is distributed by major diesel manufacturers, such as Cummins AirShield, Ford Motorcraft, and General Motors' AC Delco.
What happens if your car runs out of AdBlue?
When your AdBlue level begins to run low, it will notify you before you start the engine, usually indicating how many miles of driving remain. It's critical that you don't disregard this since once it runs out, it will be impossible to start the car until the system is refilled.
If you run out of AdBlue while driving, the engine's power and performance will be reduced. This is done to minimize any potential harm to the system. If this occurs, you should immediately go to a service station where AdBlue is accessible and fill up the tank.
Refilling the reservoir without shutting off the engine will leave your automobile immobile. After refilling, you may have to wait for the car's electrical system to reset itself; however, this generally happens automatically.
Can I use water instead of AdBlue?
Water is not permitted to be used to fill the tank, despite the fact that AdBlue is mostly composed of de-ionised water. Because all authorized AdBlue items are required to satisfy a precise standard, you must avoid using any other product that is not recommended since it could harm your car's SCR system, resulting in costly repairs that would not be reimbursed by a warranty.
Final Word
Diesel exhaust fluid (DEF) manufacturers, distributors, and retailers have exploded in growth over the last decade.
Diesel engines are demonstrating no sign of slowing down. Diesel technology and selective catalytic reduction (SCR) systems are now being used on millions of cars.
Every storage tank containing diesel exhaust fluid must have the ISO 22241 stamp on the label, as it is important to keep in mind. There is no way of telling whether the fluid will function with an SCR system unless it has a seal.