If your diesel vehicle requires 15W-40 oil and you're looking for some guidance to choose the best product, you've landed at the right spot.
In this post, we'll review in detail the best 15W-40 oil on the market, as well as answer some frequently asked questions in the buyer's guide.
Therefore, don't jump to reviews and read every section, as it will help you learn new stuff.
Click here to skip to our recommended pick!

Overall #1 Rated Pick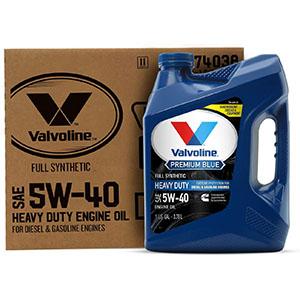 Valvoline Premium Blue Heavy Duty 15W-40 engine oil
Our overall number one pick for 15W-40 oil is Valvoline Premium Blue Heavy Duty 15W-40 engine oil.
Here's why:
Compatible with both gasoline and diesel engines
Endorsed by Cummins
Very high-temperature resistance
Valvoline Premium Blue 15W-40 oil is compatible with a wide range of cars, as it has been designed for both gas and diesel engines. However, it remains more popular with diesel vehicles as 15W-40 viscosity is commonly used with diesel cars and trucks.
The company is known for producing its lubricants in state-of-the-art facilities in the US, using mostly local materials. As a result, the Premium Blue brand has enjoyed a good reputation for a long time.
This is a conventional oil and not blended with synthetic oils. Nevertheless, the formula has been designed for emissions-treated diesel engines in modern diesel vehicles.
It meets all API requirements, including the latest CK-4. So it should be compatible with your diesel trucks, especially those heavy-duty ones that do a lot of hardwork.
Not only diesel engines but it can also be used in other heavy-duty gasoline or natural gas engines, like in equipment. It can protect the engine from wear and avoid deposits.
15W-40 Motor Oil Buyer's Guide

When looking for the best 15W-40 diesel oil, you should know a few things. Here are some of the most commonly asked questions answered:
What Does 15W-40 Oil Mean?
The 15W-40 indicates multi-grade oil. These grades have been assigned by SAE International. In older days, there used to be one single grade, which meant people had to change oil with the seasons. Now, there are multi-grade oils, good for multiple climates (year-round use).
15W indicates the grade or viscosity at low temperatures (the W stands for winter). The lower number, like 0 or 5, indicates the better flow at low temperatures. The 40 indicates fluidity at high temperatures, so the more viscosity it maintains at high temperatures, as oil usually thins when exposed to heat.
The 15W-40 oil is better suited for temperate or hot climates where ambient temperature, as well as vehicle's operating temperature, can be very high.
15W-40 Temperature Range

The ambient temperature range of 15W-40 oil is -25 degrees Celcius (-13 F) to 100 degrees Celcius (212 F). This means it can work in normal cold weather as well as extreme summer temperatures in places like the South.
Can I Use 15W-40 Diesel Oil in Winter?
Are you short on time or just want a quick answer?
Check out our list below for a summary of our results.
While the lower temperature range of 15W-40 oil is as low as -13 F, it may or may not work well in very cold temperatures. It depends on the oil brand and type, as synthetic oil may fare better in frigid winters than conventional oil.
If you live in a place where the temperatures go below -13 degrees or -25 Celcius degrees in Winter, 15W-40 will not cut it. You will either need to go for 10W-40 or, better yet, 5W-40. Alternatively, many trucks also have block heaters for this purpose in winters to heat the engine and the oil in it for a smooth cold start.
Did you know that in Alaska, 5W-30 can be used year-round? Yes, it can stay viscous when the temperatures go way below zero.
Is 10W-40 Better Than 15W-40?

Whether 10W-40 is better than 15W-40 depends on your vehicle and where you live. If your vehicle's owner's manual recommends 10W-40, then it is better than adding 15W-40 to your engine.
Similarly, if you live in a place where winters are very rough and frigid, using 10W-40 would be a better option. Why? It has an even bigger temperature range and can offer a smooth cold start in those freezing temperatures.
As for the quality of the two, that depends on the oil type or brand. Modern diesel and gasoline engines are preferring synthetic oils. A 15W-40 synthetic oil may be better than conventional 10W-40 oil.
However, many old diesel trucks and equipment still use conventional oil, so the question of synthetic is out of the equation. In such a case, rely your judgment on the ambient temperatures in your region and invest in a well-known brand or company oil.
What is 15W-40 Oil Used For?

15W-40 oil is most commonly used in diesel engines. Now, diesel engines are not just used in cars or trucks, they are also used in buses, heavy-duty trucks, and even machinery or equipment. So the applications of 15W-40 diesel oil are way beyond passenger vehicles.
Another use of 15W-40 grade oil is generators and home appliances. These oils are slightly different and typically conventional. However, you may be able to use a diesel car or truck oil in a generator or appliance. Make sure to check oil compatibility with the type or make of the generator first.
Fun fact: The biggest single generator is in Taishan, China, and can produce 1750 MW of electricity. Wonder what lubricant would that require?
Best 15W-40 Oil
The top best product [hide]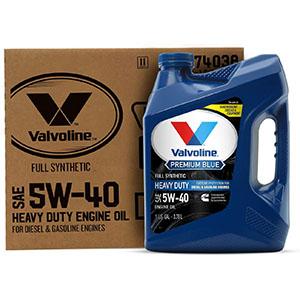 As discussed earlier, this Valvoline oil is easily the best 15W-40 diesel oil. Its all-in-one formula makes it useful for many types of vehicles and engines.
For diesel vehicles, it has the right formulation to support heavy-duty trucks that may do a lot of hauling and towing operations. Furthermore, it can resist breakdown at extremely high temperatures.
This is not just for diesel trucks, but other equipment with diesel engines like vans, buses, cranes, forklifts, etc. Plus, it meets or exceeds a lot of API standards. Aside from that, it also meets many other manufacturer-specific certifications/approvals, such as Volvo VDS-4.5, Renault VI RLD-3, and Caterpillar ECF-3.
Specifications:
All-in-one solution (gasoline, gas, and diesel)
Cummins approved and endorsed for Cummins engines
Reliable engine protection
Cons
A bit pricey for conventional oil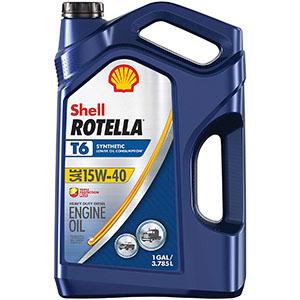 Shell Rotella T6 is a major improvement over the T5, which was a synthetic blend. Now, with T6, they have shifted to full synthetic formula, even for diesel cars and trucks. It is also the best budget option for diesel engines.
This one can improve fuel efficiency by 1.5 percent, as claimed by the company. That doesn't seem like a lot, but for commercial trucks driving hundreds of miles every day, this can mean huge annual savings.
The additives can get rid of dirt and soot while protecting the engine and keeping critical parts moving smoothly. As Rotella oil review will show you, this one is a favorite among truck drivers in the US.
Specifications:
Full synthetic oil
Low consumption and longer intervals
Great value for money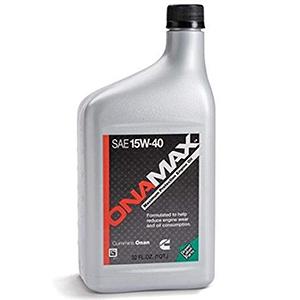 If you have a Cummins Onan generator that takes 15W-40 oil, you can use this Onamax oil. There's no guesswork here, as it's formulated by the company for these generators. However, you can also use it in other appliances that require this SAE-grade oil.
As it's 15W-40, you can expect it to perform well at very high temperatures, upwards of 100 degrees. Not only does it reduce engine wear, but it also ensures low oil consumption. As a result, you may see longer change intervals for the generator.
Specifications:
Compatible with Cummins engines
Reduces engine wear
Affordable pricing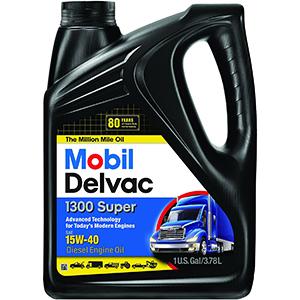 Mobil Delvac 1300 Super 15W-40 is the best oil for older diesel engines, as well as new ones. It meets the requirements of DPF and EGR diesel engines, which became ubiquitous after 2010.
This is a heavy-duty conventional oil, so it's not as refined as Mobil 1 synthetic diesel oil 15W-40. However, it's still quality enough to prevent engine damage in heavy diesel trucks that drive on freeways and highways for long durations.
It meets or exceeds several industry standards, which makes it compatible with a wide range of vehicle makes. What really sets it apart is that it's relatively better performing at low temperatures.
Specifications:
Adequate fluidity even at low temperatures
Best for heavy-duty trucks
Good for high mileage vehicles as well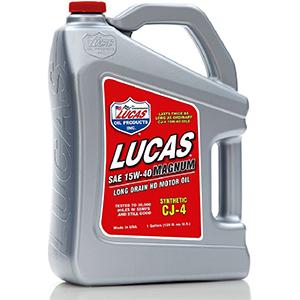 As there aren't that many synthetic options for diesel engine oils, Lucas Synthetic 15W-40 can be a viable option if you want to switch to synthetic oil type. As it's synthetic, it promises to deliver long-lasting performance, meaning it can increase oil change interval.
This is made in the US, so strict quality tests are conducted on every batch. This has been tested for 30,000 miles on semis, which indicates it truly is long-lasting.
While Lucas 15W-40 oil can work with newer engines with newer specifics, it can also be poured into older engines as well, especially those that may be having usual old engine issues.
Specifications:
Full synthetic
Long-lasting intervals
Meets CJ-4 API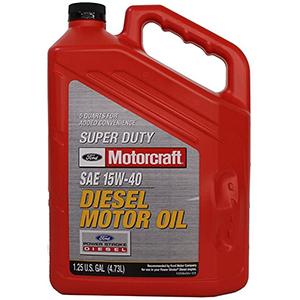 If you own a Ford truck, your owner's manual most likely recommends Ford Motorcraft oil. Since it's made by Ford, there aren't any compatibility issues, as long as you select the right viscosity grade, which in this case is 15W-40.
This is ideal for Powerstroke engines found in many Ford trucks. Essentially, this is an oil for heavy-duty trucks and can be used in other makes as well. It can protect the engine at high temperatures and prevent soot, dirt, and deposits.
Specifications:
Meets Ford requirements
Ideal for heavy-duty trucks
Good value for money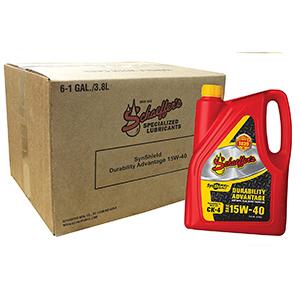 Schaffer's is not as well-known or common as Valvoline, Mobil, or Rotella. However, they have come up with a quality synthetic formula that meets the API CK-4 standard.
It can provide wear protection in extreme heat conditions, such as in the South or really the whole country during summers. Thanks to additives, it can maintain its fluidity throughout the intervals. Furthermore, due to strong oxidation, it can also ensure less oil consumption.
This makes it ideal for new as well as old engines that may need extra something, more than what a conventional oil would provide.
Specifications:
Full synthetic proprietary SynShield formula
Great contamination control
Long-lasting use with lower consumption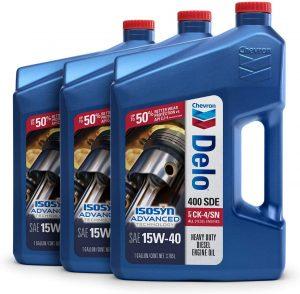 Chevron Delo 400 SDE 15W-40 diesel oil can be used in diesel cars after 2007 with emission control specifications. More importantly, Chevron is one of the few brands whose 15W-40 may work in cold temperatures with or without a block heater.
The highlight is the IsoSyn technology that keeps the soot and dirt at bay, preventing any engine contamination. As a result, the engine stays clean and running efficiently. It meets API CK-4 requirements and can even be used in older diesel vehicles for better performance.
Specifications:
IsoSyn Technology
Great for use with low-sulfur diesel
May work in slightly cold climate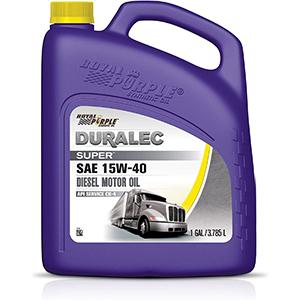 For those looking for premium-quality synthetic oil, Royal Purple 15W-40 diesel oil may be the answer. Surprisingly, it's not too expensive either, as Royal Purple products usually have above-average prices.
As a synthetic oil, it can perform better at low temperatures, as compared with conventional oil. Moreover, it may also last longer, leading to longer oil change intervals. It meets API CK-4, CJ-4, CI-4 Plus, and CI-4 requirements.
Specifications:
Synthetic formula
Increase interval and improves performance
High compatibility with diesel vehicles
Conclusion
You may be surprised that our top choice and the overall winner is a conventional oil and not a full synthetic one or even a blend, for that matter. The reason for that its Valvoline Premium Blue is a name that speaks for itself.
Furthermore, it covers a wide range of vehicles, even those older diesel trucks that have been using conventional oils for their lifetime. Plus, the quality is impressive for conventional oil.
Make sure to double-check compatibility and never use gasoline engine oils in a diesel engine.