Looking for the best motor oil for hot weather? You'll find very detailed information that will likely make you an expert at choosing the right oil.
In this article, we'll talk about engine oil viscosities, what their weights mean, and of course, which oil is appropriate for scorching hot summers.
Make sure to give it a thorough read, as every section adds important information.
Click here to skip to our recommended pick!

Motor Oil for Hot Weather – Buying Guide

To find the best oil for your car before the summer season approaches, you first need to understand oil viscosities or weights, as they are commonly called. These weights are all about the temperatures, so you should know which viscosity is best-suited for higher temperatures.
Oil Weight Explained

Motor oils are classified by their weight or viscosity. Viscosity is defined as resistance to the flow of a liquid. So the higher the viscosity, the more resistance the liquid has in terms of its flow. In other words, higher viscosity means the oil is thicker and doesn't flow quite freely.
Aside from the distinctions like conventional, synthetic, and synthetic blend, motor oils are primarily distinguished by their weight. Normally, the makers of the car determine which weight is best suited for the car's engine. You'll find that information in the owner's manual.
Back in the day, there used to be different oils for different weathers. However, today that's not the case, as we have multi-grade oils. That's why you'll see oil viscosities represented by two different numbers in a very specific format.
The first number is followed by the letter 'W' and a hyphen separates the two numbers. We'll explain what those numbers mean in a bit.
Oil weight basically tells you the thickness of oil at different temperatures. You ideally want less thickness at both low and high temperatures, so the oil can flow more freely.
Oil Viscosity Index

Aside from the weight or grade, motor oils can also be distinguished by oil viscosity index (VI). Viscosity index indicates the rate of change between two temperatures (generally extremes). It's typically measured by comparing oil viscosities at 40 degrees and 100 degrees (Celcius).
VI ranges from 0 to 100. However, modern oils have exceeded even the 100 mark.
Although important, the viscosity index is not really used for motor oils, as it's typically the grade or viscosity that you look for.
What Do Oil Weight Numbers Mean?

Modern-day multi-grade oils are represented by two numbers. Both of those numbers have to do with the temperature.
It's a common misconception that the letter W with the first number stands for weight. That's incorrect as it stands for Winter. Yes, that number is indicative of the temperature in winters at which the oil flows well.
The lower this number is, the better the oil flows even at the coldest temperature. So for cold climates, 0W and 5W are ideal. 10W and 15W are more for hot climates.
The other number that comes after the hyphen indicates the viscosity at higher temperatures. So the higher the number, the better the oil flows even at very high temperatures because it has a higher viscosity and it doesn't get too thin.
So what is 10W 30 oil, for instance? It's a motor oil that stays thin at slightly colder temperatures, as well as thick enough in very hot temperatures.
Oil Viscosity Chart
Here are the different multi-grade oils and their corresponding ambient temperatures (Celcius) that will show you which oil is thicker under what conditions.


10W-30 vs 10W-40
It's clear that 10W-30 and 10W-40 are the ideal viscosities/weights for motor oil for hot weather. So what is the difference between 10W-30 and 10W-40? Well, not so much as their winter viscosity is the same.
As the second number or weight indicates, 10W-30 will be a bit thinner than 10W-40 at temperatures above 25 degrees (Celcius). In other words, 10W-40 will stay just the right thickness even at temperatures higher than 25 degrees and up to 40 degrees.
So is 10W-30 thicker than 10W-40? No, as you can think of the second grade as a thickness grade too. Since 30 is lower than 40, 10W-30 is thinner than 10W-40.
5W-30 vs 10W-40

The 10W-40 temperature range is slightly more left than that of 5W-30, as you can see in the chart above. The 10W-40 temperature range is -20 to 40 degrees, whereas the 5W-30 oil's temperature range is -30 to 30 degrees.
The difference in these temperature ranges where these oils stay very fluid sums up the difference between the two viscosities.
If you're in a continental climate where you see all four seasons and both temperature extremes, both 5W-30 and 10W-40 can be a good choice.
However, if your summers aren't extremely hot then perhaps 5W-30 is an even better choice. Although 10W-40 is better for hot climates, it won't be as effective for sub-zero temperatures as 5W-30 would be.
Best Motor Oil for Hot Weather
Now that you know the best oil weight for summer, you can choose from some of the following products that have been tried and tested.
The top best product [hide]
Valvoline Advanced Full Synthetic 10W-30 Motor Oil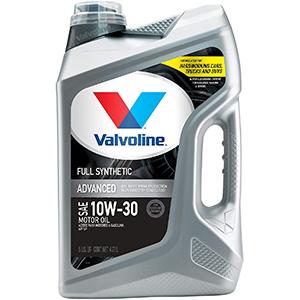 This Valvoline oil is one of the most popular engine oil. You can also find it in other grades, but this one is particularly good for high temperatures. It can provide the right consistency and flow even in the blistering heat of the South.
Added with quality detergents and antioxidants, it does a great job of cleaning the engine's pistons and ensuring unrivaled performance. Plus, the price is pretty reasonable as well.
This API-certified oil has easily exceeded quality requirements. As a fully synthetic formula, it's the best thing you can get for your car.
It's also good for trucks that do a lot of towing and hauling, as it's designed for hardworking powerful engines.
The Valvoline Advanced Full Synthetic 10-30 motor oil is the best synthetic motor oil for hot weather. Here's why:
The Good And The Bad
50 percent more wear protection

Made in the US

Fights deposits and sludges

Shell Rotella T5 Synthetic Blend 10W-30 Diesel Motor Oil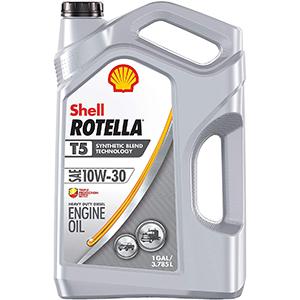 The Shell Rotella T5 Synthetic Blend 10W-30 diesel oil is easily the best diesel motor oil for hot weather. Not just that, it can also do great in cold weather, so you don't necessarily need to switch before the winter arrives.
The synthetic blend formula contains synthetic bases that are more powerful than conventional oils when it comes to cleaning the engine. It can get rid of nasty deposits and enhance engine performance.
Shell Rotella is particularly popular among truck owners, as the oil meets the heavy-duty nature of truck engines. Its low-ash formulation also helps with bringing down harmful emissions, something that's necessary for diesel engines. As a result, it helps cars meet the emissions caps set by the US and European authorities.
Here are some of the key benefits of this Shell oil:
Specifications:
API:
CK-4/CJ-4/CI-Plus/CI-4/CH-4
The Good And The Bad
Compatible with a wide range of diesel cars and trucks

Good for cold start and high temperatures

Extends change intervals

Castrol Edge Advanced Full Synthetic 10W-40 Motor Oil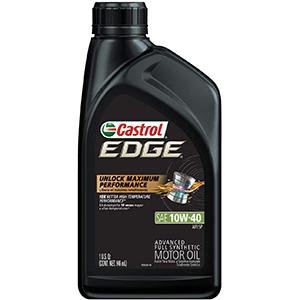 This Castrol full synthetic formula is specifically designed for summertime in the deep South. It ensures the oil has the right thickness when the sun is burning the asphalt.
It's even better than Castrol GTX Magnatec, in terms of improving performance and fuel consumption. This is ideal for both new and old vehicles, including some gasoline trucks.
If your engine has overheating problems in the summer, this oil can ensure that doesn't happen. It can withstand very high engine operating temperatures and help cool them down, even when the mercury is hitting 100 degrees outside.
The Castrol Edge Advanced Full Synthetic 10W-40 motor oil is the best motor oil for Florida and its wet, hot climate. Here's how:
The Good And The Bad
10 times better high-temperature performance

Protection from wear

Performance and fuel-economy enhancement

Valvoline High Mileage with Max Life Synthetic Blend 10W-40 Motor Oil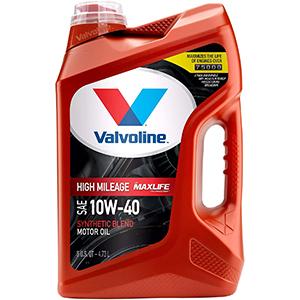 Hot temperature can lead to oil breakdowns and leakages, especially in aging engines of old vehicles. Such cars need specially formulated oils with extra detergents and additives to meet their demands. Valvoline high-mileage synthetic blend formula deals with all those issues efficiently.
Even if you have an old engine that's running fine, adding this oil can make sure that problems don't occur in the future and that your engine lasts even longer.
The antioxidants in the formula are super helpful with cleaning out deposits. As a result, you'll likely see a marked difference in the performance of your gasoline engine. You can use it for engines with over 100k miles on them.
This Valvoline motor oil is the best motor oil for hot weather for high-mileage cars. Here are some of the benefits:
The Good And The Bad
Seals the engine well

Prevents oil breakdown

Cleans sludges and deposits

Mobil 1 Advanced Full Synthetic 10W-30 Motor Oil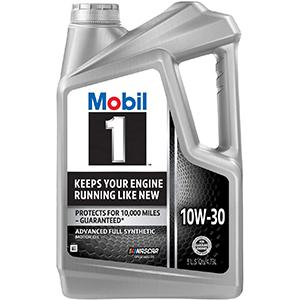 Mobil 1 Advanced Full Synthetic 10W-30 formula is ideal for vehicles mostly running in hot temperatures. But the 10W weight indicates that the oil performs well at cold temperatures as well, if not sub-zero temperatures.
Used by NASCAR, Mobil 1 oils are known for extending the interval mileage. While you should still stick to the recommended change interval by the manufacturer, if you're looking to add a thousand miles or two before the change, this product should be your choice.
Another big advantage of this 10W-30 oil is that it increases fuel economy. Your car won't burn more fuel in the summer, or any time for that matter.
Mobil 1 is America's favorite brand when it comes to engine oils, and you can see why that's the case:
The Good And The Bad
Improves performance

Longer change intervals (up to 10,000 miles)

Value for money

Motor Oil for Hot Weather: FAQs
Is 5W-30 Thicker Than 10W-30?
No, 5W-30 is not thicker than
10W-30
. They have a comparable thickness in hot temperatures, though.
Is 10W-40 Thicker Than 10W-30?
Yes,
10W-40
is thicker than 10W-30 in hot climates.
What Happens if You Use 10W-40 instead of 5W-30?
If you use 10W-40 instead of 5W-30, you'll get better performance in high temperatures. However, the
10W-40
maybe a little less efficient at cold starting than 5W-30. Always stick with the viscosity mentioned in your car's owner's manual.
Is 5W-30 or 5W-40 Better for Summer?
For the summer, 5W-40 is better than 5W-30.