Diesel engines have seen a massive improvement in terms of efficiency and emissions, and DEF or Diesel Exhaust Fluid is a big part of that. Ever since the 2010 EPA regulations, diesel engines are delivering way better fuel economy as well.
If you're looking for the best DEF fluid for Duramax engines, you'll find a lot of valuable information in this article.
Not only will we list the best products from reliable brands, but also provide a comprehensive buying guide. It will especially be helpful for new diesel car owners with a Duramax engine, as diesel vehicles run a little different from your gasoline cars.
Click here to skip to our recommended pick!

Overall #1 Rated Pick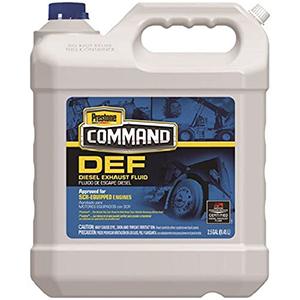 Prestone Command Diesel Exhaust Fluid
The all-rounder best DEF fluid for Duramax is the Prestone Command Diesel Exhaust Fluid. It comprises 32.5% urea (the rest is water) which is a safe amount. This is also compatible with all SCR-equipped engines, including the Duramax V8.
The Prestone Command DEF can work in conjunction with other DEF or AdBlue as well. There are no toxic components, as even the water is demineralized. So there are no metals or minerals that could harm your engine.
This product can help you stay under the federal emissions limit while also improving the overall fuel economy. That's a win-win situation on both annual fuel costs and environmental impact fronts. The usage will be under 3 per cent of diesel fuel consumption.
This Prestone DEF meets API and ISO 22241 requirements.
Specifications
Brand: Prestone
Percentage of Urea: 32.5
Quantity: 1 Gallon, 2.5 Gallon
Model Number: HD1001-2PK
Color: Clear
Pros
Improves fuel economy
Meets API and ISO standards
Low consumption
Easy-pour bottle
Good value for money
Con
DEF Fluid for Duramax – Buyer's Guide

Before we proceed to list other DEF products for your Duramax diesel vehicle, let's take discuss everything you need to know:
What is Diesel Exhaust Fluid (DEF)?
The Diesel Exhaust Fluid is a special, blue-colored fluid that exclusively goes into diesel cars. It's a mixture of two-thirds of deionized (or demineralized) water and one-third of urea. There's a separate tank for DEF in addition to the diesel tank.
The DEF runs through a selective catalysts reduction (SCR) system, which helps reduce the emissions from the diesel engine. Diesel engines have long been notorious for emitting hazardous nitric oxide, which this fluid helps reduce to a safe level.
What year did DEF become mandatory? In 2010, the Environmental Protection Agency (EPA) tightened the restrictions on diesel vehicles making them mandatory.
Duramax DEF Tank Capacity

Obviously, you have to take into account how much DEF your vehicle needs in the first place. Ideally, you want to keep the tank full. You need to find the capacity for your particular engine or car model.
Here are some:
| | |
| --- | --- |
| Duramax DEF | Gallons |
| 2018 Duramax DEF Capacity (L5P) | 7 gallons |
| 2011 to 2016 Duramax DEF Fluid Capacity (LML) | 5 gallons |
How Long Does DEF Last?
The usage of DEF depends on a number of factors, including the quality of the fluid itself and how you drive. Normally, the consumption of DEF is 2 to 5 percent of fuel consumption.
For instance, if you're using 1400 gallons of diesel in a year, you'll need 42 gallons of DEF (at 3 percent). With a tank capacity of 5 gallons, a full tank would last you nearly eight weeks.
It's important to pay attention to DEF levels in your cars, as modern diesel vehicles are designed to decrease the functionality of the car if the fluid runs out. If the DEF is at a low level, your car will indicate that it's about to end just how it does with fuel.

If it does end, the speed of the car would be limited to 4 to 5 miles per hour before you fill the tank. For Duramax, you must fill at least two gallons to get the speed back to normal.
As for the shelf life of DEF, it can last for two years under 75F degrees temperature.
What Temperature Does DEF Freeze?
Like any other fluid, the DEF fluid also has a freezing point. Most DEF freeze at -11 degrees Celcius (12 degrees Fahrenheit). This is an important consideration if you live in a region with temperatures well below sub-zero in winters.

If it's such a cold climate, you should leave some of the tank empty, as the water in the DEF will expand on freezing. If the tank is full, this expansion could break it.
Similarly, you'll also need to invest in a DEF heater to keep it warm in such cold weather.
What to Look for When Buying DEF Fluid?
Just like when you're choosing the fuel for your car or motor oil for the engine, you should go for a reliable brand when buying DEF. Pay attention to the exact composition, as to how much motor-grade urea it contains.
The DEF should meet the ISO 22241 requirements for it to bring emissions down to the level acceptable by the EPA. It should also be API certified.

Then comes the pricing consideration, as some DEF fluids are quite expensive. If your fuel consumption is higher, you can also expect the DEF consumption to be higher, which means more costs.
Lastly, you should see how much DEF you need to fill the tank. You may also want to keep some in your car as a reserve.
Best DEF Fluid for Duramax
The top best product [hide]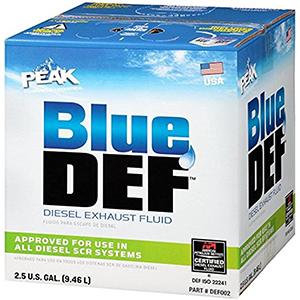 The BlueDEF from Peak is perhaps the most popular exhaust fluid for Duramax. It can readily reduce the NOx emissions in diesel cars with the SCR system. With a 32.5 percent pure automotive urea, it's one of the best quality DEFs out there.
With this in your vehicle, there's no way you'll see the low-quality DEF signal turn on. It's a colorless liquid, certified by the API, and meets the ISO requirements. This is also the most budget-friendly option.
Specifications:
Pure urea
High-quality
Clear
Pros
Great value for money

Follows safety standards

Savings in bulk buying

Popular brand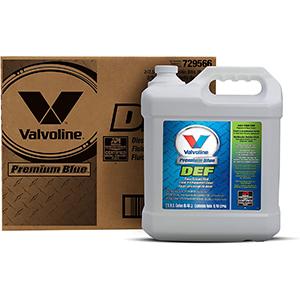 Valvoline hardly needs an introduction as it's a homegrown company that's known for producing its lubricants in the US. Most Valvoline products are premium quality, and this Premium Blue DEF is no exception. They make this with equipment and facility dedicated to this product, so there are no contaminants.
It has the potential to give you the best performance in terms of emission control. In addition to API and ISO requirements, this is also AdBlue certified. This also includes a fill hose that comes in handy when filling the DEF tank.
Specifications:
Premium Blue line of fluids, lubricants
AdBlue certified
Made in the US
Pros
Very high-quality

Meets all specifications for Duramax DEF

Easy to pour

Cons
Expensive per gallon cost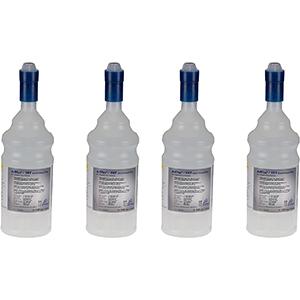 BMW, Porsche, and Audi diesel cars use AdBlue® Diesel Exhaust Fluid as the DEF when the cars arrive from the factory. That goes to show that this particular fluid is a highly recommended DEF. If you're happy with its performance when you buy the car, you can continue to use it.
The best thing about this particular DEF is that it comes in half-gallon bottles with a no-spill nozzle. That makes it economical as you only buy what you need, and you don't waste any as all of it goes into the tank. It works with vehicles with SCR code U42.
Specifications:
Factory fluid of many cars
Pure urea
Ergonomic bottle design
Pros
Ergonomic bottle design

Easy to use

Reduces emissions significantly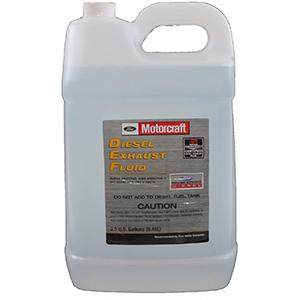 You'll find this Motorcraft DEF in most truck stops, as it's an affordable yet reliable fluid for diesel engines. Since there are many Ford diesel trucks, you can use this without qualms. It's ideal for trucks that do a lot of hardworking and freeway driving, helping bring down overall costs.
This one also has a specialized nozzle design to fit the tiny outlets in some trucks to fill in the DEF tank (2011 Ford trucks and after). In addition to the ISO 22241 requirements, it also meets the DIN 70071 requirements. Since it's a Motorcraft product, it's ideal for Ford trucks that are often very heavy-duty.
Specifications:
Made especially for Ford diesel trucks
Special nozzle
AUS-32
Pros
Decent consumption

Meets multiple standards

Ideal for heavy-duty trucks

No mess or spills

Cons
A little pricey

Quality issues in some vehicles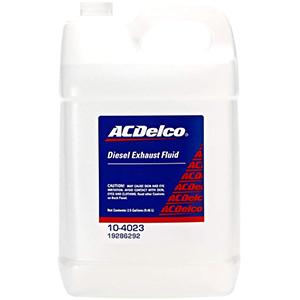 This GMC Diesel Exhaust Fluid from ACDelco is ideal for General Motors vehicles, including heavy-duty trucks and vans. It can work with some of the older models going back all the way to 2010 when DEF was made essential. So it's been in business for a while and has seen improvements.
This can help bring NOx emissions down, at least to the level regulated by authorities. That way your vehicle can pass the emissions test easily. With no additives, the DEF pipes only get pure urea with unionized water, which does wonders for the SCR system.
Specifications:
Compatible with GM vehicles
Quality composition
Meets all specifications
Pros
Good for hardworking trucks and vans

Easy to pour with vented nozzle

Long shelf life

Conclusion
If you own a diesel vehicle manufactured after 2010, DEF is absolutely essential for it, and for good reason. This fluid can help bring down emissions which can otherwise damage the environment considerably.
All these products meet the set requirements by the EPA. Nevertheless, it's best to buy one that's fully compatible with your car make.