Many popular and flagship diesel vehicles are equipped with a Cummins engine. If your car is made after 2010, you need quality diesel exhaust fluid (DEF) for it. Here we'll talk about the best DEF fluid for Cummins.
In this article, you'll find all the important information you need to know before choosing a DEF product. While there isn't that much variety, unlike motor oil or gasoline, you still should pay attention and understand why DEF is needed in the first place.
You'll find out the best DEF options for your vehicle, as well as get answers to questions like how to choose one, how much to get, and what to expect.
Click here to skip to our recommended pick!

Overall #1 Rated Pick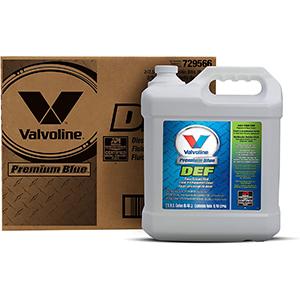 Valvoline Premium Blue Diesel Exhaust Fluid
The Valvoline Premium Blue Diesel Exhaust Fluid is our top pick for Cummin engines. This is especially great for vehicles that do a lot of highway driving. With DEF being pricey, you want a lower consumption rate, which this premium-quality product can offer.
More importantly, it can help bring NOx levels nearly to zero, which is good for your vehicle and the environment. It's compatible with most Selective Catalytic Reduction (SRC) system engines, so you don't have to worry about compatibility even if your vehicle came with AdBlue from the factory.
As is the case with most Valvoline products, this DEF is made in America. That means that it goes through high-quality checks. Also, they use dedicated equipment for manufacturing this to avoid contaminants.
This is American Petroleum Institue (API) and AdBlue certified and meets the ISO 22241 requirements.
Specifications
Brand: Valvoline
Percentage of Urea: 32.5
Quality: 2.5 gallon
Part Number: 729566
Pros
High-quality
Meets all requirements and standards
Easy to add
Contaminant-free
Con
DEF Fluid for Cummins – Buyer's Guide

Here are all your questions answered before you buy DEF additive for diesel engines:
What is Diesel Exhaust Fluid?
Diesel exhaust fluid or DEF is a solution of deionized water and urea. The composition is 32.5 percent urea, and the rest is water. Think of it as a fuel for your car, which doesn't help run it but helps bring emissions down.
When it reacts with NOx emitted by the engine in the SCR, it converts it into vapor and nitrogen, which are already abundantly present in the atmosphere. This helps bring the NOx emissions down, which diesel vehicles have been notorious for a long time.
There's a dedicated tank for DEF in diesel vehicles.
What Year Did DEF Start?
Adding DEF in diesel engines isn't really a choice as it has been made mandatory. It was introduced in 2010. The EPA's guidelines asked manufacturers to make diesel vehicles that meet set emission standards, and DEF helps a lot with that.
So if you have a diesel vehicle model 2010 or above, your car would also need DEF.
How Long Does DEF Fluid Last?

The shelf life of DEF fluids is typically two to three years. As for the consumption, it depends on the DEF itself and your driving and vehicle performance.
DEF is used in conjunction with the fuel, as it's kind of like fuel for your truck or car. For measuring consumption, the standard in the industry is the percentage of fuel usage. Normally, this varies between 2 and 5 percent of the amount of fuel you use in day, week, or year.
As an example, if you use 1000 gallons a year, you'll need 30 gallons of DEF if the consumption rate is 3 percent. Given that most tanks take 5 gallons, you'll have to refill the tank at least six times a year.
Can DEF Freeze?
Of course, since DEF is a liquid, it has the potential to freeze in sub-zero temperatures. Normally, the DEF freezing point is -11 degrees Celcius or 12 degrees Fahrenheit.
This is why diesel vehicles are equipped with a DEF heater that keeps it warm in winters.
RAM 2500 DEF Capacity

Since RAM 2500 is one of the most popular trucks with a Cummins engine, let's take that for consideration exactly how much DEF its tank can hold at a time.
Again, it varies for vehicles, so you'll need to search for your specific make and model with Cummins.
Here's how much DEF capacity is for RAM 2500 over the years:
| | |
| --- | --- |
| DEF | Gallons |
| 2018 RAM 2500 DEF Tank Capacity | 5 gallons |
| 2016 RAM 2500 DEF Tank Capacity | 5 gallons |
DEF Price

DEF isn't cheap, but you can find cheap products. Rates vary a lot, even for the same product depending on where you're buying from.
When choosing based on cost, don't just rely on the total cost of the jug or bottle. Instead, get the per-gallon rate based on the actual per gallon rate and the gallon consumption. In other words, base your selection on which product gives you the best value.
Typically, a 2.5-gallon container can cost anywhere from $10 to $30. So there's quite a bit of variety in terms of pricing.
How to Select DEF Fluid?

You should pay attention to the brand and specification of the DEF, whether it meets them or not. It should meet the ISO 22241 specification, which is an industry-standard. There are other standards and certifications as well, as the API certification.
Of course, as discussed, you should also look into the price, as high DEF consumption can lead to higher overall running costs. If you don't have budget constraints, you could go for a high-priced one.
Also, take into consideration how much DEF your vehicle's tank holds. While it automatically keeps some as a reserve, the last thing you need is running out of DEF on the freeway or runway.
Best DEF Fluid for Cummins
The top best product [hide]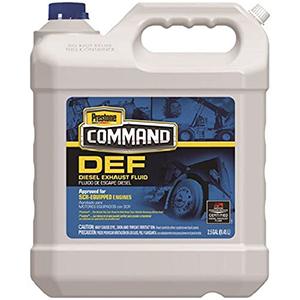 The Prestone Command Diesel Exhaust is the best DEF fluid for Cummins Ram 2500. It's a pure urea solution that can readily bring the NOx emissions down to a safe level. It's also compatible with AdBlue if your diesel vehicle has been using that.
While it's a little pricey, it does keep the consumption around 3 percent. In other words, it will make up the costs over time by using slightly less DEF as compared with cheaper options with higher consumption rates. This is API certified and meets ISO 22241 requirements.
Specifications:
Pure urea
Low emissions
Ergonomic handle
Pros
Pure quality

Reliable brand

Low consumption

High compatibility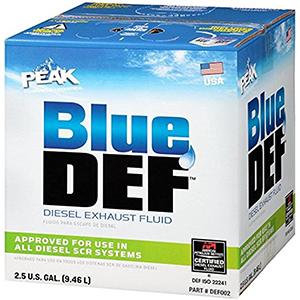 This Peak diesel exhaust fluid is the best DEF fluid for Ecodiesel. You'll find it at every truck stop, dealership, and supermarket. The BlueDEF is compatible with all diesel vehicles with an SCR system. This one also has very pure urea, which, in turn, helps bring down emissions reliably. If your Cummins is having issues exceeding the emissions cap, perhaps switching to BlueDEF might help. More importantly, it's more on the budget side, so you'll also save money in the long run.
Specifications:
Pure urea
Very popular
Clear
Pros
Great value for money

Meets all requirements

High-quality

Cons
Not so easy to pour into the DEF tank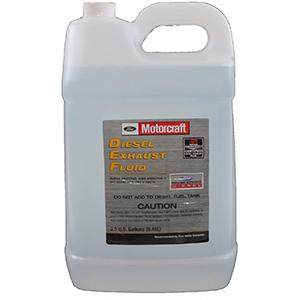 Another popular option for DEF for Cummins and
Duramax engines
alike is the Motorcraft DEF. Although a little expensive, it meets all the standard requirements, so you're safe on that front. Plus, it's remarkably easy to pour into the tank with the special nozzle.
This is designed for Ford trucks which do a lot of hauling and towing. So if you need a RAM def fluid that supports such hardwork, perhaps Motorcraft is a good option. This one also meets the DIN 700071 requirements.
Specifications:
Best DEF Fluid for Cummins 2019
Specialized nozzle
AUS-32
Pros
Meets multiple standards

Ideal for hardworking trucks

No spills while adding

Low consumption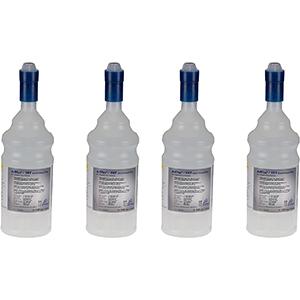 You know you're getting something quality when BMW, Porsche, and Audi diesel cars have it too. AdBlue® Diesel Exhaust Fluid is synonymous with DEF, as many cars have it when they leave the factory. It's similar to many other brands too like Fleetguard DEF. It comes in small half-gallon bottles that are easy to pour in, and you can refill the tank as soon as the level goes down a bit. However, that also means it's not really a cheap DEF fluid. Nevertheless, it's a high-quality product that can help decrease emissions. It's compatible with diesel cars/trucks with SCR code U42.
Specifications:
Factory fluid of many cars
Pure urea
User-friendly bottle
Pros
High-quality

Well-known brand

Easy to use

Reduces emissions significantly

Cons
Very expensive per-gallon price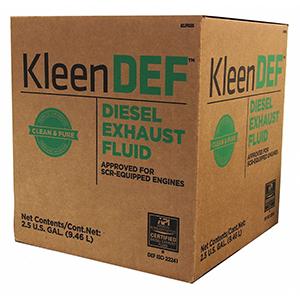 Although KleenDEF diesel exhaust fl is not as well-known as the other products on this list, it's still the best DEF fluid for Cummins, considering it has very pure urea. It works with all SRC diesel vehicles, which also includes RAM 2500, 3500, and others. With this, you can expect NOx levels to go down easily.
This does meet the ISO 22241 specification. It's also one of the most affordable options, so you can save money if you buy in bulk. However, it's not the easiest to add to the tank, but you can always use a funnel.
Specifications:
Pure urea
Meets specifications
Available in drums too
Pros
High-quality

High compatibility

Good value

Conclusion
Your Cummins engine diesel truck requires quality DEF to run safely. Otherwise, the emissions can be dangerous. So always make sure that your vehicle has ample DEF in the tank. Your car will indicate when it needs a refill.
Since there aren't that strict compatibility issues when it comes to DEF, you can choose from other brands. However, the main thing is purity, which cannot be compromised on.