What is the best oil for 6.7 Cummins? How to differentiate between many oils and choose the best one? If you're looking for these answers, then we've got you covered.
The 6.7 Cummins engine uses SAE 15W-40 or 5W-40 full synthetic oil, which is specially formulated for use in heavy-duty vehicles like Dodge RAM and can hold up to 12 quarts of oil before needing another change.
In this informative article, we've going to talk about the best oil for 6.7 Cummins, overview different models, find out the manufacturer's recommendation as well as users' choice. We're also going to review some of the best oils for Cummins 6.7. And later on, we'll feature a model-specific approach before concluding with a buyer's guide.
So buckle up to take it all in. Let's get started.
Click here to skip to our recommended pick!

Our Overall #1 Rated Pick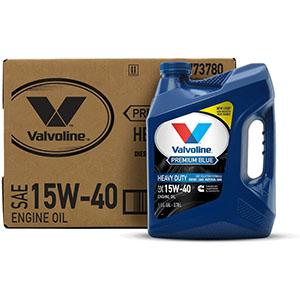 Valvoline Premium Blue Diesel Engine Oil 15W-40
Key Features
Viscosity grade of 15W-40
Improves engine oxidation resistance
TBN retention prolongs oil life
Excellent shear stability control
Valvoline produces top-notch products when it comes to engines. This is also a high-quality product manufactured by them. We selected this one as the best engine oil for 6.7 Cummins because of the variation in usage.
Cummins tested this product for various vehicle applications. Not only this will work on your cruising vehicle also you can use it on heavy-duty vehicles providing the same high performance.
This may be the best selection if the vehicle is in a high-temperature region. The 15W-40 grade is extra thick in hot temperature and also works well in normal temperature.
Cummins recommends this product to use in a diesel engine as it will provide greater emission control and lubrication.
This high-performance engine oil is made to increase your fuel economy with engine protection. It will also provide greater mileage.
Cummins Model Overview

The latest Cummins model is the 5th Gen Cummins 6.7 that was released in 2019. This model was released after nearly a decade of the 4th generation of trucks. And also, the 5th Gen Cummins is the most capable and powerful Ram truck at the moment. Learn more.
Paired with an Aisin transmission, the new 6.7 Cummins produces an impressive 1000 lb/ft of torque & 400 horsepower. The standard trucks also generate an output of 850 lb/ft of torque + 370 horsepower with 68RFE auto transmission. And this 6-cylinder high-performance engine can contain about 12 quarts of SAE 15W-40 or 5W-40 oil.
As for the 4th Gen Cummins 6.7, it was in service from 2010 to 2018. It could generate a maximum of 385 HP @ 3013 rpm and up to 930 lb/ft torque @ 1700 rpm. This version was also a 6-cylinder model and contained 12 quarts of engine oil as well. Learn more from here.
And according to the user guidelines, the 6.7 Cummins oil type seems to be API CJ-4/SL designated 15W40 oil. 5W40 oil is also suitable.
Manufacturer Recommended Engine Oil for 6.7 Cummins

As always, if you want to be a happy truck owner, you better listen to the manufacturers. With every vehicle, they provide an instruction manual containing all the necessary info about it. Check it out for yourself.
Although we have some necessary info extracted out for you. Let's take a look at them.
Specification
The manufacturer recommends oils that meet FCA US Material Standard, MS-11106. They also recommend oils that are approved to ACEA C3 for best performance and protection under all operating conditions. Alternatively, you could look for oils that meet CES-20081 specs or API CJ-4/SL as well.
Viscosity Grade
The Cummins 6.7 guidelines highly prefer the use of 15W-40 grade oils. We also recommend this grade as you may have already seen in our overall #1 rated pick. This grade performs well in high, medium, and mildly low temperatures (5oF). For temperatures lower than that, you could use the 5W40 grade variant as well.
However, according to the RAM 2014 manual, you should use 5W30 graded oil for the best outcome. As they perform well under low temperatures and provide better fuel economy.
Capacity
In most of the models, the oil capacity remained the same. You need to pour around 12 quarts of specified engine oil inside your Cummins.
Oil for 6.7 Cummins by Mileage – User Recommendations

As you may know, the quality of your engine oil affects your mileage. So you must do a little homework before settling down for a specific kind. In this section of the article, we have fished out some useful recommendations from Cummins user communities. Some of the users have over 300,000 miles on their engines. So these exclusive suggestions can set you on the best track.
Most of the users recommended the Rotella T6 synthetic. They say the oil takes your engine to another level. Consider your options between the 15W40 and 5W40 variants. Also, some of the users suggest Valvoline Premium Blue and Mobil A as the best oil for high mileage 6.7 Cummins.
Learn about the preferences of Ram users as well.
Best Oil For 6.7 Cummins
The top best product [hide]
Valvoline Premium Blue Diesel Engine Oil 15W-40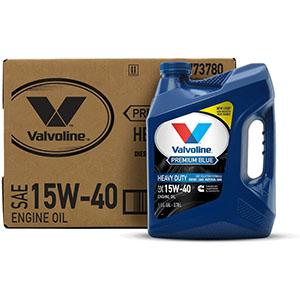 This Valvoline premium blue engine oil is not the only factory recommended by Cummins, but also other major automobile industries endorsed users to use this product. This product is API tested for Cummins Diesel Engines making it the overall top-rated product in our article. The 15W-40 grade Is perfect for hot and normal temperatures. The superb oxidation resistance improves soot control and elongates the engine life so that you don't have to change the oil as frequently as other engine oils.
You can observe a sharp increase in fuel economy and proficiency after using this product. Also, there is no fear of voiding the warranty using this Cummins recommended product.

Specifications:
Average Fuel Economy:
7.0 mpg or higher
The Good And The Bad
Cummins recommended engine oil

Extraordinary contamination protection technology

Long oil service interval

Valvoline Premium Extreme Full Synthetic Engine Oil 5W-40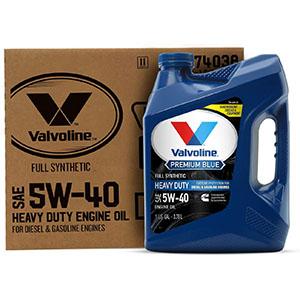 Another product recommended by Cummins to use on their engine. This 5W-40 viscosity graded oil is an upgrade from the conventional 15W-40. Both products work the same under hot temperature but for freezing temperatures, this one has better performance.
This synthetic engine oil has a superior cold-start capability and better thermal resistance in hot weather. Usual heavy-duty engines require changing the engine oil frequently. But the unique drain extension included in this product especially for Cummins X15 will retain the oil quality for over 10,000 miles.
Your engine will get better wear protection from debris and harmful contamination and the oil will not oxidize as fast as any other engine oils. The smooth running engine will also boost fuel efficiency.
Specifications:
Average Fuel Economy:
6.5 mpg or higher
The Good And The Bad
Better selection for cold temperatures

Includes a 10,000-mile drain extension

Improved oxidative-thermal resistance even in extreme conditions

Mopar 68024966MA Engine Oil SAE 15W-40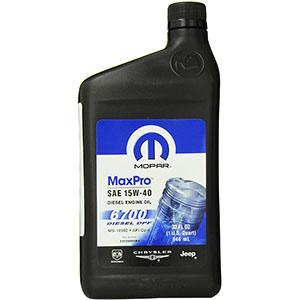 This Mopar manufactured high-quality engine oil will run the engine as smooth as a new engine. The 15W-40 grade has a thick blend, improving the performance of the engine in hot temperatures. The oil comes In a 1-quart bottle so you can buy the exact amount you require. This is the budget selection product in our review for its low pricing for the amount provided. The additive technology in the oil blend will increase the wear protection, debris accumulation, and will provide better protection in extreme thermal conditions.
Specifications:
OEM Part Number:
68024966MA
The Good And The Bad
Made for low emission turbo-diesel engines

Viscosity grade 15W-40

Includes factory warranty

May be less effective in cold start

Shell Rotella T6 Synthetic Diesel Engine Oil 5W-40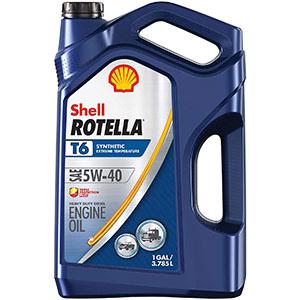 This is 5W-40 viscosity grade engine oil produced by Shell Rotella that will provide an additional 1.5% increase in fuel economy over the traditional 15W-40 graded products. The change In viscosity grade is also an excellent selection for cold working temperatures. Shell Rotella shows off their unique triple protection plus technology in this product that uses the combination of full blend synthetic oil and advanced additives. It will increase your engine's equipment protection and prolong the engine life significantly.
The advanced additives will also protect the engine from any kind of soot, debris, and harmful contaminants. The low ash formulation technology will provide better emissions without affecting the fuel economy.
Specifications:
Fuel Economy Capability:
1.5%
The Good And The Bad
Improves engine fuel economy

Combination of synthetic oil with advanced additives

Suitable for heavy-duty diesel engines

Shell Rotella T6 Synthetic Blend 15W-40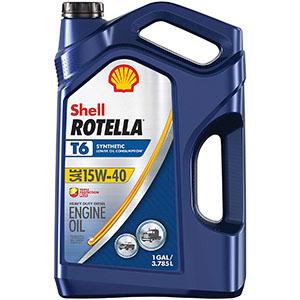 This is a state of the art product produced by Shell Rotella that provides excellent wear protection and emission control without affecting the fuel economy. If you need an engine oil change for a high mileage vehicle then we highly recommend this product. This oil has a long service interval by resisting oxidation by heat released from the engine into the oil. Overheating the engine won't cause any oil and viscosity loss. The oil pressure will remain constant throughout your usage and the blend won't lose its viscosity as it is has a proper shear stability resistance.
Your engine will remain more durable even in extreme temperature variations. Even in a worn-out old engine, you will visibly observe better vehicle emission and improved fuel economy.
The Good And The Bad
Highly recommended by users for 6.7 Cummins

Shear stability tested to prevent viscosity loss

Additives technology provides extra protection

Cummins 6.7 Oil Type by Year

Here in this section, we are going to suggest different oil types based on the year of development and engine type.
2014 6.7 Cummins Oil Type
According to Cummins manufacturers, the 4th Gen models from 2008 to 2018 meet the following specifications.
The engine runs on 12 quarts of Cummins SAE 15W40 or 5W40 oils. Like previous Cummins models, it's also a 6-cylinder diesel engine. Produces high HP and torque. The manufacturers suggest oils that meet API CJ-4 or the CES-20081 specs for the best outcome.
Among the top brand recommendations, you may consider Shell Rotella T6 15W-40 or 5W40 graded oils. You can also settle for Valvoline Premium Blue, Mobil A, Chrysler Genuine, etc.
Always make sure that you got the specs right. Similar specifications also apply for the 2012 6.7 Cummins oil type, 2011 6,7 Cummins oil type.
2019 RAM 2500 Cummins Oil Recommendation
Similar specs also apply for the 5th Gen Cummins engines. This model was released in 2019, after a decade of the 4th Gen model. It generates better torque and hp compared to the previous. This engine is also 6-cylinder 12 quarts.
However, RAM 2500 recommends SAE 10W-30 synthetic or 5W40 synthetic engine oils. According to them, the 10W30 provides improved engine protection. It works in low temperatures and reduces fuel consumption. Learn more from here.
As for the oil brand, you could use Valvoline Premium Blue 5W40, Shell Rotall 5W40, or 10W30, etc.
2006 RAM Cummins Oil Type
This early version of the Cummins engine has several variations. For example, the v6 engine requires 5 quarts of 5W30 oil. But the v8 engine requires 6 quarts of 5w30 oil. As for the 2006 RAM 1500 v10, you'll need about 8.7 quarts of 0w40 oil.
Oil for 6.7 Cummins – Buyer's Guide

Here is some additional information for you regarding your Cummins.
How Much is 6.7 Cummins Oil Capacity?
The Cummins models after 2008 can hold about 12 quarts of engine oil. The early models had a much lower capacity. For example, the 2006 v6 could hold about 5 quarts only. Maintain the oil specs and SAE grade while filling.
How Often to Perform the 6.7 Cummins Oil Change?
For the older models, it was after every 3700 miles. However, the latest Cummins models take in a larger amount of oil. So after about 15000 miles to 25000 miles is preferable. Though you should prioritize engine maintenance and check the oil quality at regular intervals.
How to Change 6.7 Cummins Engine Oil?
Swiftly change your engine oil following this guided video. Make sure you have the proper 6.7 Cummins oil type.