When it comes to automobile lubricants and other automobile fluids, we always choose well-known and trusted brands, especially when it comes to matters like motor oils and other vehicle fluids. We simply want the finest. This is why many people prefer household names like Castrol and Mobil 1. Castrol and Mobil 1 are two of the most well-known oil companies in the world. Both are affiliated with some of the biggest international petrol businesses. In this post, we'll look at how Castrol Edge compares to Mobil 1 in terms of quality and performance. Let's see who wins the contest between Castrol Edge and Mobil 1.
Choosing the ideal synthetic oil for your car or motorcycle may be a challenging process. Aside from that, new brands and models continue to emerge. But, in order to guarantee the long-lasting performance and health of your vehicle, you should stick with tried-and-true synthetic oil types such as Castrol Edge and Mobil 1 for most drivers.
Both are high-quality oil brands that different vehicle manufacturers recommend for their cars. However, you must still choose between them. We'll compare how they compare below to help you make a simpler decision.


Different Types of Motor Oil
The type of engine oil produced is determined by the primary components in an oil manufacturing process. Despite going through a number of changes that attempt to strip them of their "real" petroleum status, full synthetic oils are still classified as "pure" petrol.
Motor oils are commonly divided into three categories based on their petroleum content. Conventional motor oils are made up of a single type of petroleum base. Full synthetics, on the other hand, aren't mixed with real petroleum mixtures. These blends include a mix of two sorts. It's not required that the ratio be 1:1. This varies by manufacturer.
Both have a lot of synthetic chemicals in their oil mixes, but the use of Synthetic SAE 30 is higher in Castrol Edge. On that note, if you're not sure how to change the oil in your car, check out this detailed tutorial.
Full Synthetics
Synthetic oil is widely preferred by automobile owners. There are a number of compelling reasons why they adore full synthetic oils. In all performance characteristics, full synthetic oil easily beats both synthetic and conventional blends.
The main problem is compatibility. These oils are only suitable for new vehicles, and certain older models of cars might be incompatible. With synthetic oil technology growing in sophistication, this is also changing. If you compare Castrol Edge vs Mobil 1, the latter has an upper hand in this area because the brand pays more attention to it.
Synthetic Blends
A blend, in this case, is what the name implies. It's a mix of chemicals drawn from synthetic and conventional motor oils. Synthetic blends are characterized by this unusual characteristic, which allows them to operate with a wide variety of engines, no matter how old they are. If you have an older automobile, you'll get much more use out of this version.
Torco is a well-known synthetic motor oil company, owing to its heavy-duty formulations that outperform any other motor oil on the market. Torco is unquestionably the greatest option for normal automobile oils, making it simple for them to dominate the synthetic oil blend market. Because there are few distinctions between these two companies, selecting may be difficult.
Conventional
Over time, conventional motor oil has lost a lot of appeal and is purchased less by customers today. Despite this, it's an important asset for older engines that run only on regular motor oil. The fact that some engines are only compatible with traditional ones after a specific age is the primary reason this sort of motor oil is still useful.
A blend of "pure" petroleum chemicals and additives of the firm's choosing is used in this oil. In many cases, conventional oil isn't particularly good at long-term lubrication because it isn't always the most cost-effective option.
Castrol Edge vs Mobil 1: Castrol Oils Overview
For their outstanding, cheap goods, Castrol oils have become a household name. Their oils have been found to be suitable with almost all types of vehicles, whether they are in good condition or not. You can generally get a Castrol product that appears to be exactly what you need for most sorts of maintenance operations and other general purposes.
About the Company
Castrol's top grade of motor oil, the Edge line, outperforms the GTX line in a way that is typical for a premium brand. That said, because the Edge brand comes only in full synthetic formulations while the GTX line offers just one full synthetic solution, there's a good chance much of this increase in performance is due to improved engine protection provided by modern full synths detergents. It's also worth noting that, of Castrol's "niche" goods that it classifies as individual brands, the only shared category between the Edge and GTX names is High Mileage type. This is where you'll discover Castrol motor oil for supercars.
For all sorts of automotive, Castrol is a well-known name in the field of high-performance engine oils. The company was founded in London in the 1800s and takes its name from "castor oil," one of its essential components.
The company's success was aided by its high-quality and marketable goods, which helped it attain new heights. It is now a subsidiary of British Petroleum and targets the industry with a broad range of items, ranging from industrial equipment for exploring space to consumer-grade engine oils that the average driver may readily use.
Castrol Edge at a Glance
The parent company's numerous brands are labeled "Castrol" by the corporation. Their top tier is, as you guessed it, the Castrol Edge. This category contains some of their finest-performing goods, including some that are so great that they're frequently used in racing cars and supercars.
In the realm of high mileage and performance, Castrol Edge motor oils have a significant edge because they are produced entirely from synthetic blends that are specifically designed for high-mileage driving. The oils' state-of-the-art Titanium technology makes them three times more viscosity stable than other oils on the market.
To summarize, most automobile firms, as well as skilled racing teams, frequently utilize Castrol Edge products. These lubricants are also used by many premium car makes including Audi, Jaguar, Land Rover, and Volkswagen. When it comes to maintaining a clean engine with outstanding performance, there's nothing else like Castrol Edge.
Pros
Better protection against wear and tear
Contains titanium particles
Long-lasting, solid performance
Much more affordable
Suitable for the majority of American and European car models
Cons
Not always available in general physical outlets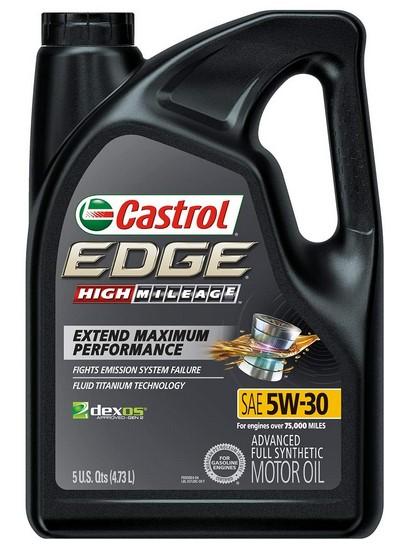 The best synthetic motor oils include Castrol, which is another name for the greatest synthetic motor oil. This oil is designed to provide protection for vehicles that operate at higher pressures than usual. The EDGE 5W-30 has been tested and meets the standards for GM, Ford, Honda, Chrysler, and other carmakers. Castrol's Viscous 5 synthetic oil has a high viscosity index and, as a result, reduces engine friction and deposits. Unfortunately, Castrol does not last as long as Royal Purple or other synthetic oils. It will have to be changed more frequently.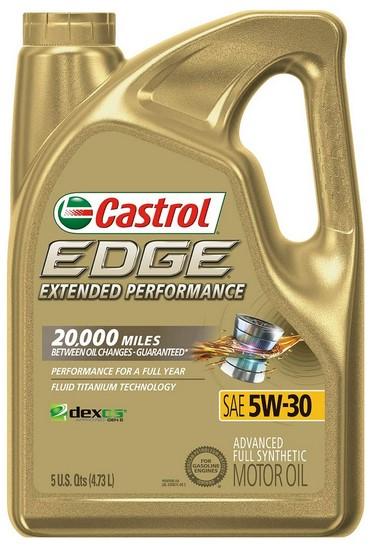 Castrol EDGE Extended Performance with Titanium FST is the most recent version of Castrol technology. Engine oils must be able to continuously react to changes in your engine's environment. Every second of every journey, your engine oil must be able to respond to the demands of numerous metal-to-metal contact points in your engine, each with its own needs, pressures, and temperatures. The best protection for critical engine components can be found in the Castrol EDGE Extended Performance with Titanium FST. It ensures excellent performance while also having the strength to allow for a drain interval of up to 15,000 miles.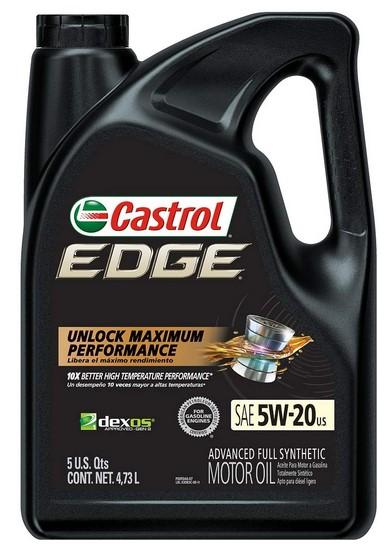 The resistance to friction and wear helps protect your engine against damage under full power, as well as extreme usage. Engine oils must be able to adapt to the ever-changing conditions in your automobile's engine. Your engine oil must be able to react to the demands of numerous metal-to-metal contact points in your engine each with distinct requirements, pressures, and temperatures at all times during the trip. Castrol EDGE offers the greatest level of protection for critical engine components, allowing your car to function at peak efficiency. The latest in motor oil technology, Castrol EDGE is a high-performance full synthetic motor oil with a unique and proprietary chemical composition that reduces volatility and provides better protection for critical engine components.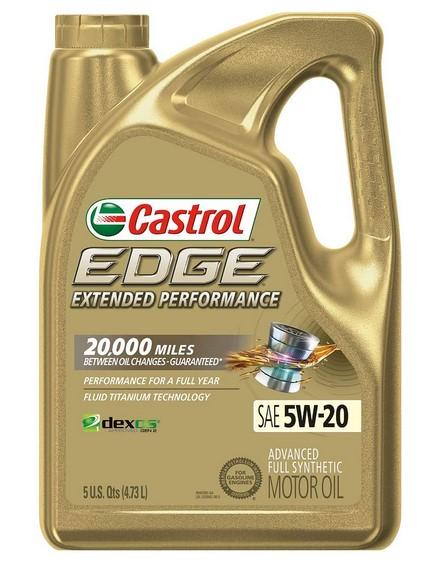 The latest of Castrol expertise is on display in the newest version of Castrol EDGE Extended Performance with Titanium FST. Engine oils must be able to respond quickly to the constantly changing environments inside your engine. Every second of every drive, your engine oil must be able to react to the demands of various metal-to-metal contact points in your engine with varying requirements, pressures, and temperatures. The ultimate protection for your engine, exhaust system, and turbocharger at all time. The Titanium FST was developed to withstand higher temperature variations in extreme driving conditions while the extended drain interval of up to 15,000 miles allows you to drive more confidently.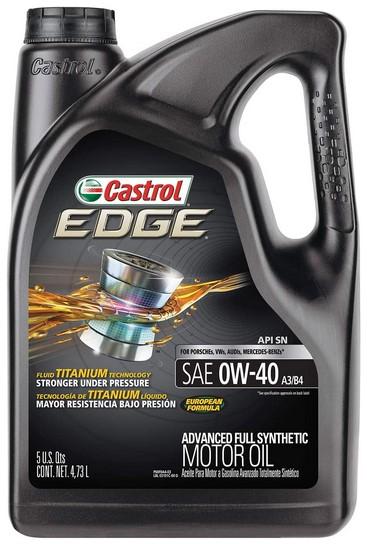 Although the 0W-40 ACEA S3/B4 or earlier specification was developed to guarantee that these combinations run properly on lower viscosity oils, where the manufacturer claims that an ACEA A3/B4, API SN or later specification 0W-40 fuel should be used. Because of its high-tech design and eco-friendly material, Castrol EDGE 0W-40 A3/B4 is recommended for usage in cars from major manufacturers. Please see the product section and your owner's handbook for more information. Castrol EDGE 0W-40 A3/B4 is an advanced multigrade motor oil that provides excellent protection for today's modern engines needing lower viscosity, higher performance oils. All engine components, from the valve train to the bearings, are fully lubricated to deliver optimal engine performance and protection.
Castrol Edge vs. Mobil 1: Mobil Oils Overview
Energy companies such as Exxon and Chevron routinely contribute more than half of the world's oil supply, ranking high on consumer confidence. As a result, they have frequently raised concerns about gasoline shortages in developed economies. Given this backdrop, I'm not confident that customers are willing to pay significantly more for better fuel efficiency when compared to their current alternatives. However, it is reasonable to question whether customers would be ready to pay greater premiums for reduced carbon emissions because of recent policy changes by governments around the world.
Mobil 1 uses a more comprehensive synthetic blend to help your engine run smoother and last longer while preventing sludge and mineral buildup. This is without a doubt one of the best synthetic oils for engine lubrication available on the market.
Mobil 1, in addition to providing exceptional lubrication, is designed to give maximum protection against wear and tear. In cold weather, the oil keeps flowing easily, so you shouldn't have any difficulties starting your car.
Another benefit of this oil is that it meets and exceeds Dexos requirements, which proves that it is a high-quality product intended to give the best performance possible. Despite being somewhat more expensive than Castrol Edge or Mobil 1, Mobil 1 still provides excellent value for money since to the premium quality and the advantage for your vehicle engine.
Mobil 1 at a Glance
The Mobil 1 brand is one of the most well-known and highly regarded in the business, with engines ranging from 3 liters all the way up to 5 liters. Every new engine product line from Mobil is greater than the previous. However, with the Mobil 1 lineup, they truly exceeded all expectations. The company has continually evolved and promoted this premium engine oil line over time, and it has been very successful in doing so.
Mobil 1 higher-performance oils are high-quality performance, particularly for high-performance engines with new vehicle models. Mobil 1 oils are guaranteed to improve your engine's efficiency and extend its service life, allowing you to benefit from new capabilities.
Interesting detail is that one simple sentence can explain Mobil 1's diversity. There's even a choice for flying jets, in case you were wondering. Aside from all the benefits, the major drawback is that it may not be the finest option for older cars.
Pros
Meets Dexos standards
All-round engine protection
Full synthetic blend
Powerful cleansing action
Good performance even in low temperatures
Cons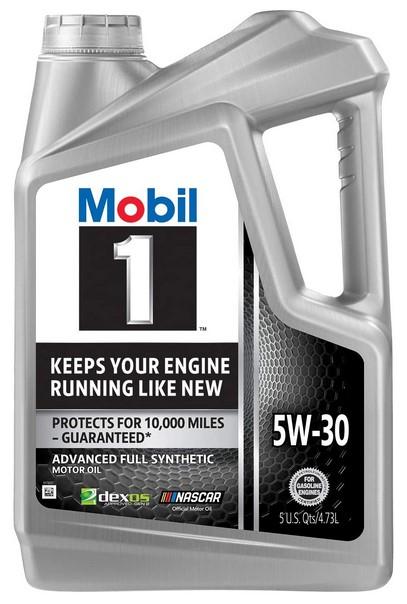 This Mobil 1 5W-30 engine oil is a high-concentrate, full synthetic motor oil that's made to keep your car running like new by providing outstanding wear protection, cleaning power, and overall performance. It meets the demanding ILSAC GF-5 performance standards and is dexos1 approved by General Motors. Mobil 1 5W-30 outperforms our traditional motor oils in terms of performance and meets or exceeds industry toughest requirements.The Hyundai Elantra has a 1.4L engine that uses the Mobil 1 technology, which is standard equipment on many different vehicles, including high-performance automobiles. It's advised for all sorts of modern cars, including turbo-charged, supercharged gasoline and diesel multi-valve fuel injected engines found in passenger cars, SUVs, light vans, and trucks. 5W-30 is an API diesel oil that's appropriate for all vehicles. It's not suitable for two-cycle or aviation engines unless expressly authorized by the manufacturer.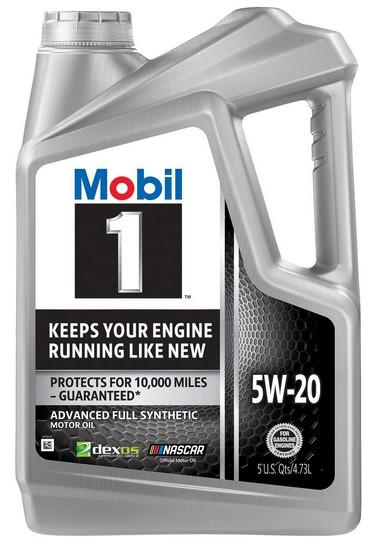 Mobil 1 5W-20 is an advanced synthetic full engine oil that helps your car run smoothly for longer with superior wear protection, cleaning ability, and overall performance. Mobil 1 5W-20 synthetic motor oil meets or exceeds the toughest industry standards while outperforming conventional motor oils. Many vehicles on the road today, including select high-performance automobiles, use Mobil 1 technology. This viscosity is recommended for all sorts of cars, including high-performance turbo-charged, supercharged gasoline multi-valve fuel injected engines in passenger cars, SUVs, light vans and trucks. Unless specially authorized by the manufacturer, it's not suggested for two-cycle or aviation engines.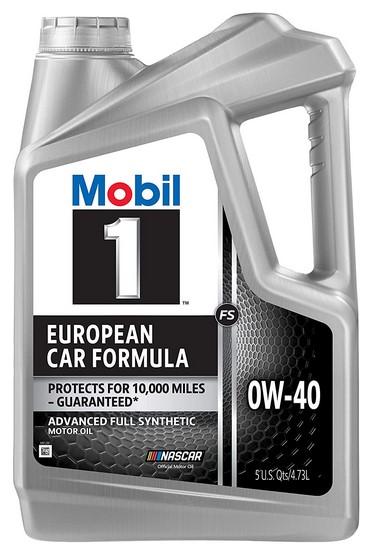 The Mobil 1 0W-40 is a high-performance synthetic motor oil that was developed to help your car run better. All driving situations, including those with severe weather conditions, may be driven in confident. It helps the engine operate as new and protects it from wear and tear during all types of driving. Mobil 1 0W-40 (European Car Formula in North America) synthetic oil is engineered for the latest gasoline and diesel (without Diesel Particulate Filters or DPFs) engine technology delivering excellent all-round performance. Mobil 1 0W-40 is recommended for many types of modern vehicles where it will help provide unsurpassed performance even under very demanding driving conditions.
Castrol Edge vs. Mobil 1: What Should You Choose?
Don't believe anyone who claims that either Castrol Edge or Mobil 1 is superior "simply because." We ask, "In which area do you think the winner is?"
The goal of this type of research is to find out which brand reigns supreme and why. We've chosen a few metrics to use in our comparisons, and we take the next step from there. It's not going to give us the real answer on which brand reigns supreme and why. We've decided on a small number of metrics for comparison, and we make our decision based on that.
What we're talking about are the most frequent marketing categories for motor oils; the primary characteristics these goods are advertised under. For example, some engine oils "offer" extended engine lifespan, while others promise exceptional heavy-duty performance.
Let's look at each of these niche categories individually to see which brand comes out on top: Castrol Edge or Mobil 1.
Cleansing Oils
Cleaning properties are crucial to motor oils since they aid in the vehicle's overall maintenance and working condition. It makes perfect sense that most motor oils would heavily advertise their "stellar cleaning function."
Now, the important thing to remember is that most, if not all, engine oils contain dispersant chemicals and detergent in a form that allows them to be cleaned. The first thing to consider is how much of the additives in the oil is present in high amounts. When you have the correct engine oil that can conduct deep cleaning, you may completely reverse a badly maintained engine.
As we've previously stated, Mobil's major concern isn't automobile products for older, out-of-shape automobiles with sluggish engines. As a result, when discussing cleaning abilities, Castrol Edge is superior.
Preservation Oils
Look for a motor oil that claims to give better preservation characteristics as a general rule. A product like that can maintain the condition and quality of your car, allowing it to run well even when pushed to its limits. It would be incorrect to claim that this sort of oil makes the engine "better," yet it does prevent deterioration from getting worse.
In this case, we discovered that Mobil 1 was the better option. However, there is one exception – Castrol Edge contains magnetic additives that are quite useful when dealing with older engines.
Performance Oils
Performance oils are developed and marketed specifically for high-performance automobiles, such as professional racing cars and tuner vehicles. They improve the power of certain vehicle engines. Depending on the sort of car you drive and the performance of your engine, there are several subgroups in this category. In any case, performance oils come out as the winner.
Castrol Edge oils aren't made for driving like this, it's as simple as that. The stunning range of Mobil 1 vehicles has several high-performance products that will provide the finest driving experience imaginable, whether it's drifting or fast cruising. This is not something that Castrol Edge oils were designed for.
The 1st Number
The first digit refers to the viscosity of automobile oil at temperatures below 0°F. As the number rises, so does the oil's performance and capacity to stay smooth even if the temperature falls beneath freezing point. When the weather is too cold, adding pour-point depressant to motor oil improves performance. Returning to Castrol Edge vs Mobil 1, while both have natural freezing viscosity ratings of 20, Castrol has the upper hand. But even if you live in the northern portion of the country, 20wXX motor oil isn't technically a need.
The 2nd Number
The second number, on the other hand, indicates what to anticipate from the oil when the engine heats up. A higher second number equates to greater performance and viscosity in high temperatures, similar to the first number. The danger here is that the oil becomes too thin rather than being too thick. Castrol, for example, offers a wide range of oils in various viscosities to meet the demands of hot climates. On the other hand, this new (and amazing) 0w16 Japanese-style motor oil from Mobil has been introduced. It's excellent for fuel efficiency but is supplemented with additives that give it the distinctive thinness.
Key Technologies
In every comparison, there is one element that distinguishes a premium product from a poor one. Both Mobil 1 and Castrol Edge make use of cutting-edge technology to establish a competitive edge in the market.
The main selling point for Castrol Edge is the use of Titanium Technologies, which contributes to its worldwide appeal. The technology ensures exceptional engine performance. This occurs as a result of pressure-induced modifications in the oil's characteristics.
Mobil 1 is a synthetic filtration oil, while Mobil 2 does not appear to have a significant technological change in the name aside from full-synthetic performance. Don't count Mobil 1 out yet; the oils are designed to perform well even in difficult terrains and conditions.
Castrol Edge vs. Mobil 1: Best For
Although both Castrol Edge and Mobil 1 are general-purpose automobile oils that may be used on almost any car, they each have their own set of characteristics that distinguish them.
For example, Mobil 1 is a good match for most modern cars and SUVs. It's an excellent match for driving on difficult, cold roads since the oil composition makes it ideal for such usage. The Castrol Edge is ideal for high-performance vehicles. As a result, it's commonly used in race cars. The engine is protected by titanium technology, which ensures its longevity.
Castrol Edge vs. Mobil 1: Price
With the exception of synthetic oils, premium-grade products are typically rather costly, especially for those on a budget. Fortunately, both varieties come at low prices. For both brands, you will usually pay less than $30 for a 5-quart container.
The difference in price ranges from $0.50 to $7 and applies globally. That being said, Castrol Edge is less expensive than its competitors on a global scale. On the subject of location of purchase, it varies by almost $10 from the competition. In any case, you will get great value from both products. If you're looking for a straightforward name that won't cost much, we'd suggest Castrol.
Castrol Edge vs Mobil 1: The Verdict
Both Mobil 1 extended performance and Castrol Edge are well-known premium oils produced by multi-billion dollar firms. They have many similarities, such as weighing multigrade viscosity, having a high mileage, and being better fluid in cold weather conditions due to which comparing and selecting which oil is superior between the two becomes increasingly difficult.
If you're going to replace your gearbox oil, it's important that you check the recommended oils on our list. Other than that, if you want a high-quality synthetic or conventional motor oil with an API certification as well as excellent performance, this is the place to go! This also applies to automatic gearboxes in cars where diesel engines are used. However, there is no need for both products since they have different properties and thus perform differently: TX5 (and earlier versions of C5). If you want a high-performance oil for your car but don't want to spend a lot of money on synthetic or mineral oils, we recommend checking out our selection of budget.